CAT 2020 Topper Vishesh Garg says, "Do not have expectation, relax and do the best you can"
The second day of New Year 2021 brought a smile on the face of Vishesh Garg who is the CAT 2020 topper as he scored 99.99 percentile in the exam. CAT 2020 topper Vishesh Garg, a B.tech graduate aimed at making his way to one of the premier B-schools. It is with this determination that he started his CAT preparation and had emerged out in flying colours. Often, while preparing for such competitive exams, one tends to get a bit stressed. However, CAT 2020 topper Vishesh Garg, did not let stress take a toll on him and he used to relax and recreate himself by playing music and going for long walks. CAT 2020 was a bit different as compared to the past since the duration of the exam was reduced and candidates were not aware of the total number of questions that would be asked. Vishesh, did not let this deter him or lose his focus. Careers360 spoke to CAT 2020 topper Vishesh Garg who shares his preparation strategy and other valuable tips.
Latest update: CAT 2020 result declared on January 2, 2021. Also check CAT cutoff 2020.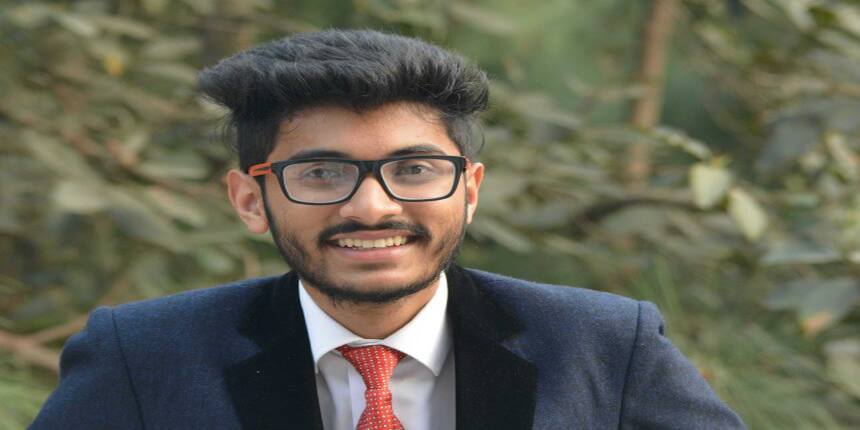 Careers360 - Congratulations on your stupendous performance. What inspired you to appear in CAT 2020?
Vishesh Garg - I appeared CAT last year as well and also secured a pretty decent percentile which is 99.0 percentile. I always have a plan set for me to work in the industry post B.tech and after that consider going to management college. Last year seeing the fact that I scored very well without preparation, I thought of giving the entrance test this year too. But along the work, I know I need someone to guide me for preparation, so I joined T.I.M.E Bangalore. And I prepared really hard for CAT 2020.
Careers360 - Share your overall and sectional percentile and scaled scores?
Vishesh Garg - My overall percentile is 99.99 in which I secure 99.98 in Verbal Ability and Reading Comprehension (VARC), 99.87 in Data Interpretation and Logical Reasoning (DILR), 99.6 in Quantitative Ability (QA).
Careers360 - How was your exam day experience?
Vishesh Garg - My exam experience was rather very smooth like one thing was that there was a change in the exam pattern and got everybody surprised. But I was lucky that I didn't lose my nerve in the exam. The preparation definitely helped me and my mentor guided me not to worry and just give my best shot. And that's what I did. I never had a score in my mind or this many questions I have to attempt and all. I just went to appear for the CAT 2020 with one thought: that is to do the best what I can do. It was a pleasant experience, there were no troubles with the COVID situation, the organisers were quite nice and cooperative.
Careers360 - What are your exam strategies and mantras used to crack CAT 2020?
Vishesh Garg - One thing I experienced that last year I scored good without preparation was because I didn't have the expectation of the result or whatsoever. So when we don't have any expectations we don't have any nervousness. We can use our brain in the best possible state without any pressure. So I tried to carry on this year as well leaving the expectation behind. For preparation, I focused on the areas which I know I was very weak. Like I was very good at Verbal so I revised it again and again and read novels and solved some sample papers. But DILR was a comparatively weaker section for me. So I used to practice a lot of questions, attend classes, and talk to my mentors at the coaching institution. I trained myself to answer properly which I knew I was weak.
Careers360 - What according to you is the toughest and easiest section?
Vishesh Garg - I was in Slot 1. I found the Quantitative Ability (QA) section to be a little harder than expected. Data Interpretation and Logical Reasoning (DILR) was the easiest section according to me. Verbal I am not the right person to judge since I usually do well in Verbal.
Careers360 - Share us something about your background. What inspires you to appear in CAT 2020?
Vishesh Garg - I did my schooling in St Luke's Sen, Solan Himachal Pradesh. In 10+2 I have medical with maths, so I was preparing for both actually, but maths seems to work out better for me. I did my B.Tech in Electronics and Communication from NIT Hamirpur. And right now I am working in Bangalore as a software engineer.
Careers360 - You were working in industry as well? How did you manage your time during the preparation for CAT 2020?
Vishesh Garg - Initially, managing the time was quite tricky for me. There were times when I worked 12 hours a day. My preparation time was mainly focused in the weekend. On weekends I used to spend time attending online lectures, attempting questions, and solving question papers.
Careers360 - How helpful was your coaching institute for you?
Vishesh Garg - Yes, it was very helpful. Study materials are available easily. But what coaching was helpful to me was the target approach. Teachers in coaching help me to realise what were the questions I should attempt and how many I should have attempted. Again whenever I have doubt I can simply contact them and clear my doubts. And it is always easier, the teacher explaining us over the topic rather than just look around the book. Because sometimes we don't get concepts in clarity.
Careers360 - How did you deal with your strong and weak points?
Vishesh Garg - Attempting the sample papers is how I realised there are topics which were weak and strong for me. For topics I am strong in, I did not hamper much because to attempt a question I need to free my brain as I have to answer logically. For my strong point, all I did was practice based on the knowledge I knew. And for my weaker section though I start with basics I used to attend online lectures and go through the coach material I have. For my strong section, what I made sure was not to leave out any question which I can score well that I have to attempt the best and for my weaker section I prepared enough to get the easiest and medium level questions done. I leave the hard question right away to save time.
Careers360 - What were your relaxation and recreation methods you followed during preparation for CAT?
Vishesh Garg - To be honest, I didn't study for so long. I used to sit and study for 2 hours followed by watching my favourite series or movies on Netflix, seating with parents at home, going out for a walk. I never went hard into the preparation, I used to give my brain time to rest, sleep 8 hours.
Careers360 - Did you appear for any other MBA entrance exam?
Vishesh Garg - No I didn't appear for any other MBA entrance exam.
Careers360 - What is your dream B-School? What career do you want to pursue after completing your MBA degree?
Vishesh Garg - My dream B-School is actually a tie which are IIM Bangalore and Faculty of Management Studies, Delhi University. I haven't analysed yet very deeply. But I have plans to get my specialisation in finance and get work in technology. Since I am a person with a technology background, I hope an MBA with B.Tech would fit me to work in a good technology company.
Careers360 - What are your hobbies?
Vishesh Garg - Apart from watching series I love to play music. Whenever I get time I try to play music. I love reading novels.
Careers360 - Who is your Idol?
Vishesh Garg - I have always been inspired by Avul Pakir Jainulabdeen Abdul Kalam. I had the chance to meet him once and conservation with him really changed my life. Apart from A.P.J Abdul Kalam, my father is my inspiration.
Careers360 - Any message you would like to give to the next CAT aspirants?
Vishesh Garg - Go to the exam hall without any nervousness leaving behind the expectation. Treat CAT as an exam not the end of your life. A relaxed mind can help to tackle the exam easily.
Questions related to CAT
Showing 9483 out of 9483 Questions