CAT 2019 Topper Madhuporna Pal Who Made it to IIM-C says, "Practice puts brains in your muscles"
CAT 2019 Topper Interview, Madhuporna Pal - Who doesn't want to be a part of Indian Institute of Management? It is a dream for all management aspirants but only a few hard working as well as fortuitous can avail this opportunity. No doubt that the journey to IIMs is definitely full of skepticism and contingencies, but if you have prepared well with diligence and sincerity you will surely make your way. Madhuporna Pal who cracked CAT 2019 in one go with 99.39 percentile says, "When she saw her computer flashing- Congratulations, you've been selected for admission to the MBA Program 2020-22 Batch of IIM Calcutta" she was on cloud nine for the next few days and somewhere still haven't been able to absorb the feeling completely. Madhuporna Pal who is currently a final year undergraduate student in Jadavpur University, production engineering department received a call from IIM A, IIM B, IIM C, IIM Indore, IIM Shillong as well as FMS and finally decided to take up IIM Calcutta for PGP program. In an exclusive interview with Careers360, Madhuporna Pal shared her experience about the road to IIM Calcutta. Read the full interview to have better insights if you are a CAT 2020 aspirant and wish to go to IIM Calcutta.
Latest- Candidates can download CAT 2020 admit card from October 28. Official CAT Mock Test 2020 will soon be available.
Stay up-to date with CAT News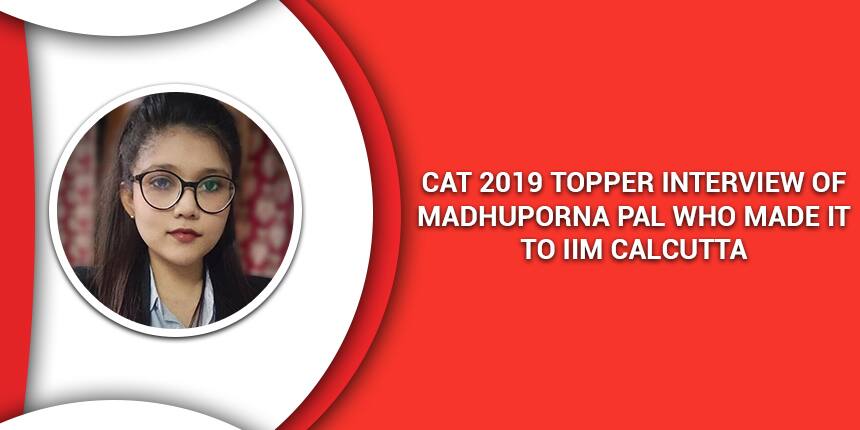 Also Check :- when and how to prepare for CAT 2020.

Careers360: Congratulations on converting to your desired institute! How do you feel?
Madhuporna Pal - It has been a few weeks since the results were out but it still feels like a dream. The journey was full of uncertainty with its own ups and downs, but it became all worth it when I saw my computer flashing "Congratulations, you've been selected for admission to the MBA Program 2020-22 Batch of IIM Calcutta". For the next few days, I was on cloud nine and somewhere I feel that I still haven't been able to absorb the feeling completely. I am eagerly looking forward to starting my life at Joka and being around such talented people as my batchmates.
Careers360: What is the selection procedure at IIM Calcutta?
Madhuporna Pal - The selection procedure of IIM Calcutta is divided in three different stages:
Stage I - Initial Screening: Here, it is checked whether you meet the minimum eligibility criteria in terms of your overall CAT percentile and sectional percentile scores

Stage II - Short-listing for PI and WAT process: The Composite Score is calculated by assigning weight to different components as per the following: 56% for CAT, 10% for Class 10, 15% for Class 12, 15% for Bachelor's Degree marks and 4% for Gender diversity

Stage III - Criteria for Final Selection for the MBA Programme: After the WAT and PI process, a final composite score is calculated based on the weightage given to different parameters which are as follows: 30% CAT, 48% Personal Interview, 10% WAT, 4% academic diversity factor and 8% for Work experience
Careers360: Please elaborate on your overall experience of the selection procedure at IIM Calcutta
Madhuporna Pal - After my CAT percentile was out in January, I got an email from IIM Calcutta mentioning my selection and the schedule for the WAT- PI process. I had my interview scheduled in mid-march in the IIM Calcutta campus itself. My interview was in the second slot and after reaching there at noon, I got my document verification done. We had our Written Ability Test at first in which we were given around 20 minutes. In my interview, I had a friendly conversation with the panellists and the questions ranged from a wide variety of topics. Even though I could have done better in a few questions, I came out of the interview room mostly satisfied.
Careers360: Which other B-Schools' selection procedure did you appear for? How was your experience in other institutes vis a vis in the institute you have converted?
Madhuporna Pal - I appeared for the interviews of all the IIMs this year, and also had the shortlist from FMS (though the interview wasn't held due to COVID-19).
My Calcutta interview went around a lot of things that were related to academics, general affairs, my family and finally ending in mythology. I wasn't asked any HR questions as such

My Bangalore interview however was really grilling and completely focused on my academics (my core subjects), no further questions about general affairs, hobbies or SOP

My Ahmedabad interview was mostly focused on academics, general awareness and AWT

Other than that, IIM Indore and IIM Shillong interviews were held online.
Careers360: What was your PI topic and how did you structure it? Did you find it easy or you had a difficult time writing/ thinking about the topic?
Madhuporna Pal - My PI topic was based on presenting some ideas regarding the Indian wildlife preservation and finding a way to ensure its connection with the revenue generation for the people and the government. The topic wasn't very difficult to think about, but the structure of the thoughts is really important. I gave around 4-5 minutes to think about it and wrote the points based on various factors on the rough side of the sheet. In the next 12-14 minutes, I wrote the whole essay and finally checked it for one last time before submitting.
Careers360: Did you get external help or join a coaching school to prepare for PI? When did you start your preparations for it?
Madhuporna Pal - Being a fresher, I had never faced a B-School interview before and didn't know what to expect. Hence in December itself, before the shortlists were out, I enrolled in the GWPI programs. I started by reading about the current affairs. For a person who wasn't quite familiar with everything going around the world, I had a lot of things to cover. I used to watch YouTube videos which I felt were really efficient in having at least an overview of a topic. I also started attending the mock GD sessions, WAT practice regularly since December. Another important role in my interview preparation was played by the mock interview sessions and the feedback.
Careers360: Do you think that PI requires some separate preparation apart from what you mentioned?
Madhuporna Pal - You may have someone to guide you initially but to ace the interviews, it's important to introspect yourself and build your own unique strategy, because in the end that is from where you'll learn to handle those tricky HR questions which will be specifically targeted towards you. Also it's important to know the culture of the institute and what they stand for, for which one can try to connect to the seniors and read about their interview experiences and tips.
Quick Links-
Careers360: Please share the PI topics which you were asked during the admission rounds?
Madhuporna Pal - A few of the WAT topics were
i] How wildlife preservation can be turned into revenue that can benefit the people and the government together.
ii] Traditional shops vs. E-commerce
iii] Reduce, reuse, recycle is the road to move ahead
Careers360: Are there ways to handle a situation when one has no answer to a question during PI?

Madhuporna Pal - The panellists are the people who have had years of experience interviewing thousands of candidates, hence try to be honest with them. There were instances when I didn't remember the precise answer and asked them if I could make a guess (that again should be an educated guess and not a very random one because that may act against you during the interview). And at times when I had absolutely no clue about the answer, I directly told them that I don't know about it.
Careers360: How must one approach a PI topic? Could you share some Dos and Don'ts for the same?
Madhuporna Pal - Dos:
Make a proper time distribution plan beforehand.

The time you spend deciding the points and making a layout is important.

Start writing the points which strike your mind about the topic on the rough side.

You can look out for various (social, political, economical etc.) implications of the topic which will add depth to you piece.
Don'ts:
Avoid writing hastily without having an initial structure of thoughts.

Avoid scribbling.

Avoid writing stories or experiences to prove a point, remember they aren't facts.

Avoid writing anything you do not have proper knowledge about.
Careers360: Is there a particular kind of time management strategy that should be added to the candidate's skillset? Will it help in writing a complete structured PI?
Madhuporna Pal - I was someone who wrote my last proper essay in my high school. I still remember that for the first 2-3 weeks, I wasn't able to finish a single WAT topic in the stipulated time, which was given by my mentor. Hence practice becomes really important which helps a person realise the time that needs to be dedicated to each of the three important parts of essay writing: thinking about the topic, writing it down and checking it once before submission.
Careers360: How did you feel when you faced the interviewers during the PI? Please share a few details like the size of your panel and your overall experience.
Madhuporna Pal - There were three interviewers and I was second in the panel. The panel was friendly and everyone had a smile on their faces once I went in. There were questions from my academics by all the three panellists, most of which I was able to answer satisfactorily. Then we moved into general affairs starting from Indian politics to international treaties. There were also a few questions about my hobbies and finally we moved into some abstract questions (which actually is a little funny and I'll elaborate about it in the next question). The interview lasted for around 20 minutes.
Careers360: Which interview turned out to be the best one? Enlighten us about the finest one according to you.
Madhuporna Pal - My IIM Calcutta interview was the best one according to me and I came out of the interview room quite satisfied, with a smile on my face. Not to forget that it was a breezy day and the campus looked absolutely stunning in the evening hour.
Careers360: What about the questions which you found difficult to answer? How did you reply to those?
Madhuporna Pal - The difficult questions were the ones where I was asked about my own opinion on a certain incident or topic. In such cases it's important to stay open to various perspectives and try not to be biased towards something. One needs to look at both sides of the coin and remain calm. In case you are taking a stand regarding something, try not to be the person who is rigid and devoid of the bigger picture.
Careers360: So in those situations, was the panel easy or harsh on you? What should one do when s/he has no answer?
Madhuporna Pal - There were some cross questions and discussions revolving around the same, but it wasn't something that can be called harsh. Further if someone doesn't know about the topic in depth, he/she should convey the same to the panellist. You can ask them if you can make an educated guess based on your experience or knowledge, but in case you have absolutely no idea about the topic, it's better to say that you don't know and move on.
Careers360: What were the most fascinating questions you were asked? Please share your answers too.
Madhuporna Pal - The most fascinating question was when I was asked to defend the stance of Mata Sita for wanting the GOLDEN deer (golden is the keyword here) in Ramayana. That was something I never expected to be asked about in the interview. I made up a few points about her journey from the Raj Mahal to Ashok Vatika in Lanka and how she rejected all the comforts she could have easily had. However when I think about it now, I feel that I could've improvised the answer a little more.
Careers360: How different is an IIM interview from a non-IIM yet top B-School interview? Are there major differences? (If you have appeared for IIMs)
Madhuporna Pal - I didn't appear for any other interviews except the ones of IIMs. I had my FMS interview but the interview wasn't held due to COVID-19.
Careers360: How did you go about the preparations for PI? Did you search or look up some questions or practice mock PIs?
Madhuporna Pal - I divided my Personal interview preparation in four sections:
I] HR Questions – Initially I wrote a few instances of my life which have had an impact on me as a person. It helped me to articulate my HR questions and stay prepared for some of those unexpected questions which are thrown at you in the interview.
II] Academics – Honestly, I was lagging in this part initially and it took me quite some time to pick it up. But I revised all the important topics of my subjects, especially the ones that I studied in the last two years.
III] General Affairs – I used to watch YouTube videos initially to have an overview on the topics that were given by my mentor and then I switched to various news articles for a deeper knowledge.
IV] Hobbies and Extracurricular – Here, it's very important to know the details about the things you've mentioned in your interview form. There will be questions in detail from everything you say in the interview, be it one of your projects, achievements or internships.
Further I attended around 4-5 mocks and read a lot of interview experiences of people who made it to their dream B-Schools in the previous year. I also spoke to a few seniors personally to know about their interview experience.
Questions related to CAT
Showing 10892 out of 10892 Questions