CAT 2019 Topper Lakshya Jha stresses on, " Confidence and rationality," makes way to IIM Calcutta
CAT 2019 Topper Interview Lakshya Jha - Seeking admission to one's dream college and getting an opportunity to study the course of one's choice after clearing all the stages of the selection process is a matter of joy. Having scored a high percentile in the Common Admission Test, CAT 2019 topper Lakshya Jha who made his way to Indian Institute of Management, Calcutta talks about the selection process at the institute, what were the type of questions that were asked. In an exclusive interaction with Careers360, CAT 2019 topper Lakshya Jha states that preparing for the interview and group discussion requires polishing your existing knowledge. He further added that it is pertinent to be well versed with academic knowledge and also about the field in which one is working. Read the full interview of CAT 2019 topper Lakshya Jha to know other vital tips which one must keep in mind as they face the panellists.
Latest: CAT answer key 2020 has been released in online mode on December 8. Check CAT result 2020 here.
Stay up-to date with CAT News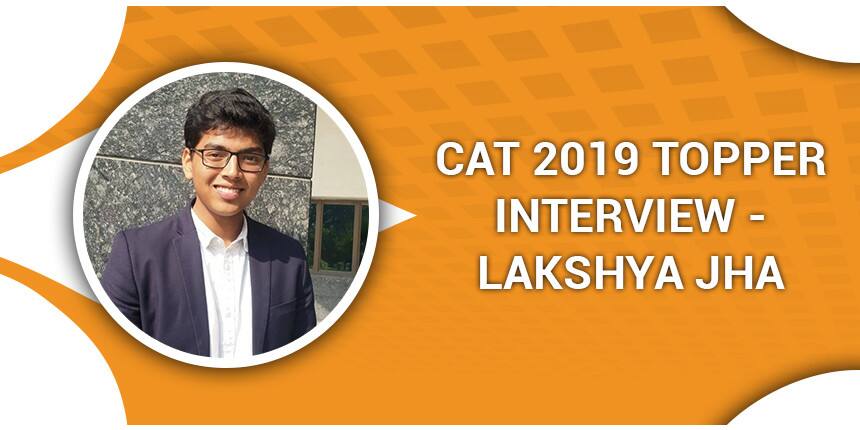 Watch Exclusive Video of CAT 2019 Topper Lakshya Jha Preparation Tips -
Careers360: Congratulations on converting to your desired institute! How do you feel?
Lakshya Jha: I feel happy to be part of my dream college. It feels good to be selected for the finance campus of India. Both the city and the campus have a rich legacy from which I hope to learn a lot.
Careers360: What is the selection procedure at IIM Kolkata?
Lakshya Jha: The process includes an Aptitude test also known as WAT. Post this, the candidate is called up for the writing ability test and the Interview. This year due to the pandemic, writing ability test was not considered for the final results.
Careers360: Please elaborate on your overall experience of the selection procedure at IIM Kolkata?
Lakshya Jha: It was one of the smoothest processes that I have witnessed. There were 3 panellists for the interview which included 2 professors and 1 alumnus. Both the administrative staff and the interview panellists were friendly and helpful.
Careers360: Which other B-Schools' selection procedure did you appear for? How was your experience in other institutes vis a vis in the institute you have converted?
Lakshya Jha: Owing to the high percentile in CAT 2019, I was called for interviews from all the IIMs and other colleges like SPJIMR. Selection procedure for the top 3 IIMs which are IIM A, IIM B and IIM C are the same with just different weights to different aspects like college marks might have a weightage of 10 in some and 5 in some. The procedure consists of an Interview shortlist on the basis of your CAT score and some other factors. Post that the IIMs have a writing ability test and an interview.
Careers360: What was your AWT and PI topic and how did you structure it? Did you find it easy or you had a difficult time writing/ thinking about the topic?
Lakshya Jha: My AWT topic for IIM C was about whether the doomsday situation predicted by climate change activists is worse than it currently stands. My structure for the write up was exploring both the sides and then choosing the one with which I resonate.
Careers360: Did you get external help or join a coaching school to prepare for PI and AWT? When did you start your preparations for it?
Lakshya Jha: I took help from TIME CP centre and started my preparations around December
Careers360: Do you think that AWT and PI require some separate preparation apart from what you mentioned?
Lakshya Jha: The preparation was more about polishing what you are currently than anything else. I believe apart from the basic questions which include an introduction and why MBA, one can focus on his undergraduate academics and one's work experience.
Also Read
Careers360: Please share the AWT and PI topics which you were asked during the admission rounds?
Lakshya Jha: AWT topics –
1) Environmental doomsday is a hoax
2) Stores in metropolitan cities should be open 24/7
3) Kashmir and it becoming a Union Territory
4) Democracy and its relevance
PI generally revolves around your own profile.
Quick Links
Careers360: Are there ways to handle a situation when one has no answer to a question during PI?
Lakshya Jha: The best way is to acknowledge that you are not aware of the answer and provide an intelligent guess if you can think of one.
Careers360: How must one approach an AWT and PI topic? Could you share some Dos and Don'ts for the same?
Lakshya Jha: Make sure that you prepare the basic HR questions, which include an introduction and why MBA, apart from this it is important to revisit your profile and prepare answers for possible questions.
Careers360: Is there a particular kind of time management strategy that should be added to the candidate's skillset? Will it help in writing a complete structured AWT and Personal Interview?
Lakshya Jha: I gave the first 5 minutes of an AWT for ideation and then went on to write my points. The personal interview requires constant practice and mock PIs.
Careers360: How did you feel when you faced the interviewers during the PI? Please share a few details like the size of your panel and your overall experience.
Lakshya Jha: I was nervous before facing the interview panellists but I made sure that I kept my nerves before entering the room. The panel size was 3. They were friendly and it was more of a conversation.
Careers360: Which interview turned out to be the best one? Enlighten us about the finest one according to you.
Lakshya Jha: IIM C was the best interview for me. It started off with data privacy in Delhi University results (I am a DU student). The follow-up questions were on my internship. As my internship was related to education policy there were questions asking my opinion on how to improve the education system of India. The interview ended with the question of why 'IIM Calcutta'.
Careers360: What about the questions which you found difficult to answer? How did you reply to those?
Lakshya Jha: There was one question on profit and loss statement of IIM Calcutta, the hard part about it was to think of revenue streams for the institution apart from student fees. The interview panellists did give my nudges here and there and that's how I solved the question. It is important to convert the interview to a friendly conversation and include a panellist in your answer process.
Careers360: So in those situations, was the panel easy or harsh on you? What should one do when s/he has no answer?
Lakshya Jha: The panel was friendly and made sure that I was comfortable during the 30 minutes long interview. If one doesn't know the answer they should acknowledge the lack of an answer and tell the panellists about the same. Having said that, it is always a nice idea to make an intelligent guess by saying "Though If I were to guess"
Careers360: What were the most fascinating questions you were asked? Please share your answers too.
Lakshya Jha: The Profit and loss of IIM Calcutta was a fascinating question which you generally don't expect in the interview. It required a lot of thinking to answer the same. I went on to include the student fees, placement charges, sponsorships for research, alum funding, rent from shops inside as income sources for the institute. For the expenses part, I included the salary of teachers, administrative staff and helper. Apart from that, I included utility charges, capital expenditure and library maintenance fees.
Also Read
Careers360: How different is an IIM interview from a non-IIM yet top B-School interview? Are there major differences? (If you have appeared for IIMs)
Lakshya Jha: I appeared for SPJIMR. The process included 2 group interviews and hence this was a major difference. Though I did not prepare much for group interviews as a separate thing, I still managed to get through due to my normal interview preparation.
Careers360: How did you go about the preparations for PI? Did you search or look up some questions or practice mock PIs?
Lakshya Jha: I divided my preparation into 4 segments namely:
1) HR – Including Introduction, Strengths-Weaknesses, Why MBA
2) Academics– College Subjects
3) GK Questions – Ongoing topics with a specific focus on Business news
4) Profile Questions - Revisiting past internships and researching more around them
I took Mock PIs from my coaching institute and took help from a couple of friends to frame the answer structure.
Careers360: And finally what are the aspects or qualities that the interview board looks for in a candidate?
Lakshya Jha: The interview panellist looks for the following qualities in the candidate:
Confidence

Thought Process (Rationality)

Well balanced Individual (Diverse achievements)

How eager to learn is the individual (Humble and thirst for knowledge)
Questions related to CAT
Showing 10916 out of 10916 Questions