CAT 2019 Topper K. A. Althaf Who Made it to IIM-B says, "Dream Big & The Universe Will Help You"
Determination and Dedication together will help you to achieve your goals says K. A. Althaf who got admission in IIM Bangalore. Although Althaf is an avid reader and has good command over English, yet he did not want to leave any stone unturned and hence decided to join a personal mentorship program for his WAT-PI rounds. K. A. Althaf had studied Mechanical Engineering from NITK Surathkal, Karnataka. Being one of the CAT 2019 toppers, he got a call from IIM Ahmedabad, IIM Bangalore, IIM Calcutta, IIM Lucknow, IIM Kozhikode, IIM Indore as well as XLRI (BM and HR), FMS and IIFT. Out of these, K. A. Althaf attended the interviews for IIM A, B, C, L and XLRI-BM and also received admission letters from all these B-Schools. Quoting his favourite line from the famous novel "The Alchemist" "When you want something, the whole universe conspires in helping you to achieve it", K. A. Althaf further added that his dream was to get into IIM-Bangalore so without any further thought he accepted the same. He shares his success mantra for the aspiring MBA candidates who will appear for CAT 2020 in near future. Read the full interview by Careers360 to know more about the IIM-B admission criteria, selection process as well as how one should prepare for the selection rounds of IIMs.
Latest: IIM Indore release CAT 2020 admit card on October 28. CAT Mock Test 2020 has been released in online mode on November 5.
Stay up-to date with CAT News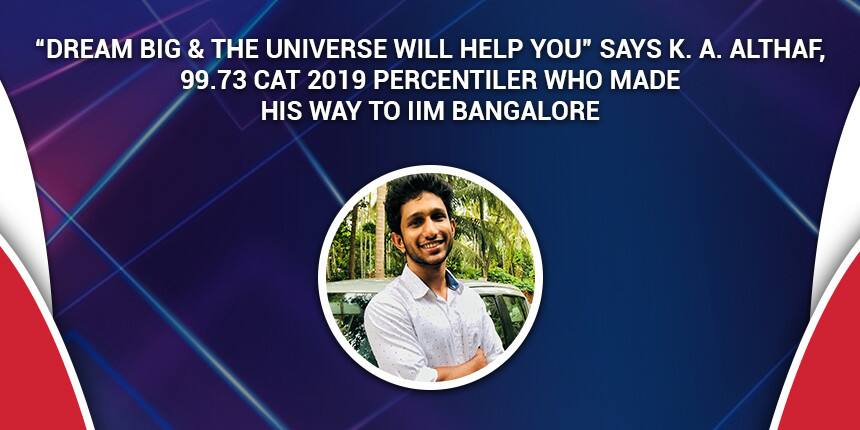 Careers360: Congratulations on converting to your desired institute! How do you feel?
K. A. Althaf - IIMB has been my dream college for as long as I can remember. "When you want something, the whole universe conspires in helping you to achieve it" - My belief in this quote strengthened the day I received my admission letter from IIM Bangalore.
Careers360: What is the selection procedure at IIM Bangalore?
K. A. Althaf - IIM Bangalore has a comprehensive filtering process, which takes into account multiple criteria. A candidate's overall academic profile, work experience, CAT score and WAT-PI are considered. The weightage split for each is - 25% for Class 10, Class 12 and graduation, 25% for CAT, 10% for Work Experience and 40% for WAT-PI.
Careers360: Please elaborate on your overall experience of the selection procedure at IIM Bangalore
K. A. Althaf - IIM Bangalore places heavy emphasis on academic performance, starting right from school. I put in the effort and hard work to ensure that I had a stellar record in place. The next step was to perform well in CAT and WAT-PI. I started my CAT preparation in January 2019. I took 50 mock exams and practiced every day - factors that enabled me to achieve a decent CAT percentile in my first attempt. My habit of reading the newspaper daily, backed by my decent communication skills, helped me crack the WAT-PI process.
Careers360: Which other B-Schools' selection procedure did you appear for? How was your experience in other institutes vis a vis in the institute you have converted?
K. A. Althaf - I had interview calls from IIM A, IIM B, IIM C, IIM L, IIM K, IIM Indore, XLRI (BM and HR), FMS and IIFT. I attended the interviews for IIM A, IIM B, IIM C, IIM L and XLRI-BM and received admission letters from all these colleges.
The questions in the interviews revolved around my personal life, professional life and my take on certain current affairs. Overall, my discussions with the panelists were pleasant, highly engaging and thought provoking.
Careers360: What was your WAT/PI topic and how did you structure it? Did you find it easy or you had a difficult time writing / thinking about the topic?
K. A. Althaf - The topic for my WAT was "Deep discounting practices employed by e-commerce platforms are beneficial or harmful?". It was an easy topic and owing to my habit of reading newspapers, I was able to add some statistics to the essay. I split the essay into four paragraphs – Introduction, Advantages, Disadvantages & My Opinion (The Conclusion).
Careers360: Did you get external help or join a coaching school to prepare for PI and WAT? When did you start your preparations for it?
K. A. Althaf - Reading newspapers, articles and having decent communication skills made WAT/PI preparation easier for me. However, I did not want to leave any stone unturned, so I joined a personal mentorship program by Power-prep. Additionally, I sought help from my friends studying at the top B-Schools.
Careers360: Do you think that WAT/PI requires some separate preparation apart from what you mentioned?
K. A. Althaf - Personally, I do not think any additional preparation is required apart from what I mentioned. The focus should be on approaching WAT/PI confidently. A word of advice, avoid being under-confident or overconfident during the interview at all costs.
Careers360: Please share the WAT/PI topics that you were asked during the admission rounds?
K. A. Althaf - IIM-B, IIM-C, IIM-L, XLRI had WAT.
IIM Bangalore Topic: Deep discounting practices employed by e-commerce platforms are beneficial or harmful?

IIM Calcutta Topic: Academic pressure, expectations pushing kids to the brink. How can you tackle this issue?

IIM Lucknow Topic: Ease of doing business and ease of living cannot go together.

XLRI Topic: Ecologists can make good managers
IIM-A on the other hand had an Analytical Writing Test (AWT). It assesses your ability to articulate and support complex ideas, construct and evaluate arguments, and sustain a focused and coherent viewpoint.
IIM Ahmedabad WAT Topic: "Gujarat State education board mandated that all the students respond to the attendance call by saying 'Jai Hind'. This was done in order to inculcate the value of patriotism since childhood." Discuss how logically convincing you find this argument. In your discussion, you should analyze the argument's line of reasoning and use of evidence. It may be appropriate in your critique to call into question certain assumptions underlying the argument and/or to indicate what evidence might weaken or strengthen the argument. It may also be appropriate to discuss how you would alter the argument to make it more convincing and/or discuss what additional evidence, if any, would aid in evaluating the argument.
Careers360: Are there ways to handle a situation when one has no answer to a question during PI?
K. A. Althaf - Not knowing the answer to a question during PI is not a crime. The only way to handle it is to be honest and confident. Bluffing in an interview is frowned upon and if caught, your chances of converting the call could drastically reduce.
Careers360: How must one approach a WAT/PI topic? Could you share some Dos and Don'ts for the same?
K. A. Althaf - Read the topic multiple times and understand it thoroughly before you put pen to paper. Take 2 to 3 minutes to structure your thoughts and make bullet points on the rough side of the worksheet. There are two key ways to approach a WAT topic -
PESTEL (Political, Economic, Social, Technological, Environmental & Legal) – Assess the topic in these six aspects.

Binary approach – State the advantages-disadvantages or positive-negatives and conclude by expressing your opinion.
In the worst-case scenario, if you are unable to employ either of these approaches or are completely unaware of the topic, then use your creativity!
A few Dos and Don'ts by K. A. Althaf:
Dos:
Take some time to structure your thoughts

Maintain legible and neat handwriting

Structure your essay into different paragraphs (Introduction, Body and Conclusion)

Carry a whitener in case you have to strike off what you wrote

Finish 2 minutes in advance and proof-read the essay
Don'ts:
Do not scribble on the worksheet.

Do not exceed the word limit

Do not write on the space that is not allotted for writing
Quick Links-
Careers360: Is there a particular kind of time management strategy that should be added to the candidate's skillset? Will it help in writing a complete structured WAT?
K. A. Althaf - You should be aware of the time throughout the WAT. When in doubt, ask the invigilator about the amount of time left on the clock. Finish at least 2 minutes in advance and proof-read the essay.
Put your pen down immediately when the allotted time is over and make sure that you have concluded the essay. An essay without a conclusion is considered incomplete. More often than not, the panelists taking your interviews are the ones evaluating your essay. A bad essay creates a bad first impression of the candidate.
Careers360: How did you feel when you faced the interviewers during the PI? Please share a few details like the size of your panel and your overall experience.
K. A. Althaf - I felt excited and was confident during all my interviews. It is a common misconception that the interviews are mostly a Q&A session with the panelists. In reality, the panelists want to have a conversation with you and get to know you better.
In my IIM Ahmedabad and IIM Lucknow interviews, there were two panelists each and in my IIM Bangalore, IIM Calcutta and XLRI interviews, there were three panelists each.
Careers360: Which interview turned out to be the best one? Enlighten us about the finest one according to you.
K. A. Althaf - According to me, IIM Calcutta interview was my best. It lasted for just 12 minutes, keeping me on my toes the whole time. I was asked questions about my drinking habit, Islamic scriptures, a hypothetical workplace problem (how would I handle a situation wherein my manager comes inebriated for a client meeting), academic background and current affairs. The switchover among these diverse topics was abrupt and I had to think on my feet the whole time.
Careers360: What about the questions which you found difficult to answer? How did you reply to those?
K. A. Althaf - I was challenged with many opinion intensive questions at IIM A and IIM L interviews, a few of them being:
What is the relevance of the National Anthem in inculcating patriotism among Indians?

What is your opinion on engineering coaching centres in India?

What is your opinion on the Citizenship Amendment Act?
I stated both for & against aspects for each of these questions and expressed my personal opinion in the end. I always kept an open mind when discussing such opinion-intensive topics. I paid close attention to how the panelists responded to what I said. It is crucial that you maintain a healthy conversation rather than a pointless argument.
Careers360: So in those situations, was the panel easy or harsh on you? What should one do when s/he has no answer?
K. A. Althaf - The panel was easy on me because I put forward my opinions in a polite manner. Whenever I had a difference of opinion with what the panelists said, I addressed it in a respectful manner by starting my response with the statement - "I completely agree with your viewpoints. I would like to pitch in another perspective….".
As I mentioned earlier, not knowing an answer is not a crime. Being bold enough to admit that you are unaware of something requires a lot of courage and is something which is appreciated by the panelists.
Careers360: What were the most fascinating questions you were asked? Please share your answers too.
K. A. Althaf - I would like to share two such questions -
"So Althaf, you studied at NITK which is funded by the central government. After that you joined a private automobile firm and worked there for 3 years. Now you want to pursue an MBA. Don't you think you've been wasting the tax-payers' money for the past 7 years by completely changing your career-path now?" (XLRI-BM interview)
K. A. Althaf -: With a smile, "I am sorry but I would like to slightly differ with your opinion. The education and exposure that I received at NITK has molded me into a better person and equipped me to handle challenges in the future. Working at Bosch for 3 years for BS6 projects gave me an opportunity to contribute to our country in various aspects, two of them being technology and environment. I will cherish these learnings, upskill myself with an MBA and continue contributing to our country. I don't believe I wasted the taxpayers' money".
"Althaf, you're a chemistry enthusiast (I had mentioned in my application that I won 3rd prize in the National Level Chemistry quiz competition). Name your favourite chemical." (IIM Calcutta interview)
K. A. Althaf -: I thought for 10 seconds, looked around and said "Water is my favourite chemical". Panelists - "Relate yourself with water". I paused and thought again because my response to this would make or break my interview. "Water is adaptive. It takes the shape of the container you put it in". Panelists - "So basically, you don't have a personality of your own?". I responded with a smile, "That is not exactly what I meant. What I meant was that I am very adaptive and no matter what situation you put me in, I will be able to come out of it with flying colours. I was completely thrown out of my comfort zone when I left India for a 3-month internship at Quebec, Canada. However, I was able to adapt to their culture, food, weather and people in a short span of time, making it one of the most memorable experiences of my life".
Careers360: And finally what are the aspects or qualities that the interview board looks for in a candidate?
K. A. Althaf - This is a very subjective question. One can never be sure of what an interviewer expects from them. Nevertheless, to highlight a few aspects that I believe will come handy in the long run -
Soft skills

General Awareness

Presentability – a pleasant smile and formal attire

Communication skills – think before you speak, do not blabber and maintain a pleasant decibel level

Academic potential
Questions related to CAT
Showing 10892 out of 10892 Questions