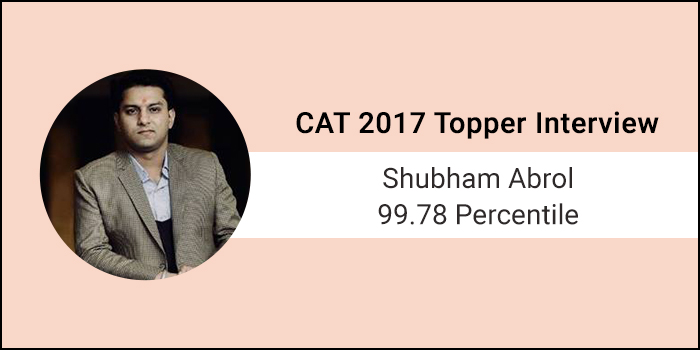 Shubham Abrol, a 99.78 percentiler, found it difficult to focus on his CAT preparation along with his job. He attended night classes to manage work along with studies and finally quit his job to give all his time to CAT preparation. An alumnus of BITS Pilani, he secured 96.71 percentile in his first attempt, but he was consistent to score more. With a passion for reading autobiographies, he believed in himself and secured 99.78 percentile in CAT 2017.
Shubham believed that taking mock tests like it is the final exam helped him in securing a high percentile. Unlike his first attempt when he took mock exams at home, for his second attempt, Shubham went to the coaching centre to take mock tests during weekends. This helped him finalise the strategy for the CAT 2017 exam day. According to Shubham, making your own strategy for every section and giving 2 – 3 hours in a day with complete focus will help you in securing a good percentile in CAT. IIM Calcutta is the dream B-School of Shubham and bringing good name to the institution is of utmost importance for him.
Recent Posts:
Excerpts from the interview:
Careers360: Please tell us something about yourself.
Shubham: I hail from Punjab. I was in BITS Pilani batch of 2016. My parents are working in a Government job. I worked with Dr Reddy Laboratories Ltd. for 15 months. I quit my job to prepare for CAT and this was my second attempt. Last time, I secured 96.71 percentile and this time as you know it is 99.78 percentile. Although, I was expecting more.
Careers360: What is your sectional percentile?
Shubham: I have obtained 97.97 percentile in Verbal Ability and Reading Comprehension, 98.29 percentile in Data Interpretation and Logical Reasoning and 99.7 percentile in Quantitative Ability.
Careers360: What was your preparation strategy for CAT 2017?
Shubham: I started preparing for CAT in January 2017 and I believe one should give at least 10 months for preparation. I took online night classes from Career Launcher from 9 pm to 11 pm which really helped me. I started taking mocks from May onwards and I made sure that I give it at the coaching centre so that there is no disturbance. I started waking up around the time the exam was scheduled so that I get accustomed to the exam day.
Careers360: Which sections do you feel were the easiest or the toughest?
Shubham: I find Data Interpretation and Logical Reasoning the toughest so I used to give separate time to this section. I solved puzzle books to improve Logical Reasoning sections. Verbal Ability is easier for me, I scored 99.3 percentile last year. I like reading so it gives me an upper hand in Verbal Ability because reading articles improve your vocabulary.
Careers360: What was your time management strategy?
Shubham: Since I was working, so I had to manage my studies with the job. I quit my job in the last month but the previous nine months that I prepared for CAT while working. I made sure that I give 2-3 hours a day to my weaker sections, and on the weekends I appeared for mock.
Careers360: How coaching helped you in securing good percentile? Is it possible to succeed through self-study? 
Shubham: You can go for self-study if you can maintain focus for 10 months and solve questions. It is no doubt that coaching helps in forming a strategy. It is necessary to keep the pace throughout the process. I formed my strategy after appearing in 7 or 8 mocks.
Careers360: What do you think are the factors responsible for your success?
Shubham: All my friends were either at IIMs or working with a great MNC, so that was a motivating factor for me. Although, when I was studying at BITS Pilani I knew that I have to appear for CAT.
Careers360: Who is your role model?
Shubham: I look up to Elon Musk. Every person who belongs to a humble background and reaches a level where people look up to him is my role model.
Careers360: What did you enjoy most whilst preparing for CAT?
Shubham: I like to read books on Indian Army and autobiographies of inspiring leaders like Elon Musk. Apart from this, I am a big fan of Punjabi songs.
Careers360: What is going to be your plan of action now that you have secured such a good percentile?
Shubham: I am going to prepare for GD/PI and I also got a call from SPJIMR Mumbai so looking forward to it.
Also Read
CAT 2017 Topper Interview – Suryansh Bhargava, 99.91 Percentile
CAT 2017 Toppers - Know Profiles of CAT 99-100 Percentilers
CAT 2017 Result: Easy Quant helps non-engineers to enter CAT topper league