CAT 2016 Topper Interview-Focus on analysing weak areas; take regular breaks, says 99.79 percentiler Rishabh Verma
CAT 2016 topper, Rishabh Verma's 99.79 percentile is no mean feat. But the Chemical Engineering student believes that being a topper in one of the toughest management tests in the country is actually not a difficult task, if one understands the art of speed and accuracy. Currently pursuing B.Tech from IIT Delhi, Rishabh took a comprehensive mock-analysis programme to analyse his weak areas and strengthen them.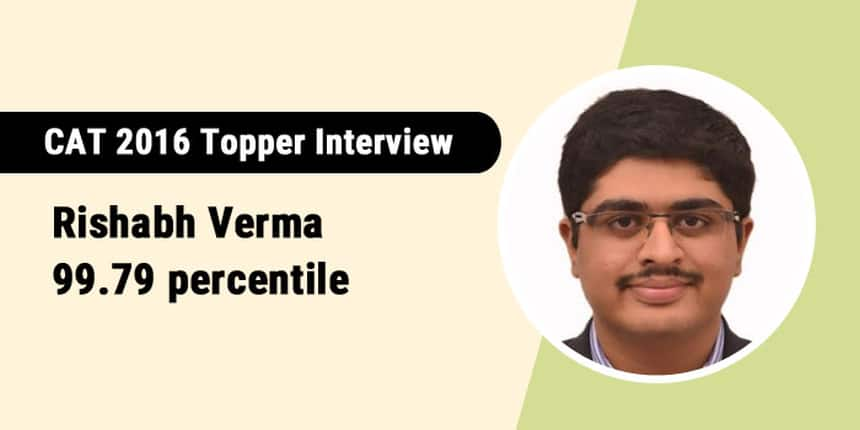 A big fan of football, Rishabh's favourite club is Chelsea FC. The topper also enjoys music and is a singer as well as tabla player.  In this interview with Careers360, Rishabh shares his success mantra and what are some of the important that aspirants should keep in mind while preparing for CAT.
Recent Posts:
Read here the full interview:
Careers360: Congratulations! How are you celebrating? Were you expecting this percentile?
Rishabh: Thank you so much. I watched a movie with my family yesterday! I was expecting a decent score and percentile but the result was overwhelming. It felt really nice to accomplish my goal and take another step towards my dream business school.
Careers360: What is your section wise percentile?
Rishabh: My percentile in Verbals is 99.26 while that in Data Interpretation is 99.20. In Quants I got 98.98 percentile
Careers360: How was your exam? Which were the toughest and weakest sections according to you?
Rishabh: The exam was mostly what I had hoped for. I found the Quant section to be toughest even when I was most prepared for it. Verbals was surprisingly easier than expected and DI was of average complexity.
Careers360: How did you prepare for CAT? Did you opt for mock tests? How much time did you give for your preparation?
Rishabh: I enrolled in a regular class-room course with a coaching institute, which also included mock tests and a comprehensive mock-analysis programme that helped me analyse certain areas where there was scope for improvement. The classes started in July and the course was over by end of October.
Careers360: Which is your preferred business school? Which specialization are you interested in?
Rishabh: My preferred B-School is IIM Ahmedabad. I have not decided on a specialisation yet as I want to keep my options open, but two branches that attract me at the moment are Finance and Marketing.
Careers360: How is your preparation for the next rounds?
Rishabh: I am looking forward to the Academic Writing Test and Personal Interview rounds, wherein my preparation would primarily consist of keeping tabs on current affairs and adequate interview preparation provided by Career Launcher.
Careers360: Is there specific reason why you want to pursue MBA?
Rishabh: I feel that I need to develop leadership qualities and other soft skills such as good communication and an MBA from a top school would be the perfect platform to achieve my endeavors.
Careers360: Tell us about your present educational and family background?
Rishabh: I am currently pursuing B.Tech in IIT Delhi in Chemical engineering, and am among the toppers in the institute. My father works as Director of Technologies in American Express India, having done his MBA from IIM-C and B.Tech from Delhi College of Engineering. My mother is a housewife.
Careers360: What are your hobbies? Do you enjoy any kind of sport?
Rishabh: I am an avid football fan and my favorite club is Chelsea FC. I used to play a lot during school days, unfortunately not so much during college. I also enjoy singing classical and light music, and play the tabla. I have also performed at a few competitions and cultural programmes.
Careers360: Are you active on social media? Were you active during your preparation for CAT?
Rishabh: Yes, I was active on Facebook and Instagram. I don't feel that cutting down on activities helps you prepare better as I believe that CAT is all about mental sharpness and taking regular breaks while studying helps in improving concentration and focus. Nevertheless, I made sure that I keep the amount of time I spend there in check.
Careers360: What are the tips that you would like to give those who plan to take up CAT in the coming year?
Rishabh: I would like to say that CAT is not a tough exam, any person with basic aptitude can solve the entire paper if time is not a factor. What a person really needs to get a decent percentile is speed and accuracy so as to complete the exam in time. Intelligence in attempting the paper, such as leaving questions that may require more time and looking out for easy and high scoring ones is very important. In order to achieve all this, it is very important to take mock tests.
Also Read
CAT 2016: Know the Topper Profiles of 99-100 percentilers
CAT 2016 Result - 20 candidates secure 100 percentile, says Convenor Prof. Bandi
CAT 2016 Results: 56000 candidates score less than zero in DI-LR section, 37000 get negative score in VA section
Questions related to CAT
Showing 9087 out of 9087 Questions