The curriculum and pedagogy are updated as per industry needs: Dr. Sanjiv Marwah, Director, JKBS
JK Business School, Gurgaon, is one of the noted industry-backed management institutes in Delhi-NCR. A member of the JK Organisation, JK Business School Gurgaon offers PGDM courses with various specialisations with a fee of Rs. 5.5 lakh. In this interview by Careers360, Dr. Sanjiv Marwah, Director, JK Business School Gurgaon, talks about the USPs of the B-School, the curriculum, challenges and message for the aspirants.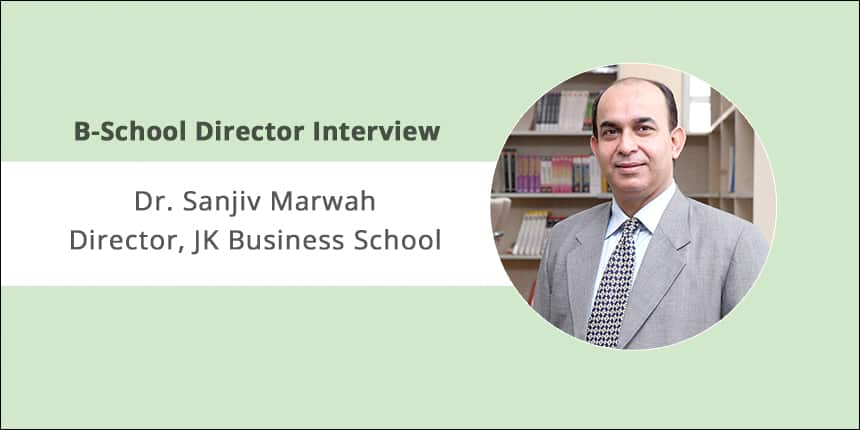 Read the excerpts from the interview below:
Careers360: What are the USPs of JK Business School?
Dr. Marwah: JK Business School has various unique selling propositions and one of that includes the location, which is Gurgaon. Being one of the industrial cities, the location offers industry exposure and high placement opportunity. We also offer various specialised courses such as Business Analytics, Digital Analytics and Marketing Analytics which is very much in demand in the industry at the moment. Another USP would be our digital pedagogy. We are in the process of constant evolution. We utilise the facility of Google Classroom which is convenient for both our students and faculty members. We use Google Drive and other similar software developed by our institute where students can access the syllabus or other study resources whenever they want. The exams are also conducted online. JK Business School has tie-ups with several companies and institutes like IIM Bangalore which provide academic and industrial exposure to our students. We also have a tie-up with various institutes and organisations which offer certifications on Capstone, Fintech etc. We are also ready to pay half of the certification course fee to help the students. 
Careers360: Please tell us about the tie-up with IIM Bangalore.
Dr. Marwah: In the academic tie-up with IIM Bangalore, the institute trains the newly joined PGDM students from backgrounds like Humanities or others where they were not exposed to the core management or business subjects. In the three month tie-up, IIM Bangalore faculty members taught three major topics, Statistics, Finance and Economics. These were MOOCs (Massive Open Online Courses). As much as 98 per cent of our students participated in the Certification course out of which 84 per cent of students passed with distinction. 
Careers360: Is there any opportunity provided to students for international exposure?
Dr. Marwah: Yes we do offer international exposure to students wherein they visit countries like Poland, Singapore etc.
Careers360: JK Business School is a member of JK organisation, one of the leading private sector groups of India. What are the advantages of being a part of such a big industrial brand?
Dr. Marwah: The advantage of being a part of such a big business house is that it lets neither the student nor the faculty members compromise on any aspect. There is hardly a challenge for placement and it is a self-sustainable business school and has very supportive management.
Careers360: What is the strength of the flagship PGDM programme?
Dr. Marwah: Right now we have a strength of 80 students in the first year and 60 students in the second year of PGDM programme. Next year we have a projection of admitting 120 or 150 students.


Careers360: Please mention the fee structure of the programme.
Dr. Marwah: The total fee for the PGDM programme is Rs. 5.5 lakh. It is one of the most affordable management programmes offered in a private B-School in Delhi-NCR.
Careers360: What is the admission process of JK Business School?
Dr. Marwah: Candidates are shortlisted on the basis of CAT or MAT. The shortlisted candidates have to appear for Group Discussion, Written Aptitude Test and Personal Interview rounds. Past Academic record, Extra-curricular activities and work Experience will also be considered.
Maximum weightage of 45 per cent is assigned to the GD, PI and WAT rounds, followed by the performance in the management entrance test performance, which is 35 per cent. Past academic records and ECA, academic and gender diversity factors are assigned 20 per cent weightage in total. 
We ensure that the classroom is diverse in terms of gender, academic and geographical background. Only five per cent of students in our current batch is from Delhi-NCR and rest are from various other states of India including West Bengal, Andhra Pradesh, Jammu & Kashmir etc. We assign special weightage for girls coming from North-East and boys coming from Haryana. 
Careers360: Are you planning to introduce any new element in the curriculum?
Dr. Marwah: Yes, of course, we bring new elements into the curriculum or the pedagogy. We consult the members of the industry to make our curriculum more aligned and in sync with the current needs of the market. This year we are introducing courses on capital markets and share markets. We have introduced the concept of cryptocurrency where the college pays Rs. 3000 to the students which they can invest and enjoy the profit. In case there is a loss, it would be borne by the institute. We motivate students in every way and also invite young entrepreneurs to share their experiences with them. 
Careers360: How do you support the budding entrepreneurs at your institute who aspire to start their own venture?
Dr. Marwah: The institute has an Entrepreneurship Cell. The member students are given a particular amount which they have to utilise in developing their business ideas. They are also sent to the market to sell the idea. Again, they can enjoy the profit and the loss would be borne by us. This kind of practical exposures prepares them for the future.
Careers360: How do you maintain industry-academia sync in the institute?
Dr. Marwah: We are very particular about industry interaction. Every week students are taken to various companies across sectors to experience and witness the different functions. Moreover, we organise guest lectures from eminent industry members, that includes CEOs and CMOs of top companies who share their experiences and guidance on the practical aspect of running a company and dealing with the various challenges. This is a continuous part of the training.
Careers360: Do you have any special training programme for the second year students who would be appearing for the placement process?
Dr. Marwah: Yes we have developed a unique model last year. Students are evaluated on the basis of 1000-2000 marks. We conduct mock interviews and Group Discussions and special classes are conducted to train students on specific domains. We call members from the industry to evaluate their performances. We also prepare certain questions for interviews and give them for preparation. The alumni members of JK Business School are also invited for this purpose. 
Careers360: What are some of the major challenges that the management education is facing today?
Dr. Marwah: I feel students are hardly given practical training. The weightage of theoretical knowledge is still high which eventually curbs the thinking ability among the students, which also happens as a result of the high usage of technology. For example, in an assignment which requires thorough research, there is a high chance of plagiarism as information is abundantly available on the internet. They hardly go to the source to gather information but copy directly from the internet. 
Moreover, a lot of students opt for management education just for an employment opportunity with a high pay packet. They hardly have any genuine interest in management studies. For exams also, they just mug up from the book. In order to cope with this challenge, we have introduced open book exams. Students are free to refer to the books while writing exams, but the questions are formed in such a way that they would need conceptual clarity to even copy from the book. We also conduct online tests during mid-terms which candidates can take from home also but we are not concerned about their unfair practices as they would have to walk on a tight rope as they have to solve 100 questions in 100 minutes. So they would be left with very few time to even cheat.
Careers360: What is your message for the MBA aspirants who would be joining JKBS for the upcoming batch?
Dr. Marwah: We would want the students to be clear and sure about their aspirations. Also, they must know that MBA is not just about getting a high paying job but to improve your skill set and develop in nation-building. We encourage our students to learn by doing. After their classes, we ask them to visit the nearby shopping malls and interact with the retailers to get a first-hand experience of running a business. They are also asked to observe the consumer behaviours as well. Beyond the classroom teaching, they have to learn through these practical experiences and exposures. I would suggest them to always give their 100 per cent, be it while studying, or while working and contribute to the growth of the institute and the organisation. 
JK Business School, Gurgaon Updates and Articles
Questions related to JK Business School, Gurgaon
Showing 18 out of 18 Questions