In the special series of Topper Interviews, today we would present to you the success mantras for someone who aced the XAT 2013 exam without formal guidance but with sheer perseverance. Aditya Tiwari scored 99.81 percentile in XAT 2013 and is currently pursuing Business Management in XLRI Jamshedpur.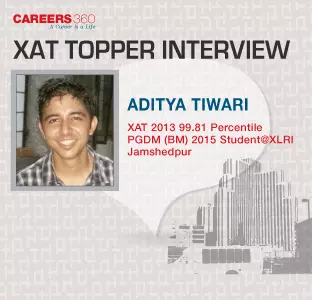 XAT Topper Interview-Aditya Tiwari on Cracking XAT without Coaching
Aditya is a BE in Electronics and Communication Engineering from NIT Surathkal. He has around 2 years work experience in Tata Motors as Design Engineer.
Excerpts from the interview.

Q: Why and when did you decide to go for MBA? What is your plan for the future?
A: During the early years of my engineering course I realized that I would like to take on a challenging role in a technology driven organization. The knowledge I acquired during the course of my engineering provided a fantastic foundation through which I could grasp and imbibe the various technical aspects of my job. The work I did was very interesting and threw up new challenges every day. However my role was extremely specific and it was difficult for me to get an overview of the functioning of my organization. I decided to pursue an MBA because I believe that the knowledge and insights which I gain through the course would allow me to contribute to any organization far more effectively and take on more challenging roles. Also, I believe that an MBA would help me get a clearer career progression path and give me the opportunity to interact with a large number of fantastic people across several industries.


Post my MBA, I intend to take on a strategic or a commercial role in a technology driven organization.

Q: What was your score for XAT 2013? What were the other MBA entrance exams which you had taken?
A:  I scored 99.81 percentile in XAT 2013. Apart from XAT 2013, I had taken CAT 2012.

Q: Which institutes did you get a call from and why did you choose XLRI?
A: I converted the call from IIM Kozhikode along with XLRI Jamshedpur. I chose XLRI because apart from being one of the best B Schools, it offers a unique MBA experience and also has a very well established network of alumni across the world.

Q: How was your initial and overall preparation strategy?
A: I started preparing in March. I did self study from various MBA entrance preparation books, preparation material by coaching institutes like T.I.M.E., Career Launcher and periodically referred to some websites to strengthen my core concepts.
I took ample mock tests and analyzed each mock thoroughly after the exam. The aim was to avoid repeating mistakes across the different tests. In my opinion taking a test series is very vital because it helps you formulate a strategy to tackle the time constraint in competitive exams. Before the XAT exam I took all the past year papers and analyzed my weaknesses across different sections, especially the decision making section.

Q: How did you prepare for the XAT sections and essay writing?
A: For the Verbal and Quantitative Ability sections, the test series helped me strengthen my concepts. For the Decision Making section I referred to the past papers of XAT. For essay writing, reading articles from magazines like The Economist and Forbes India helped me a lot. To improve their writing skills, aspirants could refer to "On Writing Well" by William Zinsser.

Q: What was your time management strategy for the XAT paper?
A: Since XAT doesn't have a sectional time limit, I tried to allocate equal time for each section and during the exam I focused on attempting the easy questions first. I avoided guessing the answers and minimized the negative marking.

Q: Please share your GD/PI experience of XLRI in detail.
A: My GD topic was 'Women rights are not respected in India.'
The GD went for 12 minutes and we were given 2 minutes to organize our thoughts. Everyone got adequate opportunity to air their views. It was important to make sure that you have clear perspective on the topic and are able contribute 2 to 3 good points to the group.
In my interview round, I was asked a lot of questions based on my work experience. It is important to make sure that you have a positive body language during the interview and you should always take some time before giving your answers. You should also be able to articulate your thoughts well.

Q:Did you take any formal coaching for the exam? What is your advice for the candidates who are taking the exams without coaching?
A: I didn't take any formal coaching during the course of my preparation for XAT. It is not impossible to crack XAT or any MBA entrance exam without formal coaching provided you work hard enough to make it possible. It is very important to allot at least 1 to 2 hours every day to prepare for XAT and also ensure that you are extremely relaxed prior to the exam.

Q:What was your strategy to manage and balance the schedule for XAT preparation and other activities of the day?
A: I was working at Tata Motors prior to joining XLRI. It is important that an aspirant identifies his peak performance hours and schedule their study plans accordingly. Even for a working professional it is important that he finds a balance between his work and studies.

Q:What is your advice for the XAT 2014 aspirants?
A: My message to the aspirants is to work hard and not to worry too much about competition. I wish them good luck for XAT 2014.