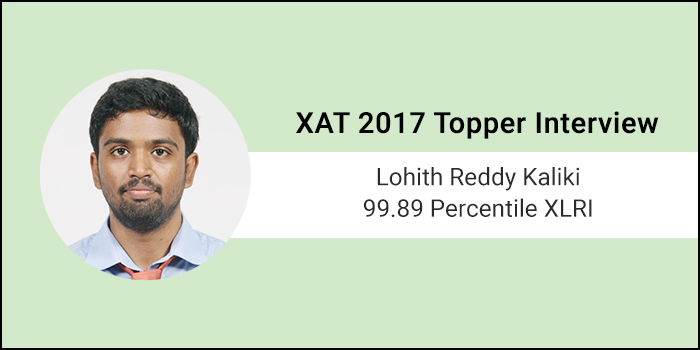 XAT 2017 Topper Interview - Lohith Reddy, an electrical & communication engineer by profession with two years of work experience left no stone unturned during his preparation for XAT. Lohith secured 99.89 Percentile in XAT 2017 and grabbed an admission offer from XLRI, Jamshedpur. Lohith believes that if someone wants to crack B-School entrance exams, he/she must prepare every single day no matter what the circumstances are. Lohith worked 12 hours on an average every day while preparing for the exam. He believes that few months of hard-work and constant efforts are the keys to studying at one of the finest management schools in the country. 
XAT Sample Paper
Download Free Sample Paper for XAT
Download Now
 In this interview with Careers360, he tells us how he struck a balance between work and XAT preparation and managed to grab the top rank. 
Read the full interview here:
Careers360: Congratulations on your admission to XLRI. What was your score in XAT 2017?
Lohith: Thank you so much for your wishes. My overall percentile in XAT 2017 was 99.89.
Careers360: Please share your preparation journey. How did you strike a balance between your academic/professional life and preparation for an entrance exam?
Lohith: All the answers in this interview are going to be what I feel the ideal preparation should look like. My preparation was very erratic and random, hence I would want people to avoid such situations in their preparation.
When considering the Work-Prep balance aspect, it is very important to consider how a candidate defines "work" and "balance". I worked in a company where 12 hours was the average working hours everyday. So, by the time I went home, it's pretty natural to think I had a long day and I deserved a good rest and I needed to maintain our work-life balance. This is where an individual's mindset and determination comes in. One has to strongly believe that to crack B-School entrance exams, he/she needs to prepare every day no matter what the circumstances are. Few months of hard work and a little less than six to seven hours of sleep wouldn't harm anyone.
There are times when we stay in office past midnight and reading after office hours then becomes impractical. This is where we need to make changes in the schedule. By waking up early in the morning and preparing for good two to three hours is a nice strategy. Studying in the morning ensures that we are fresh from a good night's sleep and we won't be having any thoughts from the office day distracting our mind.
Careers360: What was your section-wise strategy for Decision Making, Verbal and Logical Ability, Quantitative Ability and Data Interpretation (QA & DI)?
Lohith: The strategy was similar to all the sections. Read the entire question paper first and mark the questions that seem to be easy. Since all questions carry equal weightage, doing the easy ones first gives us the best shot at getting a good score.
Careers360: How did you prepare for XAT's exclusive sections - Decision Making and Essay Writing?
Lohith: I worked in a data analytics company. So, making decisions was something I did very often at the office. The optimal solution to a situation is what they look for and my work experience really helped me in this section. I did not prepare for the decision making section exclusively, but I was sure that whatever the question is, I needed to think to get the most optimal solution and not just the one that feels right to me.
I did not prepare for my WAT and it backfired in a big way during the exam. Both my handwriting and my vocabulary aren't great, and the fact that I couldn't understand one of the words in the topic only made it worse! I strongly advise candidates to brush up their vocabulary and practice structured essay writing. It will certainly help in getting your thoughts together and putting them into a structure while writing the essay.
Careers360: Were you a part of any coaching institute? Do you think coaching is necessary for aspirants to bag the top rank?
Lohith: I didn't attend any classes from coaching institutes given the time constraints due to work, but I would have loved to. Even if a candidate is good at concepts and doesn't have anything new to learn from the institute, I would advise them to join an institute as the classes serve as fixed time slots for practice. Our daily lives have a lot of uncertainty in them, and we might miss our preparation time due to some unplanned event coming up. Having a fixed time for classes gives us a dedicated time for practice, and of course learning too.
Careers360: What is the significance of mock tests in your success? When did you start taking mocks and what was the frequency?
Lohith: Mock tests are extremely vital before taking the main exams. We generally don't have the habit of sitting in one place for three to three-and-a-half hours with concentration. For me, Mock tests were a way of conditioning my body to concentrate for three hours without feeling fatigued by the computer screen as well as solving the questions. For candidates who don't have a habit of using laptops/desktops or reading from a monitor will be extremely difficult, especially in the RC section.
Taking mock tests will benefit candidates only after they have finished their preparation at least once. Mock tests do serve as a source of learning and improvement, but the effectiveness is much higher if we are prepared for the tests as we can evaluate ourselves at each test instead of comforting ourselves saying we weren't prepared so it's okay.
Careers360: What was your section-wise time management strategy on the exam day?
Lohith: Quant was the section I wanted to spend the most time on. So, I had planned to give the other two sections a maximum of 60 per cent of the total time. I spent around five minutes reading the question paper and marked the extremely easy questions so that I don't miss out on answering them first.
I started with Verbal, moved on to Decision making and after a certain amount of time (45 per cent), I moved to Quant, even though a few questions were left in each section. In the last 10 to 15 minutes, I switched back to the first two sections.
Careers360: How has your journey been at XLRI so far?
Lohith: "Once you enter through the hallowed gates of XLRI, your life will be changed forever" – I read this on some online blog, and felt people were going way overboard in describing the place. Now, after three and a half months at XLRI, I am happy to say that those words were just perfect. This is everything you expect from a top B-School. The best faculty, an awesome peer group coming from diverse backgrounds, a schedule so packed that "hectic" becomes the new normal. Not just my batch, we have great seniors too! They went out of their way to get the two batches interacting with each other, conducted gyan sessions whenever necessary and guided us at every important stage. Be it exams or CV making or SIPs or anything in life, we can always count on our seniors to help us. Life has been a mix of great relationships with friends, academics, scary exams, hectic assignments and deadlines, parties – I loved each and every day until now, and I look forward to the next five trimesters as well!
Careers360: Any suggestion that you would like to share with aspirants?
Lohith: Pursuing MBA is a big decision in an individual's life because it is two years of time and a lot of money being invested. So, introspect once in a while, and ask yourself "Why MBA?". The first thought for most people would be money, but try to think of other reasons that motivate you to choose MBA as the next step in your career. Once you've come to a decision that you want to do  MBA, you should also acknowledge the fact that the competition is pretty high, and the result would be as good as the efforts you put into preparation! Do not hold back, give your 100 per cent in preparation and things will automatically fall in place. Getting into the top B-schools is a life changer and trust me, the two years in the college would be an experience everyone would cherish throughout their lives! All the best to all XAT 2018 takers!!
Also Read
Stay tuned to bschool.careers360.com for more information on XAT toppers