How to prepare for XAT 2021 in 6 months
How to Prepare for XAT 2021 in 6 Months - Xavier's Aptitude Test, which is popularly known as XAT is an entrance examination that is conducted under the supervision of Xavier's Labour Relations Institute (XLRI) as and on the part of Xavier Association of Management Institutes (XAMI). So, those candidates who are willing to get admission in prestigious B-schools across the country consider XAT as initial and foremost. It is an online computer-based exam conducted across the country annually. Since this entrance test is free from age bar, applicants from any age group are allowed to apply for the examination.
Latest: XAT registration 2021 commenced from September 12. XAT 2021 exam will be conducted on January 3.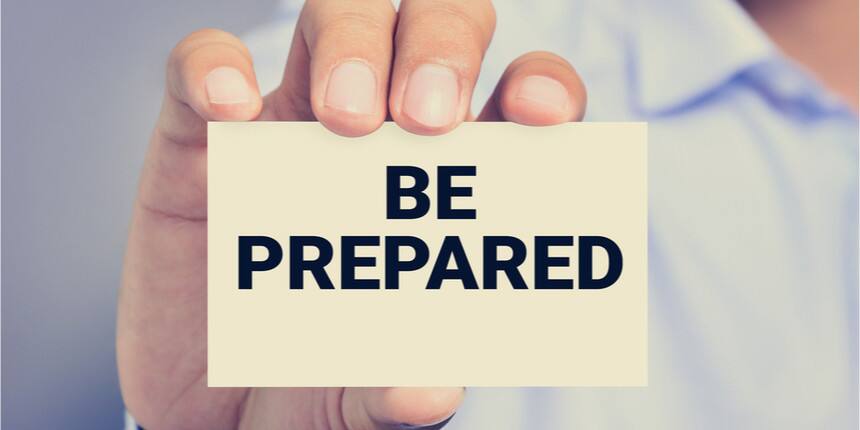 How to Prepare for XAT 2021 in 6 Months?
Careers360 brings forth the ways to inculcate for XAT 2021 in six months. As we know, XAT 2021 will be conducted in computer-based (online) mode. As per the authorities, there will be no Essay Writing in XAT 2021. The total time duration will be three hours. The following table explains the exam pattern of XAT 2021.
XAT Exam Pattern (As per last year)
Section

Number of Questions

Duration

Decision Making

74

3 Hours (180 Minutes)

Verbal and Logical Ability

Quantitative Aptitude and Data Interpretation

GK

25
How to Start Preparing for XAT 2021?
According to the officials, XAT 2021 will be held on January 3, 2021. So for now, there is plenty of time to complete preparation for XAT 2021, although there is no time such as excess time. But, those aspirants who start studying systematically can crack the exam with flying colours. One thing that needs to be understood that attempting mock tests are as important as studying since time management is the core of the examination. So, here we are going to tell you how to the exam preparation, tips and tricks that will help you to qualify for the exam.
Those candidates who have started studying from May 2020 onwards or before will most probably cover the complete syllabus on or before November, which means there will be enough time for them to revise and memorize the complete syllabus in the rest two months. But, for candidates who are starting their studies in October onwards have to fasten their seatbelts more tightly, since, there will be a lot of areas they have to cover in a short span of time. Below we have mentioned essential steps for XAT preparation in 6 months.
Draw a daily time table
Start with making daily studying schedule for at least 5 hours of study daily. Not only has it helped to complete the syllabus within time, but also making a study habit for the future.
Identify the strong and weak areas
Make a list of your strong areas and so as your weaker areas. Since there will be cut off which you need to qualify, working on your weaker portion would help you to get more marks.
Work on your fundamentals
Try to understand conceptually and attempt quantitative ability the most you can, since it is the toughest one to solve but carries a good weightage in the overall examination. Work on your grammar daily in order to clarify verbal skills and logical reasoning, also pay attention to current affairs and global issues to improve your general knowledge.
Take mock tests
Once you complete a section, try to attempt the mock tests and use online study material to make sure you are ahead of the time. Keep in mind, do not cross the time limit you have given to each section. Every second is precious in the examination.
Work on your accuracy rate
Work on your accuracy to prevent yourself from negative marking in the XAT examination. Apart from accuracy, try not to lose your speed. If one is able to maintain both then easily can ace the XAT entrance test.
Quick Links-
How to Prepare for XAT in 3 Months?
How to Prepare for XAT 2021 in 2 Months?
How to prepare for XAT 2021 in 6 months – Sectional Preparation
Before the XAT 2021 exam preparation, it is the must to know the whole syllabus pertaining to Xavier Aptitude Test. Each section has its own value and needs equal attention. A constructive strategy and planning can be executed for the preparation so that one can allot sufficient time for all the sections. Vandan Shah, XAT 2020 topper revealed his success "I practised a lot from past year XAT question papers. Apart from that regularly giving the mocks helped me decide on how much time do I need to dedicate to each section." Know the detailed XAT section-wise syllabus
Verbal and Logical Ability - Questions will be asked from Analogy-based on vocabulary, sentence correction, fill in the blanks, reading comprehension, paragraph formation questions, grammar, poem and more.

Quantitative Ability and Data Interpretation - If one is good enough in basic mathematics, then they can easily ace this section. Questions will be asked from profit & loss, percentage, equations, time & distance, progressions, time & work, permutation and combination, polynomials, scatter plots, and bar charts, numbers, data sufficiency, probability, etc.

Decision Making - The only way to score well in this by solving more and more previous year XAT question papers. Questions will be coming from analytical reasoning, arithmetic, clarity on basic concepts, situational decision making, quick thinking, etc.

General Knowledge - While preparing for this section, focus should be rendered on the following subjects- currency, history, geography, invention, and authors, the national capital, important dates, culture, science and business, personalities, current affairs, films, etc. Apart from that read from general knowledge books, magazines and journals will help.
Quick Links-
XAT Preparation Timetable
XAT 2021 preparation tips from toppers
How to Prepare for XAT 2021 in 6 Months- Recommended Books
While preparing for any entrance test, having quality study material is the must thing. Here is the list of books for XAT which is recommended by the topper and experts.
Section Name

Book Name and Study Material

Quantitative Ability

Quantitative Aptitude Quantum CAT (Common Admission Test) for Admission into IIMs by Sarvesh K Verma

How to Prepare for Quantitative Aptitude for CAT by Arun Sharma

Quantitative Aptitude for Competitive Examinations by Abhijit Guha

Data Interpretation

Data Interpretation for the CAT by Nishit K. Sinha

Data Interpretation for the CAT by Arun Sharma

The Accredited Guide to Data Interpretation and Data Sufficiency by Ananta Ashisha

Verbal Ability

High School English Grammar & Composition by Wren, Martin

Word Power Made Easy Book by Norman Lewis

30 Days to a More Powerful Vocabulary by Wilfred D.Best

Logical Reasoning for the CAT by Nishit K. Sinha

Verbal Ability and Logical Reasoning for the CAT by Nishit K. Sinha

How to Prepare for Logical Reasoning for the CAT by Arun Sharma

Verbal Ability and Logical Reasoning for the CAT and other MBA Examinations by T.I.M.E

Verbal & Non-Verbal Reasoning by R.S. Aggarwal

Logical Reasoning

Modern Approach to Verbal & Non-Verbal Reasoning by Dr R.S.Aggarwal
Quick Link-
Best books for XAT preparation
Key points to remember while preparing for XAT 2021
As they say, big opportunities come with bigger problems, so as to the XAT examination. Since the examination is a national level exam with one of the highest occupancies by the students appearing, there are various obstacles students go through while preparing for the examination. Some of them are mentioned below and also how one can cop up with them to good marks.
Time Management is one of the most important aspects that one should not be forgotten while preparing for any exam.

One needs to plan according to the marks allotted to a section. Firstly, make sure how much marks does a section carries, and then plan accordingly. Remember, you need to maintain quality with an eye on quantity.

Make sure your decision-making section is your strength. In the past year's collective data, it has been noticed that the decision making section is the weak spot for many of the students. So, make sure you make a habit of go through it.
Questions related to XAT
Showing 872 out of 872 Questions