CAT 2019 Topper Prince Jain who made it to IIM Ahmedabad says- "Confidence and Honesty can make you winner"
CAT 2019 Topper Interview: Prince Jain who made it to IIM Ahmedabad - Interview is an essential part of the selection process wherein within a span of a few minutes a panel judges the candidate's suitability of being offered admission to the MBA programme to the institute. Moreover stakes are very high when one is aspiring to make his way to the premier B-School of the country which is Indian Institute of Management, Ahmedabad. Tears of joy rolled down the cheeks of Prince Jain, CAT 2019 topper as he received a mail from the institute congratulating him that he has been selected for the MBA programme. The journey to the institute began soon after scoring a high percentile in CAT exam 2019, followed by rigorous preparation for the interviews, preparing with analytical written test, reading newspapers etc. In an exclusive interview with Careers360, Prince Jain talks about how he handled questions in various interviews, what was the selection process like, how should one conduct him or herself if one does not know the answer etc. Read the full interview of CAT 2019 topper Prince Jain to know all the aspects of the selection process.
Latest: IIM Indore has released CAT 2020 admit card on October 28. IIM Indore has released CAT mock test 2020 on November 5 in online mode.
Stay up-to date with CAT News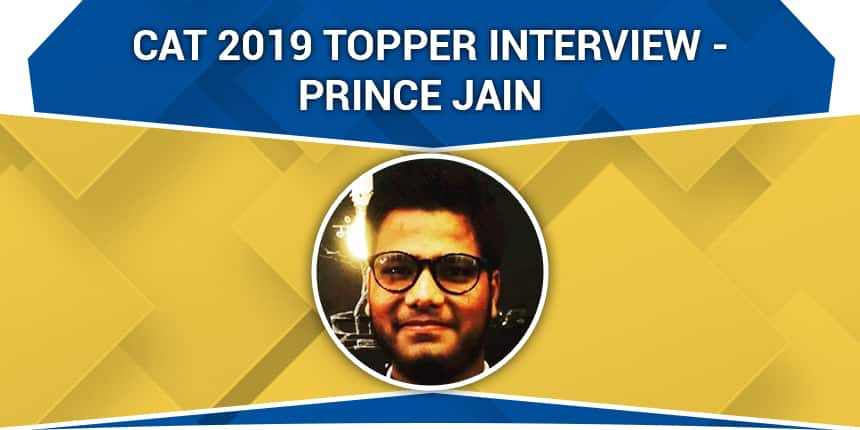 Careers360: Congratulations on converting to your desired institute! How do you feel?
Prince Jain: Thanks a lot! My heart was pounding, and tears were rolling when I saw "Congratulations! You have been selected….". I jumped and danced for 15 minutes. I feel grateful, and I am looking forward to the journey at IIM-A.
Careers360: What is the selection procedure at IIM Ahmedabad?
Prince Jain: A candidate is called for an interview based on his composite score. This score has a 65% weightage to CAT score, 10% each to your 10th,12th and graduation marks while 5% marks are reserved for work-experience. This second round consists of an Analytical Writing Test and a Personal Interview. The final selection is based on factors like CAT Score, AWT-PI Performance, Past academics, and work-experience.
Careers360: Please elaborate on your overall experience of the selection procedure at IIM Ahmedabad?
Prince Jain: After scoring 99.77 percentile, I got an interview call from IIM-A. As a Fresher, I knew that only my academics would not help me crack the interview. So, I started diligently preparing for Interviews. I brushed up all the 9th-12th Class concepts, followed daily events from The Hindu newspaper, started writing an article a day. This went hand in hand with my mock interviews.
My Ahmedabad Interview was my last interview, and I had learned a fair share of a deal about me and my weakness. The D-Day arrived. I was happy with the AWT performance.
The first question in the PI was about my college CPI being high. I explained I wanted to make sure I used every bit of my time in NIT Raipur as I was dejected after not making it into IIT. I took this opportunity to tell all my academics, co-curricular and extra-curricular activities I did during my engineering. The professor asked if I was trying to drive the interview. I said, which I distinctly remember – "Sir I am not trying to drive the interview. I am not trying to deceive you either. You people have years of experience and know the best when a person is genuine or fake. I am telling all about myself because I believe all these activities and my actions have shaped me to be where I am. I want to paint my true picture and give myself the best shot there ever is." It was at that moment I knew I set the tone. Finally, my hobby of collecting quotes came to rescue. After this, there were questions about current affairs, my social work, my future goals, etc., I answered them all. Post interview, I knew that it was the beginning of a beautiful tomorrow.
Careers360: Which other B-Schools' selection procedure did you appear for? How was your experience in other institutes vis a vis in the institute you have converted?
Prince Jain: I appeared for the process of IIM Ahmedabad, Bangalore, Calcutta, Lucknow, Kozhikode & CAP interview . All my interviews were in Kolkata and were scattered in February and March. I traveled a lot in these months. All of these interviews were different, to say the least. My IIM Ahmedabad interview focused on my strengths and while IIM Bangalore was SOP based. I was given a lot of situational and morality-based questions in IIM Calcutta. My Kozhikode interview was the best and Lucknow the first and the worst. My Cap interview entirely revolved around my hobbies and "why MBA?". I converted them all along with FMS Delhi.
Careers360: What was your AWT and PI topic, and how did you structure it? Did you find it easy, or you had a difficult time writing/ thinking about the topic?
Prince Jain: My topic was around Young People not wanting to settle down and considering marriage to be a burden. I mentioned that the statement had been generalized based on one person's opinion with no backing of facts and figures. Further, I opined that marriage is an essential part of life and how it helps in the inclusive growth of society.
Quick Links :-
Careers360: Did you get external help or join a coaching school to prepare for PI and AWT? When did you start your preparations for it?
Prince Jain: I started my preparations after CAT. My mentor Abhishek Gupta Sir from AB Classes in Raipur played a pivotal role in my preparation. He helped me with my mock interviews and essay writing.
Also Read :-
Careers360: Do you think that AWT and PI require some separate preparation apart from what you mentioned?
Prince Jain: I don't think so. One must be aware of himself, his goals & recent happenings around the world.
Careers360: Please share the AWT and PI topics that you were asked during the admission rounds?
Prince Jain: My topic was around Young People not wanting to settle down and considering marriage to be a burden. A situation was given, and I was asked to pen down my views on it based on the provided information.
Careers360: Are there ways to handle a situation when one has no answer to a question during PI?
Prince Jain: It's not wrong to say, "I don't know" to something you are not sure about. However, telling the wrong answers in such a situation might sink the ship. Honesty is the key.
Careers360: How must one approach an AWT and PI topic? Could you share some Dos and Don'ts for the same?
Prince Jain: For AWT, write correctly without scribbling. Make sure your AWT is crisp and to the point. Don't forget to bring a watch & don't write your opinions. For PI, don't be argumentative. Be polite, keep smiling even if the interview is not going your way. This is so because you never know what the interviewer might pick up.
Careers360: Is there a particular kind of time management strategy that should be added to the candidate's skillset? Will it help in writing a complete structured AWT and Personal Interview?
Prince Jain: The time-management strategy will come handy during AWT. Verification of your write-up is a must, and so is a conclusion and a logical flow. All of this comes from practice. However, time-management is not something in the picture during PI.
Careers360: How did you feel when you faced the interviewers during the PI? Please share a few details like the size of your panel and your overall experience.
Prince Jain: I was very nervous because this was the day I had been waiting for since the CAT results. All I was hoping for was a good start. I was 5th in my panel, out of 10 candidates. The interview lasted 25 minutes, and I enjoyed the entire process. It was enriching.
Careers360: Which interview turned out to be the best one? Enlighten us about the finest one according to you.
Prince Jain: I think Kozhikode was my most exceptional interview, as there was not a single question I couldn't answer. They questioned me from my previous internships, stats, puzzles, but I could take it all. This was only possible because I learned from my mistakes in the earlier interviews and was fully prepared.
Careers360: What about the questions which you found difficult to answer? How did you reply to those?
Prince Jain: I was asked for a guesstimate to find the number of OLA cars that should be used in Raipur city. (OLA was in the news the day before). I started to construct my answer, but after each presumption of mine, they questioned its credibility and were not allowing me to answer. I couldn't think at that moment any other way. I apologized.
Careers360: So, in those situations, was the panel easy or harsh on you? What should one do when s/he has no answer?
Prince Jain: I think all you can say is "I don't know sir" and move on.
Careers360: What were the fascinating questions you were asked? Please share your answers too.
Prince Jain: Question – Explain OSI model but imagine me to be a 5-year-old (They asked me this because I mentioned my job offer to be a Network Engineer in Samsung Bangalore)
I compared my childhood memories of going fruit shopping in the back of my father's scooter to the overall process. I compared the Physical and Data-link layer to a farmer's work, Transport layer to Trucks, Presentation Layer to my mother cutting the fruit in slices, arranging in a plate, and me eating the fruit as the application layer. The way I put it so politely and childishly, that they verbally appreciated by analogy.
Question - I was asked to entertain the professors as I was plum last in the panel, and they said they were bored.
Answer - I said I am not much of a singer or poet, but I like reading and collecting quotes from movies. I mentioned Enzo Ferrari's quote – "For me, the most important victory is the one I still have to attain" & a few more. They were happy, and so was I.
Careers360: How different is an IIM interview from a non-IIM yet top B-School interview? Are there significant differences? (If you have appeared for IIMs)
Prince Jain: I did not appear for any non-IIM interview, but I don't think there should be much of a difference. All you have to do is put yourself across as a viable candidate across, and it should do the trick.
Careers360: How did you go about the preparations for PI? Did you search or look up some questions or practice mock PIs?
Prince Jain: I relied heavily on reading interview experiences available in Quora. It gave me an idea of what to expect on the D-day, but to get rid of the panic, I took mock interviews with my mentor, friends & seniors studying in IIMs.
Careers360: And finally, what are the aspects or qualities that the interview board looks for in a candidate?
Prince Jain: I think the main ones have to be confidence and communication skills. They want to assess whether or not you will fit into a B-school culture, and these skills are an indispensable part of it.
Questions related to CAT
Showing 10885 out of 10885 Questions