XAT 2021 Topper Shahreyar Yawar says, "Try to be the best version of yourself"
XAT 2021 Topper, Shahreyar Yawar who scored 99.34 percentile in XAT 2021 is currently pursuing his final year Bachelor's degree in Civil Engineering from NIT Jamshedpur. Shahreyar, a native of Samastipur, Bihar didn't lose hope after scoring 95 percentile in CAT which was not according to his expectations. With his multiple mock tests solving strategy, he made it to CAT by wrapping up his preparation in the last one month before the XAT exam. In addition to this XAT 2021 Topper Shahreyar Yawar did not even take any coaching and made it to XAT through his self study preparation. Shahreyar aims to secure admission in XLRI, Jamshedpur and study with the top brains in the country. In an interview with Careers360, he shares some valuable tips for next year XAT aspirants. Read the detailed interview here.
Careers360: Why XLRI over other B-schools?
Stay up-to date with XAT News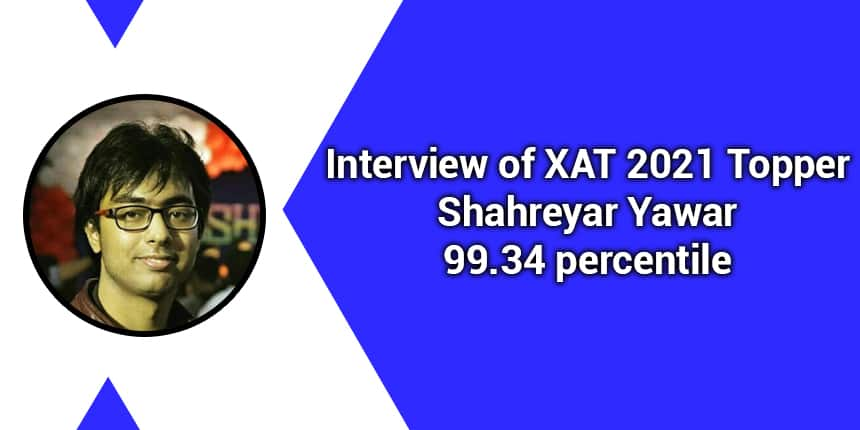 Shahreyar Yawar: My CAT exam didn't go as per my expectations and I scored 95 percentile in it and it blew my chances to get BLACKI IIMs and after the exam, I had a month to prepare for the next big thing that is XAT 2021.
Also I am pursuing my undergraduate from NIT Jamshedpur and have been to XLRI a couple of times and I was always dumbstruck to see the atmosphere of XLRI. It's a brilliant college with top brains in the country taking admission here. So, I was always self-motivated to take admission here.
Careers360: Tell us something about yourself?
Shahreyar Yawar: My name is Shahreyar, I am currently pursuing my final year undergraduate in Civil Engineering from NIT Jamshedpur. I basically hail from Samastipur, Bihar. I love playing sports like Football, Lawn tennis and a big time bibliophile .
Also Read-
XAT 2021 Topper Farzan Shaikh interview
CAT 2020 Topper Aruneet Dutta interview
Careers360: What were your XAT 2021 overall and sectional percentile? Apart from XAT, which other entrances you appeared for, and what were your percentiles?
Shahreyar Yawar: I got 92.0008 percentile in Quantitative ability, 99.3893 In Verbal ability and logical reasoning , 98.5592 percentile in Decision making and total 99.3469 percentile. Apart from XAT, I appeared in CAT where I scored 95 percentile while I am preparing for appearing in IIFT which is going to be held on 24th January.
Careers360: When did you start preparing for XAT? Please share in detail your month-wise preparation strategy you followed.
Shahreyar Yawar: I started my XAT preparation alongside with CAT preparation because both have pretty similar patterns and covering one base means both are covered.
Being at home due to the Pandemic helped because it gave me an ample amount of time to prepare for XAT. I didn't join any coaching institute and prepared by self-study, although I took help of YouTube channels like Rodha classes, IQuanta and Book by Arun Sharma.
Couple of weeks before exams, I gave multiple mock test which helped me identify my strength and weaknesses
Careers360: What is your take on the XAT test pattern? Should the authorities switch to the previous pattern or the changed pattern is good?
Shahreyar Yawar: XAT pattern is pretty perfect, CAT reduced it's timing to 2 hours while XAT persisted with 3 hours which gave ample amount of time to solve each Question, hence increasing the efficiency. Previously, there was an Essay writing section too, but it has been removed, I believe it's for good because marks on essays could be controversial, and cause less transparency.
Careers360: How did you manage your time during the test? What were your strong and weak areas? How did you tackle your weak area of the test?
Shahreyar Yawar: I started with quants first because being an engineer, I was quite handy with Mathematics! And it was a bit time taking but I managed to solve easy to moderate questions first. Then subsequently I moved on to Verbal and decision making. I love reading books, newspapers and writing articles, so that helped me in the reading comprehension and decision making section. I was a bit slow in solving the Data interpretation Question, so I allotted more time in other sections to make up the score as other sections were less time taking and awarded quick marks. I know XAT is a low scoring exam and I need not to attempt all questions in order to get a good percentile.
Careers360: Your message/tip for this year's XAT aspirants?
Shahreyar Yawar: My message for XAT aspirants would be to reach exam city 1 day before exam as exertion/stress of traveling before exam could provide hindrance in giving your best shot. Sleep early a day before and solve each question calmly, take your time as even a 50 percent score will land you 99+ percentile. Also, practice mocks because it will help you increase your speed, even 10 minutes quicker means you have now time to attempt 4-5 more questions, which means your percentile could climb from 95 to 99 in no time.
All the best, have faith in your ability, and always try to be the best version of yourself without comparing yourself to others.
Questions related to XAT
Showing 944 out of 944 Questions