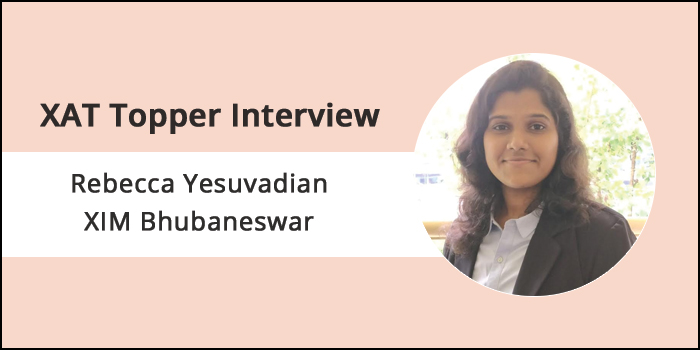 XAT 2018 Topper Interview –  Keeping the right balance between preparing for an exam and your daily routine is one of the most essential keys to achieving any goal. This XAT topper interview of Rebecca Yesuvadian, a student of XIM Bhubaneswar is all about the achieving that sync and success with a fine-tuned study plan for XAT.
XAT Sample Paper
Download Free Sample Paper for XAT
Download Now
In this XAT topper interview, Rebecca shares her success mantra – continuous efforts, and made it a point to practice daily irrespective of the circumstances. Keeping this in mind, Rebecca aced past not just XAT, but other competitive MBA entrance exams as well. Despite being a working professional, she utilised her time in the best way possible, even during her commute to work and back. She maintained a dynamic timetable which she made on her own to accommodate the efficient ways in which she could prepare.
The most important aspect of preparation for any exam, Rebecca believes, is to study incessantly with utmost dedication. Irrespective of being exhausted after work, she consistently completed her deadlines, sometimes even sacrificing sleep, in order to stay on schedule. Practice, taking several mock tests with a combination of a never-give-up attitude are the reasons for her success, she says. Read this XAT 2018 topper interview to know more about Rebecca's preparation tips and strategies for XAT.
To fill XAT 2019 Application form - Click here Or Apply from the window given below:
Excerpts from the interview:
Careers360: What was your XAT 2018 overall and sectional percentile? Apart from XAT, which other entrances you appeared for and what were your percentiles?
Rebecca: My scores were as follows:
XAT: 97.26
Quantitative Ability: 84
Verbal and Logical Ability: 96
Decision Making: 99
CAT: 91.52
MAH-CET: 97.25
Careers360: What was your preparation strategy? Please share section-wise strategy in detail.
Rebecca: I had a simple mantra: Continuous efforts. I made it a point to practice daily irrespective of the circumstances.
My section-wise strategy is as follows:
1.    Quantitative Ability: I took sectional tests on alternate days. Revised all formulas once a week.
2.    Verbal Ability: I read non-fictional novels related to MBA like Freakonomics, World Is Flat, etc.
3.    Logical Reasoning: This was my forte so I didn't make any extra efforts. I just tried to maintain my score and increase accuracy while giving tests.
4.    Decision Making: I gave sectional tests and also tried solving as many cases as I could find online.
Careers360: How did you prepare – Self-study or Coaching? Please explain which one do you think is better?
Rebecca: I took coaching for CAT wherein I learned the concepts. I applied for an online test series and took sectional and full-length mock tests regularly. Basically, I did self-study but I made it a point to follow the test series timeline.
Self-study versus Coaching is actually a subjective question. Analyse yourself by taking free mock tests available online. And if you feel the need for coaching, go ahead with it. Also, if you prefer self-study but you know that it will be difficult for you to maintain timelines, do join a coaching class.
Careers360: When did you start preparing for XAT? Please share your month-wise preparation strategy for XAT from six to last month of the test.
Rebecca: I started preparing for all entrance exams in April 2017. Since I was working, I had a pretty tight schedule.
In the first two to three months, I studied the syllabus and practiced as much as I could. I always made it a point to solve Numericals in different ways so as to find the shortest way to solve it.
I gave sectional tests in the next two months along with two to three full-length tests. I reviewed my paper and brushed up the topics which I found difficult to score.
After this, I started giving sectional and full-length tests simultaneously. I revised formulas and concepts from time to time. I focused more on the concepts where I wanted to improve my scores. But in doing so, I took care not to lose focus on the concepts which I had already mastered.
Careers360: How did you balance your preparation with studies or job? Please share your timetable.
Rebecca: My job was really engaging and time consuming. I utilised my time as efficiently as I could. I even started taking short duration sectional tests of verbal and logical reasoning while on my way to my office and while returning back home, I would review the same test. I used to have a dynamic timetable. I set shorter deadlines at a time and fulfilled it to the best of my capability and then plan the next one.
The one thing I was particular about was to make my own timetable as to what was the most efficient and effective way I could prepare for the exams. This is because I strongly believe that each person has his/her own strengths and weakness and they should plan the schedule which is suitable for them.
Careers360: According to you, what is the most important aspect of preparation?
Rebecca: The most important aspect of preparation for any exam is to study incessantly with utmost dedication. The one thing I did consistently was to complete my deadlines irrespective of how tired I was. Sometimes I would even sacrifice my sleep, in order to stay on schedule. Dedication, hard work and a never-give-up attitude are the reasons for my success.
Careers360: What are the study materials you referred for XAT?
Rebecca: For Quantitative Analysis, I practised the question sets from the T.I.M.E classes' notes.
For Decision Making, solve as many problems as you can find online. Magnus Prep provides an online XAT decision-making package which contains lectures and a confined set of cases to solve.
For Verbal, I read non-fictional novels. I also read The Economic Times on a regular basis.
For Logical Reasoning, I referred to Arun Sharma's Logical Reasoning book.
The main study material for me was my test analysis. It might sound odd but reviewing and analysing the tests you have given helps you a lot better than plainly studying. I used to spend time equivalent to the test time or more on analysis as it helped to create a strategy for answering my questions in an efficient way. It helped my understanding of my strengths and weaknesses and plan my future schedule accordingly.
Careers360: When did you start taking mock test and what was the frequency? How did you get it analysed and integrate it in your preparation?
Rebecca: I started giving mock tests around July. I followed the class timetable which had mock tests every alternate week for the first two months and then the mocks were conducted every week.
I had joined the IMS online test series. They had a variety of analysis done on the tests we took, like sectional analysis, area-wise analysis, time spent, difficulty level, etc. I used their analysis to focus on the topics I didn't score well while trying to maintain the scores on the topics I was well versed in.
Careers360: How can a student from non-English background prepare him/herself for the exam?
Rebecca: A non-English background student should start from the basics of English i.e. grammar. They can read short stories and children's comic books and then move on to newspapers and other novels.
I would like to give my father's example. My Dad who is from a non-English background has developed himself and is currently the CAO in BSNL. He inculcated a simple habit of reading the newspaper every day but the main thing was that he would have a small dictionary with him whenever he read newspaper. He used to learn the meaning of any new word that he came across and thus eventually became well versed in English.
Non-English students can follow this method but then they will have to start this, at least a year prior to XAT examinations.
Careers360: What was your exam day strategy in terms of question selection, time management, accuracy and sectional attempts/cutoffs?
Rebecca: I started with Logical Reasoning as it gave a boost of confidence. Then I would solve Quant, verbal and then Decision making. This is the pattern I followed according to what made me score efficiently.
Prepare a strategy for yourself based on your strengths and weaknesses. Plan it in such a way that you will score the maximum of what you are capable of scoring.
Careers360: Preparing for XAT is a long and tiring process. How do you suggest one should keep his/her calm and confidence?
Rebecca: Yes. that's true. To deal with the preparation and remain calm and confident at all times, I believe one should:
1. Take regular breaks.
2. Do yoga as it helps you to calm done and focus well on your goals.
3. Read self-motivation books when you are at your lowest.
Careers360: What is your message for XAT 2019 aspirants?
Rebecca: My message for XAT 2019 aspirants is to focus on your goal and you will automatically align yourself to fulfil it. Hard-work and dedication are a must. But smart work is also necessary. Don't follow others blindly. Analyse yourself and study in a way which will help you to prepare efficiently. Don't ever give up and eventually you will reap the most bountiful success.
Also Read