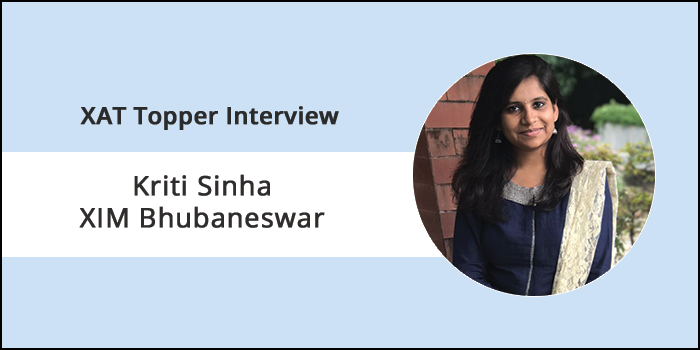 XAT 2018 Topper Interview – Preparing for competitive exams like CAT, XAT, CMAT and other B-school exams may seem like a long and tiring process for some. Some may even lose hope and enthusiasm on their journey of preparation. To avoid such pitfalls and keep going, read the success story of XAT 2018 topper, Kriti Sinha whose hard work and consistent efforts led to her admission in XIM Bhubaneswar.
MBA/PGDM Admissions Open 2019
SOIL School of Inspired leadership
XAT Sample Paper
Download Free Sample Paper for XAT
Download Now
Being a working professional in an IT firm, Kriti was one of those who could only devote enough time for preparation during the weekends. This did not deter her from her goal and she decided to join a coaching centre. From the time she started her preparation in March 2017, she remained consistent, worked on basic concepts in each section, and practised by solving questions through different methods. With three to four months left, she started taking mock tests rigorously and prepared a self-analysed report each time to know her shortcomings and mismanagement of time.
To fill XAT 2019 Application form - Click here Or Apply from the window given below:
Kriti believes that there is never a last-minute strategy to be undertaken. A secret tip given to her by one of her faculty, which goes as "Ten good Quant questions, one Reading Comprehension, one Para jumble, one Data Interpretation or Logical Reasoning set every day, is the recipe for success" kept her going. This interview of the XAT 2018 topper is a must-read for all XAT 2019 aspirants who are on the road to preparation and looking for inspiration. Read on to know more about her success journey.
Excerpts from the interview:
Careers360: What was your XAT 2018 overall and sectional percentile? Apart from XAT, which other entrances you appeared for and what were your percentiles?
Kriti: I had an average score in XAT 2018, overall 90.8 percentile, Quant 84.1 percentile, Verbal and Logical Reasoning 88.7 percentile, and Decision Making 81 percentile. I appeared in CAT 2017 securing 92.30 percentile and CMAT 2018 securing 96.70 percentile.
Careers360: What was your preparation strategy? Please share section-wise strategy in detail.
Kriti: There was no specific section-wise strategy because what appears in the test is quite random. Each section requires you to judge the areas of strengths and weaknesses. Note them down and make sure you divide your time such that you improve on your weak topics without compromising your efficiency in the strong ones. Do not ignore the strong ones thinking that you will be able to crack them. A rigorous practice on the strong ones will lead to an increase in your accuracy and save you from negative marking.
Careers360: Did you opt for coaching? How did it contribute in your success?
Kriti: I had a coaching centre to guide me through but that does not mean it is necessary. I was working so I felt that a coaching institute will help me follow timelines and provide honest B-School feedbacks, as in, "which is good for what". Joining a coaching does not guarantee success but your determination does, so choose wisely.
Careers360: When did you start preparing for XAT and how did you develop your monthly preparation strategy?
Kriti: I started preparing for both CAT and XAT in March 2017. Since I was working I could hardly devote one to two hours daily but I made sure I did not lose touch in any of the sections. For the first two to three months, work on your basic concepts in each section. Practice good questions and try to solve them by different methods.
Moving on, start analysing your mock tests when you have three to four months left. Decide on your strong and weak topics after analysing a few mocks. Try to solve tricky questions innovatively when you have two to three months to go.
In the last month, make sure you are doing nothing but giving as many mocks as you can, together with analysing them and improving upon them. There is never a last-minute strategy to be undertaken. Just remain calm and relaxed. Give your best and the rest will follow!
Careers360: How did you balance your preparation with studies or job? Please share your timetable.
Kriti: I was working with an IT firm, so I hardly got any time to study. But, weekends are always there to save us. Anyhow, there is a mantra which I got to know from one of my teachers who said: "Ten good Quant questions, one Reading Comprehension, one Para jumble, one Data Interpretation or Logical Reasoning set every day, is the recipe for success". Though it is tough to follow with all the other things, at least try to achieve 50-60 percent of what is stated. It will hardly take two hours to do it, but in the end, you will feel the difference.
Careers360: What is the most important aspect of preparation according to you?
Kriti: Here are the things that kept me going:
Don't lose hope/trust in yourself

Follow self-motivation

Practice daily

Learn from your mistakes
Careers360: What are the best study materials for XAT or other exams? In terms of online or offline materials, which one did you prefer and why?
Kriti: No material is the best. You need to put in your best efforts to realise its effectiveness. For the decision-making section, find videos on YouTube by various channels. I used to read The Hindu newspaper daily, and referred to Economic Times once in a while.
If you are taking guidance from any coaching, make sure you stick to its pattern of questions, attempt all that you are given and give as many mocks as you can. Arun Sharma from Arihant publications remains the all-time guide to people preparing on their own. Solving LOD3 problems is an achievement in itself. For online material, be a little selective by being aware of the course structure of the test.
Careers360: When did you start taking mock test and what was the frequency? How did you get it analysed and integrate it in your preparation?
Kriti: In the first four to six months, I took one mock every 14 days, and then I went on reducing the time gap, finally getting to one test per day before the test. Prepare a self-analysis report after each test indicating all the places you made a mistake or even wrong choice of questions or mismanagement of time or any other considerable improvements you can think of. Make sure you address them in the next test.
Careers360: How one with non-English background should prepare him/herself for the exam?
Kriti: Someone with non-English background needs to put an extra effort into verbal aptitude. Start with the basics of English grammar first, moving on to short stories and novels. Read newspapers especially the editorials, take down words, and try to increase your reading and understanding speed. Discuss what you read with others so as to know what interpretation they hold and where is the gap that you need to bridge. Practice as much as you can. Divide your time in the ratio of 3:1:1:1 for verbal, Quant, Logical Reasoning and Decision Making respectively. You can also take guidance from some coaching centres if you have that option.
Careers360: What was your exam day strategy in terms of question selection, time management, accuracy and sectional attempts/cut-offs?
Kriti: Attempt the questions as per your areas of strength, and which you know you can do in one go. Don't get stuck anywhere by being emotional. Accuracy is always the game-changer. So avoid questions you are not sure of or attempt them later. The sectional attempts and cut-offs are all dependent on your competitors. There is nothing like the minimum number of attempts. It varies across aspirants. Just make sure that you do not miss easy questions even if they are from your weak topics.
Careers360: Preparing for XAT is a long and tiring process. How do you suggest one should keep his/her calm and confidence?
Kriti: I would just like to say that if you feel preparing for XAT, or any other B-school is a long and tiring process; you need to rethink your decision of joining them.
Careers360: What is your message for XAT 2019 aspirants?
Kriti: Don't give up on yourself ever. I have seen many losing their enthusiasm as they near the tests. Whenever you feel like giving up, just think once why you actually started, that will keep you going.
Also Read