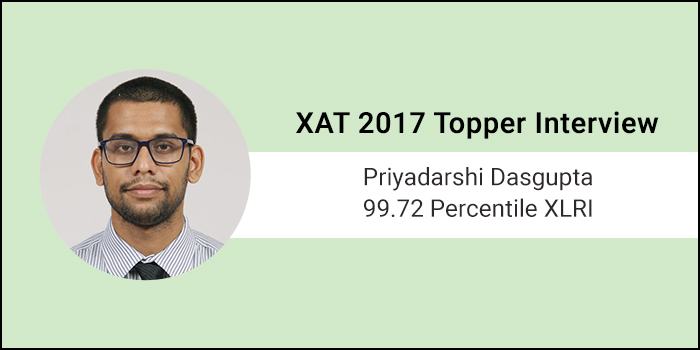 Right from the beginning, Priyadarshi Dasgupta was very particular about his dream of pursuing an MBA programme in Human Resource & Management. With over three years of work experience in the same field, he started preparing for XAT. After months of regular practice and dedicated section-wise preparation, Priydarshi topped the exam with 99.72 percentile. He believes coaching is not necessary to grab the top rank in XAT but admits that it certainly helps in interview processes. The topper says practice is the ultimate key and suggests that all management aspirants must practice as much as possible before taking any management entrance exams.
XAT Sample Paper
Download Free Sample Paper for XAT
Download Now
Priyadarshi also mentions the importance of mock test papers in preparation. In this interview with Careers360, he tells us how he prepared for the big exam and the weak areas he focused on during the preparation. 
Read the full interview here:
Careers360: Congratulations on your admission to XLRI. What was your score in XAT 2017?
Priyadarshi: Thank you so much for your wishes. My overall percentile in XAT 2017 was 99.72.
Careers360: Please share your preparation journey. How did you strike a balance between your academic/professional life and preparation for an entrance exam?
Priyadarshi: There is a need for the practice that requires a certain amount of time to be taken out daily. I kept 3 hours separate from my schedule for practice only. So, I scheduled all my work around this time to make sure that these three hours weren't affected. Also, weekends are of extreme importance if you are preparing alongside work. You cannot spend it relaxing and doing chores since you need to spend a lot of time practicing each section.
Careers360: What was your section-wise strategy for Decision Making, Verbal and Logical Ability, Quantitative Ability and Data Interpretation (QA & DI)?
Priyadarshi: For verbal and logical ability, I used to listen to the news every day and read the newspapers regularly. This helped me improve my language and grammar. Mock papers were really useful for this section as they gave me feedback on the areas I needed to work on.
For QA/DI, it was a lot of practice going through books and question papers. Reading and solving different types of problems are essential and you need to have a pattern to approach all problems. Once you have a pattern set, practice the more difficult questions to check whether you are able to approach all the problems.

For decision making, it is important to understand the concepts behind different types of questions. Once you understand why the question was asked, it makes it easier to understand which options are relevant. So, first, you need to be able to correctly identify what part is being tested by the question and answer accordingly.
Careers360: How did you prepare for XAT's exclusive sections - Decision Making and Essay Writing?
Priyadarshi: For essay writing, lots of current topics needed to be followed since the content is very important in an essay. I took a look at previous year's essay questions that had been asked and also practiced writing a few essays. I had decided to structure my essay properly, so I began with an introduction, moved on to the body, tried to illustrate with examples if possible, made my inferences and reached a conclusion. I found having a basic structure in place helped me write essays faster and they seemed to have a nicer flow.

For the decision-making section, it was a little more difficult since there is not a lot to go on since XAT is the only exam which has this portion. I found doing a lot of mocks helpful for this.
Careers360: Were you a part of any coaching institute? Do you think coaching is necessary for aspirants to bag the top rank?
Priyadarshi: I was not part of any coaching institute. I do not think it is necessary per se, but it is definitely helpful. A lot of things students get to know about the interview processes in coaching institutes which is something I missed out on. So, there's a definite advantage during the interviews. Back to the concepts for the main exam, it may be helpful to have an instructor who can solve your doubts, but I believe that practice is the key.
Careers360: What is the significance of mock tests in your success? When did you start taking mocks and what was the frequency?
Priyadarshi: Mocks are extremely important in the entire process. They let you measure how far you have come, what your areas of strengths and weaknesses are, and how much you can improve. I found it to be the essential tool in my preparation process. I took my first mock before I started preparing to assess my current level that time. After I started preparing, I took a mock every two weeks for the first two months. After that, I increased the frequency to once a week and then to every other day in the week. Just taking mocks is not enough. You must also work on the aspects that you assess in these tests. A section-wise and topic-wise break-up is extremely helpful and gives you an idea what to focus on.
Careers360: What was your section-wise time management strategy on the exam day?
Priyadarshi: I was aware of the sectional cutoffs. So, I planned to spend time on each section. I browsed through the questions first to figure out which will take the least amount of time. I spent 20 minutes on each section answering these questions since I wanted to make sure I had marks in each section. After that, I started QA/DI section since that was the most time-consuming section. And, if I wanted to switch my line of thinking in any question, I would visit a different section for 10-15 minutes and try to solve the problem afresh. In the last 30 minutes, I checked which section had lesser answers and tried to focus on that to bring up my sectional scores at par.
Careers360: How has your journey been at XLRI so far?
Priyadarshi: The journey at XLRI so far has been equally hectic and exhilarating. The speed at which new tasks and assignments come to you is quite overwhelming. However, once you get used to it, you find a way to organize your own chaos. Overall, it has been an extremely satisfying term 1 with plenty of new friends made by sharing interesting and differing experiences.
Careers360: Any suggestion that you would like to share with aspirants?
Priyadarshi: While preparing for XAT 2018, please make sure you practice as much as possible and get feedback on your efforts and outputs. Mocks are crucial to measuring how far you've come. The more you practice, the more you get confident about clearing the exam. It also brings familiarity to the paper and is the best possible way to practice time management.