TS ICET Exam Preparation Checklist: Dos & Don'ts
TS ICET Exam Preparation Checklist: Dos & Don'ts - Kakatiya University, Warangal will conduct TS ICET 2020 on behalf of TSCHE, Hyderabad in online mode. Candidates can not afford to start their preparation for the TS ICET in the nick of time. TS ICET is a state-level entrance test conducted by Kakatiya University annually to offer admission into postgraduate programmes. Most MBA aspirants have already appeared for anyone MBA entrance test, which means their basics will be strong. If their previous entrance exam preparation is still fresh in their mind then they just need to work on the revision part. There is still enough time to polish basics and do their TS ICET 2020 preparation by taking mocks and from recommended books. Read the full article to know TS ICET exam preparation checklist: Do's and Don'ts which are provided below, so that one can get relaxed and perform well on exam day.
Latest: Applicants can edit the exam city preference from July 30 till August 3. Candidates can fill the TS ICET 2020 application form with late fee of Rs. 1000 till August 5. TS ICET 2020 postponed until further notice.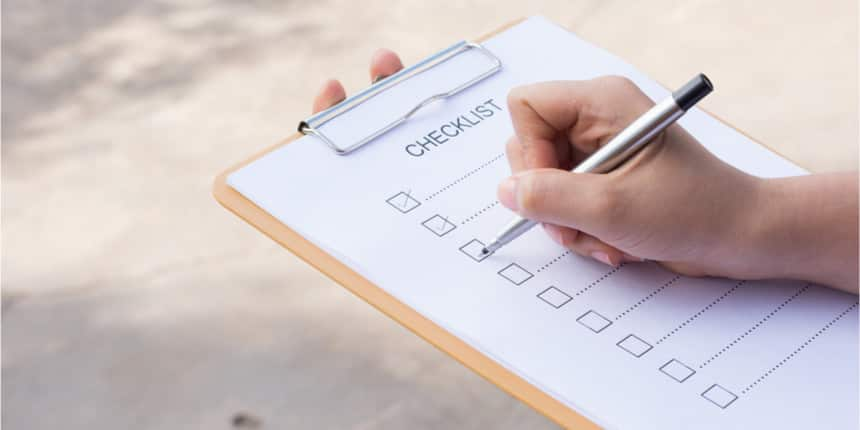 Know the TS ICET Exam Pattern 2020
Before making any strategy, first, get familiar with the exam pattern of TS ICET 2020. Check the section and topic wise TS ICET 2020 break-up.
| | | |
| --- | --- | --- |
| Sections | Number of Questions | Marks |
| Section A: Analytical Ability | 75 | 75 |
| Data Sufficiency | 20 | 20 |
| Problem Solving | 55 | 55 |
| Section B: Mathematical Ability | 75 | 75 |
| Arithmetical Ability | 35 | 35 |
| Algebraical Ability and Geometrical Ability | 30 | 30 |
| Statistical Ability | 10 | 10 |
| Section C: Communication Ability | 50 | 50 |
| Vocabulary | 10 | 10 |
| Business and Computer Terminology | 10 | 10 |
| Functional Grammar | 15 | 15 |
| Reading Comprehension | 15 | 15 |
| Total | 200 | 200 |
For every correct answer, the candidate will get one mark.

There is no negative marking scheme that is applicable for wrong or unanswered questions.
TS ICET Exam Preparation Checklist: Dos
Choose Right Environment for Studies - This is one thing, most students ignored it. But, in reality it is necessary to have a good environment and space for studies so that one can concentrate while studying and give their 100 percent. Choose a good place at home where no one can interrupt you. The place should have ample light and noise-free.

Manage Study Time Accordingly - Most candidates make this same mistake, they do not regulate their study time and do their studies continuously for 6 to 7 hours, which is completely right. One needs to be focused and study hard but not overdo it. Try to maintain the balance between studies and personal care. Take small intervals in between continuous studies which will help in retention of learning absorbed by the brain.

Create a Smart Study Plan - When it comes to preparing for the MBA entrance or any other exam, having a personalized study plan is necessary for students. Experts say those who plan their studies smartly can easily complete their whole syllabus within the stipulated time. While preparing for TS ICET one needs to solve sample papers of TS ICET and do mocks as much as they can and make their preparation plan accordingly. By doing this candidates will get to know where they need improvement and what are their strengths.

Analyze your performance every day - After covering topics, mark a tick on it and proceed further. While preparing for a particular section, make short notes so that one can use them at the time of revision. Before the revision, review those notes daily for at least 15 minutes.

Practice Mock Test - Solve two mocks daily and analyze them and improve yourself accordingly.
TS ICET Exam Preparation Checklist: Don'ts
Studying in the Bed - Because of one's personal choice and space constraint, they prefer to study in bed. Which is somehow wrong and one needs to alter this habit to make study control more actionable. Doing such stuff which takes more concentration, then avoid doing such things in bed especially studies.

Studying Late at Night - If you are one of them who are working professionals or final year graduation aspirants, which means your daytime will be occupied with a number of activities. In such a case, candidates planned their studies by staying awake too late and put extra pressure in their minds. But, the reality is the brain cannot work properly and need some rest. Try to study in the early morning and try to study at least 2-3 hours in the day time. This one will be able to manage the syllabus of TS ICET.

Don't Stuck on Easy One - Do not keep solving questions from a particular topic, if you have enough days left for TS ICET then try to solve a complex one and well as overlook others in which you find difficult ones.
Questions related to TSICET
Showing 1888 out of 1888 Questions