MAH CET Topper Interview - 99.98 percentiler Nihaal Jelkie shares his success secrets


MAH CET 2014 exam for MBA/MMS admission is scheduled over 2 days, Saturday, March 15 and Sunday, March 16, 2014.If you are all set to take the test, we offer you the advice from last batch of MAH CET topper so that you know the tips and tricks to crack the exam. This MAH CET Topper Interview of Nihaal Jelkie of JBIMS Mumbai will give you his secrets of success.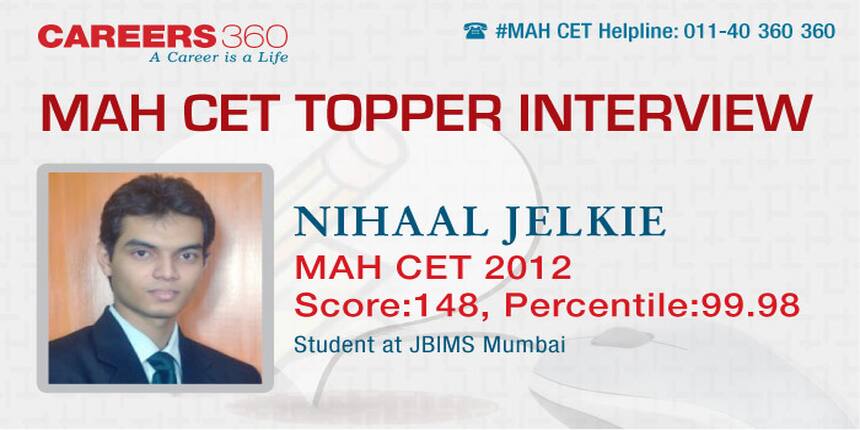 Nihaal scored 146 out of 200 and 99.98 percentile in MAH CET 2012 exam. He is currently pursuing his management studies at Jamnalal Bajaj Institute of Management Studies (JBIMS), Mumbai. He is a Chemical Engineer from Institute of Chemical Technology and has 2 years of work experience in HPCL.


For any doubts and queries on MAH CET 2014, call the MAH CET Helpline Number, 011 40 360 360.


"Predict your MAH CET 2014 Rank now with MAH CET Rank predictor"
Excerpts of the interview
Careers360: What was your experience of taking MAH CET 2012, given the fact that you were among the last batch of taking the test?
Nihaal Jelkie: The environment at the exam centre can get a little unnerving at times, especially with the clock ticking whilst you frantically solve the CET paper. However, I stayed focused on the task in hand and never really let myself to be bogged down with the pressure of solving questions quickly and accurately.


Careers360: What was your score and percentile in MAH CET 2012?
Nihaal Jelkie: I scored 148/200 and secured a percentile of 99.98


Careers360: MAH CET is back in a new format. What are your thoughts on that?
Nihaal Jelkie: The comfort level with regard to solving papers online varies from person to person. Now that CAT is online, with other entrance tests taking the online route as well, students won't be at sea when the go ahead and take MAH CET this year. However, it can be a challenge for students who are accustomed to scribbling on the booklet itself while solving.


Careers360: Which other MBA entrance exams did you take? How different was your preparation strategy for them as compared to MAH CET?
Nihaal Jelkie: I took CAT and XAT. These exams are relatively tougher than CET in terms of the level of questions asked. Time is of essence here as well but the focus lies in solving the questions accurately since wrong answers attract negative marks. A thorough understanding of a wide variety of problems is required to crack CAT or XAT whereas in the case of MAH CET, swiftness in solving questions accurately is sought.


Careers360: What was your initial preparation strategy for MAH CET?
Nihaal Jelkie: MAH CET is an exam which primarily tests your ability to use the concepts you've studied in the problems asked as quickly as possible. Since I was clear with mathematical concepts and grammar, I spent the initial few days practicing Visual Reasoning and Critical Reasoning. Once I got the hang of these 2 aspects, I proceeded to taking mock tests.


Careers360: How did you tackle your weak areas?
Nihaal Jelkie: Like I mentioned earlier, Visual Reasoning was new to me. So I spent considerable amount of time practicing these problems. Through mock tests, I figured out another weak area - Critical Reasoning. That's when I started practicing these problems as well.


Careers360: Please share your area wise preparation strategy.
Nihaal Jelkie: After the first week of brushing up concepts in Maths and grammar, familiarizing myself with Visual Reasoning and practicing a few DI sets, I got straight to the task of solving mock question papers.
After each test, I went through the answers and focused on the ones that I missed or marked wrongly. This helps immensely since natural human tendency thwarts you from committing the same mistake twice. Hence review each question paper after solving it, meticulously. In the meanwhile, I kept solving Visual and Critical reasoning questions and developed good enough speed and accuracy in the bargain.


Careers360: What was your last lap preparations strategy?
Nihaal Jelkie: I solved one paper almost every day in the last 20 days of preparation. With every test, I raised expectations of scoring higher and higher with minimum number of errors. This is the time you focus on your skill sets and attempt the questions you are comfortable with at the start. That's what I did. I used to leave certain Visual Reasoning sets for later since some of them were time consuming. At this stage, the aim should be to score as high as possible by focusing on your strengths.


Careers360: How was your GD PI experience at JBIMS?
Nihaal Jelkie: My group discussion topic was very generic in nature and everyone tried hard to make an impression in the short span of time allotted to us. The personal interview hovered around my answering questions related to my background, my work experience and elements such as strengths and weaknesses.


Careers360: What would you like to advice for the MAH CET 2014 takers?
Nihaal Jelkie: In case a candidate is conceptually weak, he should spend the initial days of preparation learning concepts in quant, DI and grammar. Only after gaining confidence in these areas should one attempt mock tests. One myth that people hold is that the number of mock tests solved is directly proportional to the marks scored in the final exam. On an average, one should take at least one test a day in the last one month. I took around 20-25 tests in all since I was fairly comfortable with the questions and this happened with time. But I would advise a candidate to keep taking tests till a level of confidence is attained beyond which a test a day would suffice.
Also Read:
MAH CET Topper Interview - Priya Chhabra of SIMSREE shares advice to crack the exam
MAH CET Topper Interview - SIMSREE student Gaurav Mehta shares his success strategy
MAH CET Topper Interview - Preethi Parthasarthy of JBIMS shares how to crack MAH CET 2014
MAH CET Topper Interview - Chintan Gala shares his preparations strategy
MAH CET 2014 section wise preparation strategy and expert tips
Top B-schools Accepting MAH CET Scores and Cutoffs
MAH CET Past 5 Years Trends and Analysis

Stay tuned to bschool.careers360 for more MAH CET topper interviews.
Questions related to MAH MBA CET
Showing 17 out of 17 Questions