IIM Placements, Salary Package & Recruiting Companies
IIM Placements, Salary Package & Recruiting Companies - Ever thought what allures candidates to take admission in IIMs? Is it their reputation? Or campus? Or unique specializations? No second thought that these definitely are important. However, the most important part for which candidates prefer IIMs is the placement record. Yes, IIMs till date have offered as high as Rs. 70-80 Lacs per annum package to candidates. Apart from final placement opportunities, IIMs also provide great opportunities for internships. Yes, IIMs don't offer only post completion offers, but pre-placement offers are also made to candidates who are still pursuing their managerial courses. IIMs aim to offer various managerial roles in public and private sectors to candidates pursuing PGP courses. Careers360 in this article aims to provide complete details on IIM Placements (All campuses), top recruiting companies, IIM salary package as well as how to get into top management colleges of India. Indian Institute of Management or IIM call it, either way, is considered a top managerial institute that aims to provide quality education and make ready the future managers.
Latest: CAT registration 2020 correction window opened from September 27. IIM Indore Introduces change in CAT 2020 exam pattern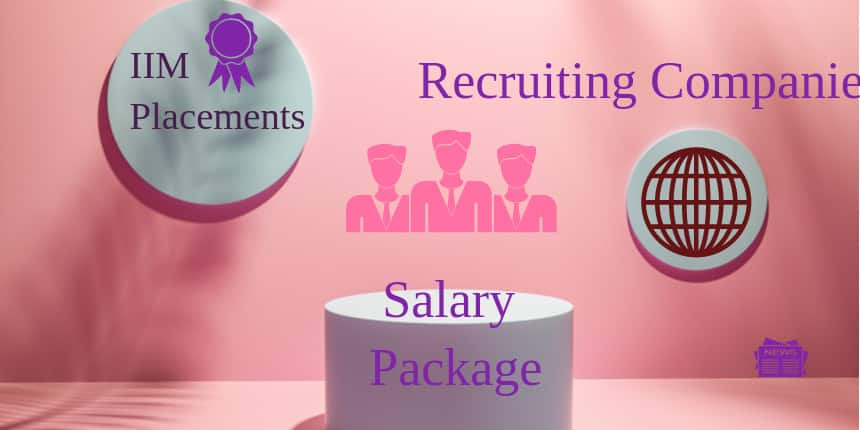 IIM Placement Process
IIM Placements can be divided into three major divisions after keeping in track the past records. The divisions have been made with reference to candidates who are in the first year, candidates who have prior work experience and candidates who are graduating.
Placement Process of IIM:
| | | |
| --- | --- | --- |
| Division | Duration | Participants |
| Summer Placements/Internships | November to December | First-year candidates |
| Lateral Placements | January to February | Prior experience candidates |
| Final Placements | February to March | Final year candidates |
Let us have a look at all three division in detail -
Summer Placements/Internship - IIMs provide the facility of summer internships to candidates pursuing PGP courses. The hiring process usually takes place at the beginning of November. Selected candidates are required to do their internships in the month of April-May. Summer internships are considered beneficial as they help candidates in receiving pre-placement offers i.e. PPOs.

Lateral Placements - IIMs also allow candidates to pursue various managerial courses even after having work experience. The lateral placements in IIMs usually take place a few months before the final placements. It is mainly for those candidates who have work experience of 18 months and above.

Final Placements - IIMs conduct the final placements for candidates who are in their final year and are about to complete their managerial education. February and March months are crucial for all IIMs as they host recruitment during this time of the year.
IIM Salary Packages Offered In Placements
IIM salary packages do not only include the in-hand salary. Other than the base salary the package includes various other components like gross salary, allowances, reimbursements, deductions, pf, insurance etc., Placement record of IIMs is definitely a number in itself. To get into IIMs, candidates have to go through rigorous selection procedure of qualifying Common Admission Test, WAT, GD-PI rounds and whatnot. But, it is all worth it in the end when candidates get placed with the mammoth salary package which is offered in IIMs. The salary package offered in IIMs are given below.
IIM Placements Salary Package: Campus Wise
| | |
| --- | --- |
| IIM | Salary Package offered |
| | Rs. 70 Lacs |
| | Rs. 50 Lacs |
| | Rs. 72 Lacs |
| | Rs. 54 Lacs |
| | Rs. 40.50 Lacs |
| | Rs. 40.50 Lacs |
| | Rs. 28 Lacs |
| | Rs. 24 Lacs |
| | Rs. 26 Lacs |
| | Rs. 24 Lacs |
| | Rs. 28 Lacs |
| | Rs. 35 Lacs |
| | Rs. 27.50 Lacs |
| | Rs. 21 Lacs |
| | Rs. 16 Lacs |
| | Rs. 20 Lacs |
| | Rs. 20 Lacs |
| | Rs. 16 Lacs |
| | Rs. 21.9 Lacs |
| | Rs. 20 Lacs |
Top Recruiters In IIMs
IIM graduates get recruited by companies having a presence worldwide but India. Top Multinational brands like Deloitte, E & Y, J.P. Morgan Chase & Co., Accenture, KPMG, HSBC, Zomato, ICICI Bank, Wipro, JP Morgan, McKinsey & Co., Etihad Airways, Standard Chartered Bank, Boston Consulting Group, Microsoft, Google, Wipro Global, Tolaram Group, P & G, Hindustan Group, Tata Group, Lenovo, Apple, Goldman Sachs, Cloudtail and many more.
How To Get Into IIMs?
If your all-time dream is to graduate from top B-School of India and you are wondering how to get into IIMs. You need to be aware of the IIMs admission criteria. Remember that the first footstep to IIMs gate is the Common Admission Test. CAT is considered to be the toughest national-level management entrance test.
No candidates can make it upto IIMs without clearing CAT. Preparing for CAT could be challenging if you do not know when and how to start CAT preparation.
When a candidate qualifies CAT, IIMs release the cutoff list which includes various parameters after which further selection rounds are conducted by IIMs. After clearing CAT with high scores, candidates are called for Written Ability Test (WAT), Group Discussion (GD), Personal Interview (PI) rounds. Many candidates pass these rounds easily because they know what not to do during GD PI rounds of IIMs as well as major personal interview questions.
IIMs prepare final merit list after considering various factors like CAT scores, the academic performance of candidates, gender diversity, work experience and much more.
IIM Placements: Highest International Packages Offered
* Provided data is taken from the final placement reports for the year 2019 of 2020 batches.
Questions related to CAT
Showing 8941 out of 8941 Questions