How to prepare for SNAP Exam in 1 month - Tips to Crack the Test
How to prepare for SNAP in 1 month: Applicants writing the SNAP 2022 exam in January 2023 should focus on conceptual clarity and practice. With just a month left for the exam, the strategy changes when is the question of how to prepare for SNAP in one month. While regular preparations are ongoing for SNAP a few months before the exam date, the last month is crucial.

It is when the strategy during the exam is devised and more revision was undertaken. SNAP exam 2022 allows for two attempts and the best of the two scores is considered for admission to the MBA programmes at 15 affiliated institutes of SIU. To aid all students in this, tips on how to prepare for SNAP 2022 in 1 month have been detailed in this article.
Stay up-to date with SNAP News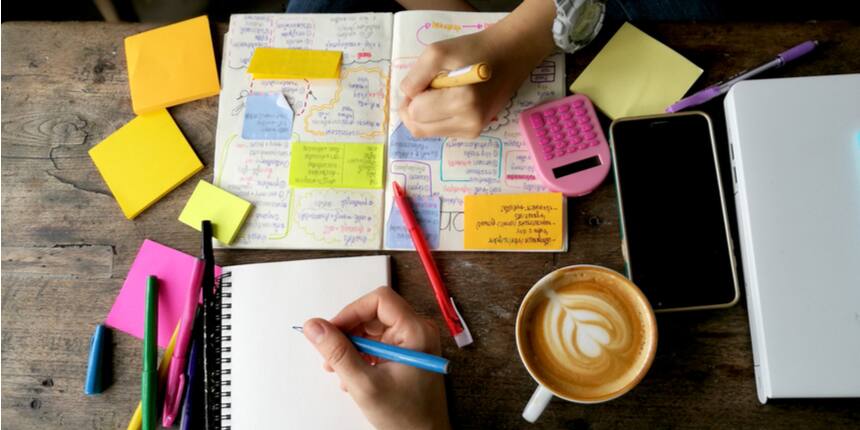 Top Colleges in India offering MBA
How to Prepare for SNAP in One Month - A Quick Strategy
Some quick tips given below are to be followed diligently such that the SNAP 2022 exam can be cracked successfully.
Revise the topics from the SNAP syllabus from each section. Make sure that the weak points are brushed up

Make sure to revise the easy points and topics to gain full control over them

Practice more using SNAP mock tests and sample papers. This will also help with understanding and planning the exam day strategy.

make quick reference short notes for the last days before the exam.
Also Read:
Tips to Crack SNAP 2022 in One Month
It is not easy to prepare for SNAP in 1 month. A bit of hard work and determination is sufficient to crack SNAP 2022. Here are some tips and strategies to prepare for SNAP 2022 in a month.
Understand your strengths
Initially, attempt one SNAP mock test to see where you stand. This will let you know your strengths and weaknesses. Start strengthening your strong areas. You need to achieve 100 percent accuracy in all the topics that are your strength. improve on the weak points
Adhere to a timetable
One factor behind success in any exam is the adherence to a strict timetable and making the best of the study time. Make sure you are through with the exam pattern of SNAP 2022 and know what to expect in the SNAP exam. Once the studying part is over, test yourself on the topics to realize where you stand in terms of your preparation.
Have an exam-centric approach
Take a look at some previous years' SNAP question papers to know the topic-wise weightage and the types of questions asked. Focus more on those topics that have more weightage.
Revise everyday
Constant revision for the SNAP 2022 exam is a necessary task. In addition to the topics, spend an hour every day revising all the mathematical formulas and theories. Check for VA questions as well as tips and tricks to solve DILR questions.
Practice mock tests
Solve a SNAP mock test each day and analyze your performance in each of them. With each test, the confidence grows and the exam fear diminishes. Learn and revise areas of shortcomings.
Improve reading speed
Solve sample questions in RC passages to increase the reading speed to gain the ability to find answers from longer paragraphs.
Understand the SNAP marking scheme
Since SNAP has a negative marking of 25 percent, a good exam strategy is mandatory. This includes avoiding questions you can't solve with 100 percent accuracy. All questions that are seemingly tough should be kept aside to be answered once the easy ones are done. Those that need a lot of work and still look ambiguous must be avoided.
Practice time management
SNAP has no section time limit but time allocation is important for success in the SNAP exam 2022. Divide 60 minutes so that you have enough time to solve each section. Try to answer such that you meet the sectional SNAP cut off first, then you can use the remaining time for all answers in each section.
Practice mindfulness
Develop the ability of mental calculation to avoid wasting precious minutes on hard work. You also need to develop the ability to solve questions through the elimination method. This method has been proven to be very effective in saving time.
Choose questions carefully
The overall difficulty level of the SNAP exam is moderate. The English and A-LR sections are generally easy, with QA, and DI-DS moderate to difficult. This year, the difficulty level of the question paper is expected to be a bit high. So, choose the questions wisely. Try only what you can solve with maximum accuracy.
Improve mental endurance
SNAP is an online test where your convenient computer system and mouse are valuable. All you need to create is a screen reading practice. In an hour, your mind will quickly act on three different types of skills (analytical, logical, and observational). Thus, you need mental endurance for 60 minutes of a strenuous brain workout. Also, there will be no break between the SNAP test.
Top MBA Entrance Exams
Best Books for SNAP Preparation
Check out the table below for the most recommended SNAP preparation books. These books cover each topic in its entirety and provide sample questions with answers for candidates to practice.
Name of the Book

Author/ Publisher

Books for General English

Verbal Ability and Reading Comprehension for CAT

Arun Sharma and Meenakshi Upadhyay

Pearson Guide to Verbal Ability for the CAT and other MBA Entrance Exams

Sujit Kumar

Target SNAP (English)

Disha Publications

Word Power Made Easy

Norman Lewis

Books for Quantitative Ability, Data Interpretation & Data Sufficiency

How to prepare for Data Interpretation for CAT

Arun Sharma

How to Prepare for Quantitative Ability for CAT

TMH Publication

Quantitative Aptitude

R.S. Aggarwal

Books for Analytical & Logical Reasoning

Verbal and Non-Verbal Reasoning Book

R S Aggrawal

Logical Reasoning book

Arihant Publication

How to Prepare for Logical Reasoning for CAT

Arun Sharma
NOTE: Keep in mind that many SNAP preparation books are similar to the books you need for the CAT, so double-check before purchasing the same book, you may already have it.
When preparing for the SNAP 2022 entrance exam apart from reading these books make sure to take the SNAP mock test regularly. This will help candidates learn about the real choice and increase their performance on the big day.
Some other books on SNAP preparation
Map the SNAP Symbiosis National Aptitude Test: 5 mock tests and sample papers by Arihant

Map the SNAP Test by Arihant

SNAP Guide by Ramesh publication house
Questions related to SNAP
Showing 900 out of 900 Questions