How to get into IIMs? - Hear it from Ankit Pandey, CAT 2021 topper
To achieve aim, all you need is a focused mind, determination, hard work, and smart work. Ankit is among those who made the best use of his time and brain to secure the 99.24 percentile in CAT 2021 that got him admission at one of the prestigious IIMs, IIM Bangalore.
Stay up-to date with CAT News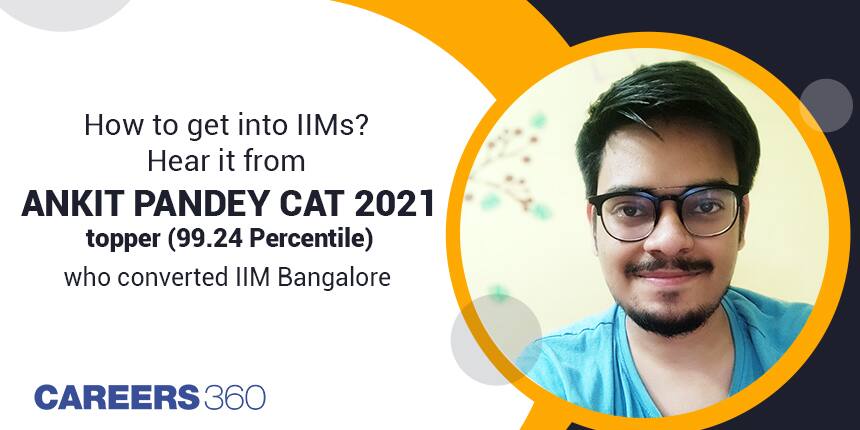 For future CAT exam aspirants, Ankit says "If you are a fresher, make sure you brush up on your favorite academic subjects, internships, and extracurricular experiences." Also, the point that makes Ankit stand apart from the crowd is that he did not go to any coaching to prepare for the Written Ability Test (WAT) and Personal Interview (PI) process. It's his skills and dedication only that he became a CAT 2021 topper and bagged a seat at IIM Bangalore. In an interview with Careers360, Ankit shared how he made it to IIM Bangalore, how one gets into an IIM, how to crack the CAT exam, and much more. Read the full interview to know Ankit Pandey's success mantra of acing CAT and IIM admission process.
4 min read
Mar 05, 2022
Read More
Streamed Webinar
01 Apr'22 05:00 PM to 01 Apr'22 06:00 PM IST
Careers360: Congratulations on converting to your desired institute. How do you feel?
Ankit: It feels great to have made it to IIM Bangalore. It's one of the most coveted and highly sought-after B-schools and I feel grateful to have been accepted by this prestigious institute.
Careers360: What is the selection procedure at IIM Bangalore?
Ankit: The first step is to take the CAT. I took CAT 2021 and it was my first attempt at this MBA entrance exam. Once the CAT scores were out, IIM Bangalore sent interview calls to candidates based on their overall profile (including past academic performance and work experience, if applicable). Post that, I had to take the WAT (Written Assessment Test) and PI (Personal Interview) in March. Final admission calls were based on scores in WAT, PI, CAT, 10th boards, 12th boards, and UG as well as some weightage given to work experience, academic diversity, and gender diversity.
Streamed Webinar
02 Apr'22 05:00 PM to 02 Apr'22 06:00 PM IST
Streamed Webinar
03 Apr'22 12:00 PM to 03 Apr'22 01:00 PM IST
Browse Top MBA Colleges Accepting CAT Score: Location-Wise
Careers360: Please elaborate on your overall IIM admission experience at IIM Bangalore?
Ankit: Getting a call from IIM Bangalore was in itself a surprise for me because my CAT score was borderline. Once I received the call, I was quite confused about how to approach WAT and PI. I had also switched jobs and had to learn about my new role. However, I tried to structure my preparation around my strengths and past profile and that helped me for all the interviews. WAT topic was fairly straightforward but PI was a proper stress interview and perhaps, the most difficult one for me during the interview season. Nevertheless, things ended on a positive note for me despite an average experience.
Careers360: Which other B-Schools' selection procedure did you appear for? How was your experience in other institutes vis a vis the institute you have converted to?
Ankit: I had appeared for CAP, IIM Lucknow, and IIM Shillong interviews apart from IIM Bangalore. The interviews for IIM Lucknow and CAP went well since I was mostly asked about the technical aspects of my work experience and I was decently prepared for it. IIM Shillong's PI was a bit tricky and I was put on the spot on some questions related to my previous firm's impact on environmental issues and sustainability. In the case of IIM Bangalore PI, I was questioned mostly about the decisions that I have taken in my career up to this point in time and it made me think consciously and deeply on the spot. Moreover, the IIM Bangalore interview lasted for more than 30 min and had three interviewers while the others got over in less than 15 min and had only two interviewers.
Careers360: What was your WAT topic and how did you structure it? Did you find it easy or did you have a difficult time writing/ thinking about the topic?
Ankit: My WAT topic was around whether competition should be promoted in the curriculum for school-going children or should it be more relaxed. Now, this topic was easy to deal with since it does not require any additional knowledge or context since all of us have been to school. I spent 10 min jotting down my ideas and the remaining time writing down a coherent essay and reviewing it to ensure there are no grammatical errors.
Also read- IIM fee structure
Careers360: Did you get external help or join a coaching school to prepare for PI? When did you start your preparations for it?
Ankit: I did not join any institute for my WAT-PI preparation and relied upon the resources available on the Internet. I was a bit late in starting my preparations and started around mid-February.
Top Colleges in India offering Management Courses
Careers360: Do you think that PI requires some separate preparation apart from what you mentioned?
Ankit: It would be great to have someone do mock interviews with you. It helps in assessing your performance, allows you to fine-tune your preparation strategy, and become better at dealing with pressure situations in an interview. It would also help to get someone to review your answers to expected behavioral questions like - Why MBA? strengths & weaknesses, tell me about yourself, etc.
Careers360: Please share the IIM admission PI topics which you were asked during the admission rounds?
Ankit: I was asked questions related to my career decisions and work experience. I had good scores in my core engineering courses and yet I pivoted to a career in data science and analytics. This is something I was questioned on aggressively and I had to justify my decision. Apart from that, I was asked about my work, the motivation behind pursuing an MBA, the need for having a dedicated Analytics team in an organization, how have things changed after college in my life, and my views on data privacy, and employment situation in West Bengal.
Careers360: Are there ways to handle a situation when one has no answer to a question during PI?
Ankit: I would suggest a three-step approach to this:
Take a pause and reflect: A lot of us have a tendency to speak as much and as fast as we can when we are not sure of answers. It's better to ask for 30 seconds to gather your thoughts and only then speak up. Interviewers won't mind and would rather appreciate it in my opinion
Acknowledge that you do not know the answer: It's alright to not know an answer to factual questions. However, not knowing answers to behavioral questions (like why MBA) is not acceptable
Take a guess after seeking permission: At times, you might know the answer but not be confident about it. Ask the interviewer if it's alright to take a guess and then answer in a logical way.
Careers360: How must one approach a PI topic? Could you share some Dos and Don'ts for the same?
Ankit: Go through some of the interview transcripts and mock interview recordings available on the Internet. Convincing yourself why you actually want to do an MBA is crucial. Deceiving yourself is a recipe for disaster and the interviewers will not take even two seconds to figure out if you are being superficial. If you are a fresher, make sure you brush up on your favorite academic subjects, internships, and extracurricular experiences. Similarly, for people with work experience, it's important to know about their organization and work in-depth apart from academics (if possible to revise). Above all, you will be tested on your clarity of purpose and clarity of thought.
Check- IIM Placements
Careers360: Is there a particular kind of time management strategy that should be added to the candidate's skillset? Will it help in writing a complete structured Personal Interview?
Ankit: Time management might be required for structuring your preparations since candidates do not have a lot of time to prepare for PI. It's important to know and prioritize things that can help you stand out and maximize conversion chances. During PI, pressure handling becomes more important.
Careers360: How did you feel when you faced the interviewers during the PI? Please share a few details like the size of your panel and your overall experience.
Ankit: I had my PI on March 21, 11 A.M. I logged in and waited for about 15 min before my interview started. There were three people on the panel, including two professors and one alumnus. The first ten minutes were not easy at all and I was repeatedly cross-questioned on my answers and had a difficult time convincing the professor about my switch to Analytics. After that, the remaining two interviewers were slightly more accepting but they also asked for multiple follow-ups. Overall, I was completely pushed out of my comfort zone and the interview was contrary to my expectations. However, I think what helped my case is the fact that I did not lose my composure at any point in time and that allowed me to be my logical self throughout the interview.
Careers360: Which interview turned out to be the best one? Enlighten us about the finest one according to you.
Ankit: The third interviewer, who was an alumnus, was the most accepting. He was constantly smiling at my answers and tried to make me feel comfortable. That boosted my confidence to talk a bit more freely about my views, which were otherwise a bit subdued during my interaction with the professors.
Careers360: What about the questions which you found difficult to answer? How did you reply to those?
Ankit: I was asked about the decision to change my career from core mechanical engineering to Analytics and Data Science. I had good grades during my undergraduate and was asked why I was selling clothes and working for an e-commerce firm instead of going for an MS or building spaceships. I explained my decision by stating the disconnect that I found between academia and industry practices as far as Mechanical engineering was concerned, my genuine interest in data science which I justified by means of pursuing multiple courses and internships and finally stating the impact that my work has on millions of fashion shoppers across the country.
Careers360: So in those situations, was the panel easy or harsh on you? What should one do when s/he has no answer?
Ankit: The panel was a bit aggressive and asked multiple follow-up questions. Since most of the questions were behavioral, there was no question that I could not have answered. However, in case there's a factual question that one does not have an answer to then please refer to the three-step process that I mentioned in one of my previous answers.
Careers360: What were the most fascinating questions you were asked? Please share your answers too.
Ankit: I was asked if it's right to collect data from users unknowingly and then use it for commercial purposes. I had a slightly unpopular opinion about it and stated that it's alright to do so if the user has consented to share his/her personal data. However, consent is extremely important and it should be made clear to the user about what data would be logged, who would it be shared, and how it would be processed for the user's benefit along with ensuring privacy. I was asked a few follow-up questions on this but was able to defend my opinion.
Careers360: How different is an IIM interview from a non-IIM yet top B-School interview? Are there major differences? (If you have appeared for IIMs)
Also read- MBA salary in India
Ankit: I did not appear for any non-IIM institutions' interviews.
Careers360: How did you go about the preparations for PI? Did you search or look up some questions or practice mock PIs?
Ankit: I went through a lot of interview transcripts, especially for profiles that were as similar to me as possible. This gave me a sense of what to expect. I spent a lot of time drafting my SoP, answers to behavioral questions, and revising the fundamentals of analytics and data science. I did not take any mock interviews since I had already appeared for a lot of job interviews during the last year. Hence, I was comfortable handling uneasy questions and pressure situations. Having said that, I was certainly under the pump during IIM Bangalore.
Careers360: And finally what are the aspects or qualities that the interview board looks for in a candidate?
Ankit: Confidence, clarity of purpose, and clarity of thought. There's no way for the interviewer to know everything about you accurately in a short 30 min interview. Hence, it's important that you beat the competition by being clear about what you want to do and why you want to do it because most people don't know the answers to these questions. It's funny but it's true. It's also important to be your original self during the PI and not pretend or lie about anything. Interviewers are highly experienced and it's a no-brainer for them to recognize and eliminate candidates who try to fake anything in their responses.
Questions related to CAT
Showing 10597 out of 10597 Questions