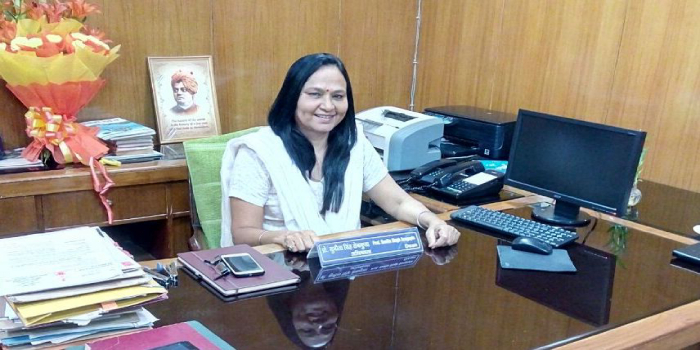 Faculty of Management Studies (FMS), country's one of the topmost management institutes, has gone through some noticeable changes in the last one year since Prof. Sunita Singh Sengupta took over as Dean. She has introduced major modifications in the admission criteria including reducing the CAT weightage to 60 percent from 85 percent, publishing the first ever FMS Journal, and adopting a village to bring a social responsibility factor in the students. She is making sure that FMS is considered as a sacred place by the students. She also encourages students to make the institute a healthy place.
After teaching Behavioural Science at IIM Calcutta for almost a decade, she joined FMS as Associate Professor in 2005 and was appointed as Dean only last year. In less than one year of her tenure as Dean, she looks committed to making FMS a better place in every possible way. A Gold Medallist in Psychology from Patna University, Prof. Sengupta has more than 30 years of experience in research and teaching. A recipient of distinguished Homi Bhabha Fellowship, she has authored 25 books and more than 6 dozen articles in national and international journals of repute.
Compare Colleges
College Comparison based on Courses, Placement, Rank, Fee
Compare Now
In a conversation with Careers360, she shares her experience of being the Dean, the changes she has introduced and what's her idea of management education in the country.
Excerpts from the Interview:
Careers360: How has been your experience teaching at FMS and now as a Dean?
Prof. Sengupta: The experience as a Professor and now as a Dean has been wonderful so far. I joined as a Professor 12 years back but wasn't really aware of the legacy of FMS. So, I studied all about the institute to know its brick-by-brick journey from its establishment in 1954 to present date. And when I took over as Dean last year, I decided to take the vibrant culture of FMS ahead along with the vision of the founder of the institute, Prof. A. Dasgupta. 
Careers360: Please share the changes you have introduced as a Dean?
Prof. Sengupta: The first change that I introduced is the change in the admission criteria. The weightage to CAT score in the final admission criteria has been reduced to 60 percent from 85 percent. Also, 5 marks have been allotted to the performance in class X and XII each. Group Discussion (GD) has also been made a part of the admission criteria.
Second, we are going to release the first ever FMS Journal of Management in the month of June 2018.
I am also trying to bring a course on Philosophy of Management, and a bucket of courses on Management Culture, spirituality and Community Engagement.
Careers360: You taught at IIM-Calcutta for almost a decade. Have you tried to utilise the learnings and experience of IIMs in FMS?
Prof. Sengupta: I have tried to integrate the best of the two at FMS. Since the day I joined FMS, I have tried to make sure that our students do not lack behind in terms of knowledge. I have documented a vision 2020, where I want to integrate the studies with the Indian culture, philosophies and management.
Careers360: Is there any difference between IIMs and FMS in terms of students, faculty and functioning?
Prof. Sengupta: First thing we should do is we should not compare the two institutions. Both are completely different in terms of execution. The ranking of IIMs, especially IIM Ahmedabad, IIM Bangalore and IIM Calcutta is definitely higher than FMS, but students at FMS and IIMs have the similar competency level. Our students compete with the students of IIMs and we make sure that our students do not lag behind in terms of knowledge. The faculty and students at FMS are as good as IIMs'.
The functioning of IIMs is completely different from FMS as they are autonomous and FMS works under a University system. So, the experience is completely different.
Careers360: Do you think it's a tough decision for the students to choose between IIMs and FMS if they are shortlisted by both? Also, consider the fact that IIMs have a huge academic fee in comparison to FMS.
Prof. Sengupta: I guess it is a question of best learning opportunity and affordability. FMS is a part of a University system and our fee is much lower than IIMs. FMS offers a decent infrastructure but promises a vibrant environment and world-class faculty. So, if someone does not want to pay for education loans after finishing the programme and not entirely dependent on facilities, s/he would definitely choose FMS over IIMs. I understand that the top three IIMs, as mentioned earlier, are ranked above FMS but it's entirely personal choice of students where they want to study.
Careers360: Considering that FMS has 3 extra marks for women candidates, are you expecting a diverse batch for the academic year 2018-20?
Prof. Sengupta: Certainly. We are expecting a much diverse batch for the coming season. Let us wait and watch. Actually, the number of women candidates taking management education is itself less and that's why we see gender-wise skewed classes. Gender diversity is one thing that we should think about in almost all sectors of education, which we are promoting at FMS as well.
Careers360: What is your idea of management education in the country?
Prof. Sengupta: I believe that we all should think how management education can contribute to the social efficiency. As a step towards the same along with community engagement, we adopted a village called Ram Nagar and our students visit that village regularly.
Management education should contribute to nation building and we can do it by bringing Indian authors, philosophies, tradition and culture into our management education. I'm proud that FMS started as a contribution to social efficiency and wish to take the same vision ahead.
Careers360: How do you see your role as a Dean?
Prof. Sengupta: I take my role as a servant. I believe that I am the servant of Goddess Saraswati. I consider FMS as a temple of education and convey the same to all the students. I believe that the role of a leader is to embrace all and purity and sincerity are the two things on which any institute can develop.
Careers360: You carry an experience of more than 30 years in Research and Teaching. What is your mantra or goal?
Prof. Sengupta: I do not believe in duality at all and I do not promote the discrimination even at the thought level. The mantra I follow for my life and teaching as well is "Chintan, Manan and Nidhyasan" which means "Think, Reflect and Meditate" and that's what I teach to all my students.
More like Faculty of Management Studies, University of Delhi, Delhi
Questions related to Faculty of Management Studies, University of Delhi, Delhi