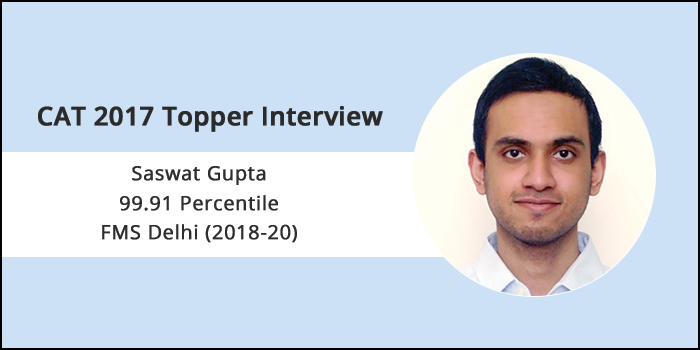 CAT 2017 Topper Interview - As the clock ticks and CAT 2018 draws nearer, MBA aspirants are constantly seeking inspiration for how to crack CAT 2018 in 4 months. This interview of CAT 2017 Topper Saswat Gupta is an exemplary case of acing CAT, when one has a handful of months left in hand.
CAT Sample Paper
Download Free Sample Paper for CAT
Download Now
Saswat's success of securing 99.91 percentile in CAT 2017, mainly revolved around regular practice and mock tests. "I studied on my own mostly, since I started preparing for the exam 100 days before the day of the exam" he says. Additionally, to aid his preparation, he joined the three-month batch at Career Launcher for topics in which needed more guidance in. Read this CAT 2017 topper interview to know the topper's success story of CAT preparation strategy including mock tests, its analysis and section-wise preparation strategy.