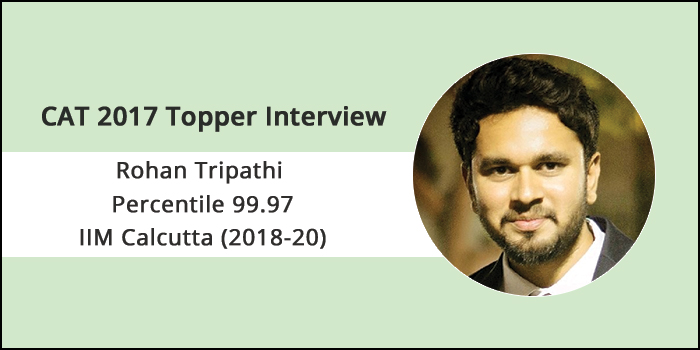 CAT 2017 Topper Interview – Rohan Tripathi, a working professional who bagged a seat at IIM Calcutta by securing an illustrious CAT percentile (99.97) in the year 2017. Utmost perseverance clubbed with smart strategy paved the way to his success even after spending prime hours (9 am to 6:30 pm) in office. Managing time was crucial, so he planned his preparation judiciously without an external assistance, i.e. coaching. The best decision, perhaps, was to start preparing concepts early and remain consistent throughout the CAT preparation tenure. Rohan Tripathi aced CAT exam by sheer determination, clarified concepts and sustained analysis of his mocks and practice tests.
MBA/PGDM Admissions Open 2019
IFIM Business School
To boost his CAT preparation, Rohan enrolled for test series from a reputed institute instead of regular coaching. He firmly believes self-preparation is a better option to opt for when the aspirant has the zeal and right motivation. To learn more about the CAT preparatory books recommended by the topper, and his sectional preparation strategy, one has to read the CAT 2017 topper interview transcribed here.
CAT Pathfinder
Know your call chances for Admissions
Use Now
Watch Video on how to crack CAT 2018 with 99 percentile
Read the excerpts of the interview below:
Careers360: What were your CAT 2017 overall and sectional percentiles? 
Rohan: I obtained an overall percentile of 99.97 in CAT 2017 and the best part is I could strike a balance in my sectional scores as well. The sectional percentiles are as the following -
VARC: 99.71 percentile

DILR: 99.57 percentile

QA: 99.77 percentile
Careers360: What was your preparation strategy? Please share section-wise strategy in detail.
Rohan: For the Quantitative Ability (QA) section, my strategy was to brush up all the concepts in the first three months of my preparation and simultaneously solve easy to moderate difficulty level questions. Solving such questions helped increasing my speed without affecting the accuracy (prime importance) as those were easy to attempt and helped build confidence while reinforcing the concepts studied.
The following two months were dedicated for attempting a few difficult to complex questions along with moderate ones.
For gaining competence in VARC, I primarily focused on reading RCs and Grammar and not on vocabulary building. Precisely, while practising questions from relevant topics like para-jumbles, sentence completion etc, I revised my vocabulary.
For DILR section, I solved different practice sets from a variety of coaching institutes. One needs to understand that the only differentiating factor in this section is practice and awareness of mind. So one should solve a variety of questions to get a hang of things.
Careers360: How did you prepare – Self-study or Coaching? Which one do you think is better and why?
Rohan: I studied by myself. However, I had enrolled for online test series to cope up with the limited time. I think self-preparation is the best method when the person is already motivated. However, solving mock tests regularly is a MUST.
The method of preparation also depends on the candidates. I feel if the coaching centre is in near proximity, then one should opt for coaching. Else, there are plenty of online mediums to choose from; one should select a reputed one for better results. The point here being, time shouldn't be wasted in commuting between home and coaching centre.
Careers360: When did you start preparing for CAT? Please share your detailed month-wise preparation strategy.
Rohan: I started preparing for CAT from July 2017. As already mentioned, the first two months went into concept building and solving easy questions. Then I started appearing for mocks and analysing where I went wrong and which were my weak points. I re-read those concepts and tried to solve more questions pertaining to that topic to boost my confidence.
Last month was kept exclusively for mocks. Spending time analysing my attempts was even more vital than attempting an actual mock. It helps in re-working your strategy to build an optimal one which works for you. Last minute preparation is just to stay calm. Stop solving difficult questions and decrease the frequency of the questions you solve to avoid running into a drain-out situation. I decreased the frequency of my mocks and kept myself engaged in revising the formulas/RCs and Grammar.
It is suggested that one must not read anything on the D-Day and attempt the exam with a fresh mind. Having a tight sleep of seven to eight hours before the examination day is a mandate to score well!
Careers360: How did you balance your preparation with studies or job? Please share your timetable.
Rohan: I had a full-time job while preparing for CAT 2017. This made it very difficult for me to join any regular coaching classes. However, I enrolled myself for online test series to practice for mocks.
My time table before CAT was as the following:
| | | |
| --- | --- | --- |
| Time/Duration | Activity | CAT Preparation |
| 8 am-9 am | Commute for work | Complete reading two Reading Comprehensions/solve easy questions/watch video lectures (Youtube) |
| 9 am-6.30 pm | Job | - |
| 7 pm – 9 pm | Study Time | Learn new concepts: either QA or VARC |
| 10pm- 12 am | Study Time | 1.5 hours for DILR, 30 minutes for 1-2 RCs/Grammar-VARC |
| After 12 am | Office assignment | - |
Careers360: What was the one thing that you did consistently during your preparation and how did it help you?
Rohan: Solving mocks regularly and analysing the mistakes made in those mocks is one of the most
important aspects of preparation. Not getting bogged down during the whole process and not letting
it go are also important when someone is in his/her phase of CAT preparation.
Careers360: What are the best books and study materials for CAT or other exams?
Rohan: Apart from the regular books, I would like to suggest some online materials as well. Some of them have huge impact on the preparation.
Mention must be made of the YouTube content; for example, Dinesh Miglani's videos are quite eloquent, especially for beginners.

Next in line is none other but books by Arun Sharma to attain clarity on the basics.

The coaching material provided by renowned institutes.

Last, but not the least is the habit of reading Economic Times, Competition Success for GD/PI rounds. This habit has helped me in improving my reading speed. 
Careers360: When did you start taking mock test and what was the frequency? How did you get it analysed and integrate it in your preparation?
Rohan: Any CAT aspirant should ideally finish 40-45 mock tests during his/her preparation. I started taking mocks from three months before the examination. I attempted three mocks/week and I increased the frequency to five to six mocks/week in the last month of my preparation. My mocks were analysed online and I used to spend at least two hours after each mock, going through the possible solutions and my weak points, trying to solve similar questions again and work on strengthening those weak concepts.
Careers360: How can someone from vernacular background prepare for CAT or other MBA entrance tests?
Rohan: Someone with a non-English background will face initial difficulties to cope with the VARC section, especially the section of Reading Comprehension due to lack of reading English content. However, the VARC section emphasises a lot on grammar, which can be seen as just any other rules/syntax of the language. Improving on reading speed by regular practice and focusing on grammar rather than vocabulary can help any non-English background student fetch good percentile.
Careers360: What was your exam day strategy in terms of question selection, time management, accuracy and sectional attempts/cutoffs?
Rohan: My strategy was to go all out on the day of the exam. I treated every section in isolation as if there are three different exams. I started with easier ones because those were the ones that built my confidence. Not losing confidence after attempting the DI& LR section (the toughest of all) was a big plus to my exam day strategy. This helped me sail through the QA section quite smoothly.
Careers360: Preparing for CAT is a long and tiring process. How do you suggest one should keep his/her calm and confidence?
Rohan: Don't get bogged down by a few bad mocks initially. You are bound to get bad scores in the start; be patient, disciplined and sincere in your preparation. Things will surely fall into place.
Careers360: What is your message for CAT 2018 aspirants?
Rohan: Be regular in your preparation and sincere in your efforts. Always try to analyse your mistakes and rectify those in the next iterations (tests/mocks).
Also Read,