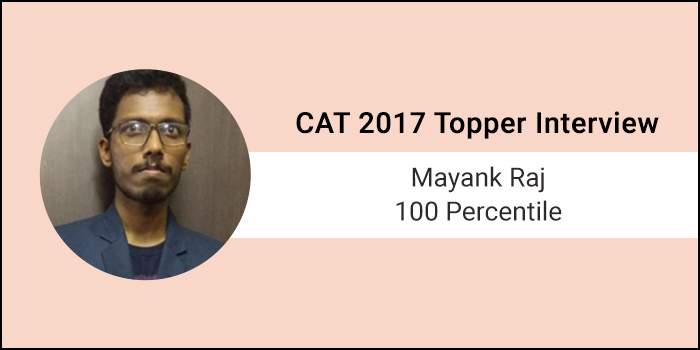 Breaking the myth that coaching is pertinent for cracking CAT, Mayank Raj, one of the 20 CAT 2017 toppers aced CAT exam in his first attempt with a perfect 100 percentile. A sports enthusiast, Mayank believes that the key to success in CAT is maintaining consistency and not getting stuck in your failures. Hailing from Hajipur, Bihar, Mayank is currently in his final year of Civil Engineering at IIT Bombay and dreams to get into IIM Ahmedabad.
MBA/PGDM Admissions Open 2019
IFIM Business School
Mayank has already got a job offer and an interview call from all the three IIMs- IIM Ahmedabad, IIM Bangalore and IIM Calcutta. In an exclusive interview with Careers360, Mayank reveals his success story and CAT 2017 preparation strategy for future CAT aspirants.
CAT Pathfinder
Know your call chances for Admissions
Use Now
Recent Posts:
Read the full interview below:
Careers360: Please tell us something about yourself and your family members.
Mayank: I belong from Hajipur, Bihar. I did my schooling from there. Currently, I am in my final year of Civil Engineering at IIT Bombay. Talking about my family, both my parents are school teachers.
Careers360: Why did you decide to do MBA? 
Mayank: I wish to do MBA from IIM Ahmedabad and get into a career in Public Policy somewhere down the line. Through my IIT journey, I realised I lacked management skills. So, in order to gain that wider spectrum of knowledge and necessary management skill-set, I decided to join MBA.
Careers360: What is your sectional percentile?
Mayank: I have obtained 99.76 percentile in Verbal Ability & Reading Comprehension (VRC), 99.92 in Data Interpretation & Logical Reasoning (DI&LR), and 99.92 in Quantitative Ability (QA).
Careers360: How was your exam day experience?
Mayank: The exam went smooth. There were no glitches from CAT exam centre's side. Besides that, despite CAT 2017 being my first attempt, I was not much worried. Appearing for a lot of mock tests got me into the habit of handling time limitations and exam day pressures.
Careers360: What was your preparation strategy for CAT 2017?
Mayank: I started preparing for CAT in July 2017, like five to six months before the exam. I did not go for any coaching classes. I only took a lot of online practice tests and a test series. I made sure that I religiously invest two to three hours every day in practice mock tests. If on some days I was not practising tests, I would borrow study material of the topics I am weak in from my friends and study it.
Careers360: How did you tackle your strong and weak areas?
Mayank: As a strategy to figure out my weak areas and to work on them, I took a lot of mocks and kept analysing my performance alongside. For example in QA, a lot of it depends upon remembering the formulas. So, I wrote the formulas on a board which I would see every day when I wake up or enter my room. By seeing them every day, I learnt them in the process. One other weak area for me was VARC. For improving my verbal ability I started reading newspaper, novels, etc. This helped me increase my reading speed and also in developing an understanding of the passages I was reading.
Careers360: What according to you were the toughest and easiest sections?
Mayank: I think in CAT 2017, Data Interpretation & Logical Reasoning was the toughest, I couldn't do more than 22 questions from it, which at that time felt like a bad number. The easiest was Quantitative Ability (QA) for me. I found it pretty easy. I could attempt all the question from QA and still had some time left.
Careers360: What was your time management strategy on the day of the exam and during preparations?
Mayank: On the day of the exam, for VARC, my strategy was to focus more on comprehension part than on non-comprehension part. I gave approximately 10 minutes to every passage in reading comprehension. After that I invested the last 10-15 minutes I had left in doing non-comprehension part.
Apart from that, I didn't have much of a strategy for DI & LR and QA. For QA, I was pretty confident that I could attempt it fully. For DI & LR, all I had in mind was, don't make any question your ego issue and let it go the moment you understand that you cannot do a question within a frame of one or two minutes.
For preparations, I didn't make any study time-table as such given that we had placements going on and classes in the same semester. All I used to do is take out two or three hours everyday and more time on weekends, for CAT preparations and doing mock tests.   
Careers360: You did not take formal coaching. How did you manage to secure 100 percentile by self study?
Mayank: CAT is something I think no one can coach you how to do it. You have to develop your own understanding and comfortability with the subjects therein. Like for Mathematics, most of it is class 10th level. Coaching might help you in learning some tricks which I couldn't learn because I didn't go for coaching. But, I have seen my friends who use tricks and are able to solve some questions faster than me, but you also have to memorise the formulas and understand the concepts. It ultimately didn't prove much useful for me. Apart from that similarly in VARC, you have to develop your own understanding. Coaching may help you in giving a push towards the subject, but the bottom line being, you have to make the move yourself. So, I stuck to self-preparations, being consistent and doing as much practice as was possible.
Careers360: What do you think were the factors behind your success?
Mayank: My family has always been very supportive in whatever I have chosen to do. After all, at the end of the day I have to make my own decisions and they have always given me that freedom. I think that breathing space they have always provided me has helped me a lot. Besides that whenever stressed I would talk to my younger brother, my seniors from college.
Careers360: What are your hobbies?
Mayank: I am a sports person at the core. I play and watch all kind of sports. I was a part of Kho-Kho team at IIT Bombay. Apart from that, I follow football a lot. Even during CAT preparations, whenever my mind would feel too occupied, I would just go out and play football with friends. Besides sports, I like to read.
Careers360: So what is the next step?
Mayank: I will start preparing for GD/PI/WAT and talk with my seniors about preparation strategy. I haven't thought much about it as of now, but yes that is going to be the agenda for next few months.
Careers360: Any message for future aspirants of CAT?
Mayank: I believe there are two keys to success- be consistent and don't get stuck with failures. Sometimes people just get stuck in their failures, get disappointed and keep sulking inside. It doesn't help. Keep going on. A combination of consistency and strong will do wonders.
Also Read:
CAT 2017 Topper Interview: Having self-confidence is a prerequisite for success, says 100 percentiler Vishal Bohra
CAT 2017 Topper Interview: Solving and analysing mock tests is the key to success, says 99.91 percentiler Suryansh Bhargava
CAT 2017 Topper Interview: Take every mock like it is the final exam, says 99.78 percentiler Shubham Abrol
CAT 2017 Topper Interview: Focus on speed over concepts during CAT preparation, says 99.61 percentiler Avinash Iyer