CAT 2017 Topper Interview: Self-study is imperative for a high percentile, says Atrija Gaur of MDI Gurgaon
CAT 2017 Topper Interview – Atrija Gaur, a competent employee handling a demanding job and a qualified MBA (Tech.) in Finance and B. Tech in IT firmly took up the three-month strategy for CAT preparation and kissed the feet of success at an ease. Currently a PGPHRM student (2018-20) atManagement Development Institute, Gurgaon, she attributes her success to self-study which drove her through the last mile.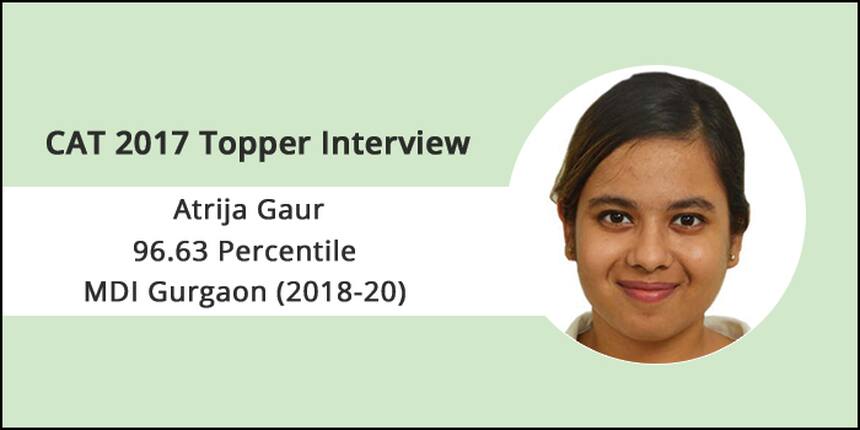 A difficult, yet strong decision for her was to quit her job before three months of exam. She says, "My three-month strategy was to first clear my concepts in the first month, then to solve as many tests and papers as I could in the second month and finally sharpening my strengths towards the end by attempting more difficult sets." One thing that tremendously transformed her preparation was the weekly coaching tests and their evaluation.
Read this CAT 2017 topper interview to know how Atrija bagged 96.63 percentile as shares herCAT exam experience in details with Careers360.
Read the full interview here:
Careers360: What was your CAT 2017 overall and sectional percentile? Apart from CAT, which other entrances you appeared for and what were your percentiles?
Atrija: My overall CAT percentile in CAT 2017 was 96.63. My sectional percentiles were as the following:
| | | |
| --- | --- | --- |
| VARC | DILR | QA |
| 98.43 | 95.74 | 88.26 |
Apart from CAT, I appeared forIIFT 2017 as well where I secured 97 percentile. Moreover, I tookXAT 2018 and scored an overall of 92 percentile.
Careers360: What was your preparation strategy? Please share section-wise (QA, VARC and DILR) strategy in detail.
Atrija: It is imperative to plan for sectional preparation before taking the timed mocks and full-tests.
For VARC: I had identified early on that VARC was my strength. I devoted the least time to VARC and banked upon the tests I attempted and spent a good amount of time evaluating those answers.
For DILR:I faced some initial struggles with DI, so decided to tackle the section by studying the concepts taught at the coaching institute I had joined and by diligently solving the questions given in their workbooks cover to cover. However, since LR was a strength, I had prepared my strategy to solve as many LR questions as I could before attempting DI to maximise my score.
For QA: I had realised that I was out of practice for this section. QA demands only two things – time and practice. So prepared for this section by devoting most of my time to it – solving both Arun Sharma and coaching material. My goal was to go through the important topics (probability, permutations and combinations, geometry etc.) at least twice to gain the required confidence.
Careers360: How did you prepare – Self-study or Coaching and why?
Atrija: Honestly speaking, I had joined a coaching institute for the initial boost and setting the ball rolling for me. Towards the end, however, I carefully identified my weaknesses. Sometimes coaching works to resolve the initial conceptual hurdles (as was the case with me) but that being said, self-study should not be neglected under any circumstances.
Careers360: When did you start preparing for CAT? Please share your detailed month-wise preparation strategy.
Atrija: Since I was working nearly seven days a week during the initial part of my preparation, was able to devote very less time; around four hours every weekend. Taking a break from work three months before the exam ramped up my preparation a great deal. Post clearing my concepts, I turned to solve as many tests and papers as I could in the second month along with taking up topics where I was weak and finally sharpening my strengths. Constant evaluation clubbed with rectification led my way to success.
Careers360: How did you balance your preparation with such a demanding job? Please share your timetable.
Atrija: I was working for the initial part of my CAT preparation, however, my nature of work was extremely demanding. I had to devote my weekends to work apart from regular work days where I was doing almost 11 to 12 hours every day (discounting the hours that went into travelling to and from work). With three months in hand, I decided to prioritise my preparation over work and chose to resign from my job. This worked in my favour tremendously, because I utilised my free time well.
Careers360: According to you, what is the most important aspect of preparation?
Atrija: The most important aspect of preparation for me was sleeping a full six to eight hours every day. It is very important to stay relaxed since the course, which may appear to be easy at first sight, is extremely vast. That being said, three months of preparation, is enough to crack CAT. Other than this, being consistent is vital. Even if one is studying/working, one must ensure that they put in at least two to three hours every day, from six months before the exam.
Careers360: What are the best study materials for CAT or other exams?
Atrija: Most of my preparation was done using the modules given to me by my coaching institute. Other than this, my preparation for QA was largely done by referring to Quantitative Aptitude by Arun Sharma, the structured question pattern given in the exercises helped me to scale up the concepts in each chapter immensely. I had also started preparing for WAT/GD/PI by reading news analyses offered by applications such as Knappily etc.
Careers360: When did you start taking mock test and what was the frequency? How did you get it analysed and integrate it in your preparation?
Atrija: I had started taking mock tests regularly from May-June and ensured to take one test every week. The coaching institute that I had joined provided a very detailed analytical summary of my test and gave rankings where I could benchmark myself not just with aspirants in my city but also the whole country. This tool helped me clear my doubts I faced in the paper and to revisit the concepts if required.
Careers360: How one with non-English background should prepare him/herself for the exam as the mode of the exam is only English?
Atrija: The best way to ramp up one's English language skills in a short span of time is to read the daily newspaper. This will not just update the knowledge of current affairs but improve reading his/her speed and comprehension skills which are essential for a successful CAT paper.
Careers360: What was your exam day strategy in terms of question selection, time management, accuracy and sectional attempts/cutoffs?
Atrija: For VARC, I attempted smaller RCs and verbal questions first (interchangeably) and then took the larger RCs towards the end. I decided not to give more than 15 minutes to the verbal part and took 45 minutes to solve RCs.
For DILR, I solved all LR based sets first (capitalising on my strength) and then solved 1-2 sets of DI. This ensured that I had minimum room for negative marking and greater accuracy. Using this strategy, I ended up devoting equal time to both DI and LR in the paper.
For Quant, I decided to first skim through all the questions and solve the easy ones. In the second round, solved the moderately difficult questions. When I was left with roughly 10 minutes, I solved some difficult questions. The key was to double check everything as and when I would get through the paper.
On the exam day, I took around 15 minutes in the first round, 35 minutes in the second round and then utilised the remaining 10 minutes to attempt the tougher questions.
Careers360: Preparing for CAT is a long and tiring process. How do you suggest one should keep his/her calm and confidence?
Atrija: During my leisure, I listened to a lot of music and would catch up with friends every week to de-stress myself. One should also pursue, side by side, something they are passionate about; maybe a run in the park or a pep talk from a senior can prove to be really rejuvenating. Also, one must not hesitate to reach out in case they feel stressed; talking to my mentor really helped me get by some of these moments during my preparation.
Careers360: What is your message for CAT 2018 aspirants?
Atrija: This is for all theCAT 2018 aspirants. Be confident, consistent and healthy. Make these the Trinity of your life for the journey from preparation to appearing in the exam. I guarantee - nothing can take that 100 percentile away from you!
Also Read
CAT Preparation Tips for Beginners
Questions related to CAT
Showing 9106 out of 9106 Questions