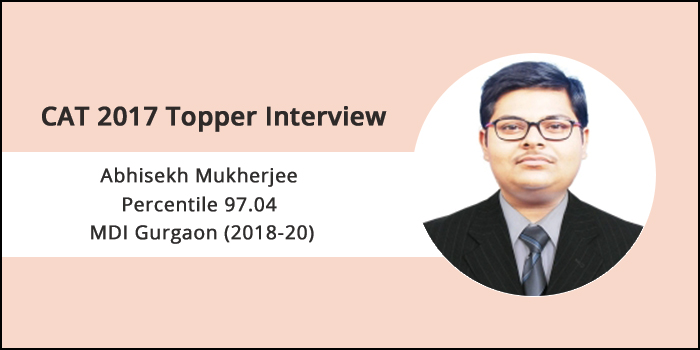 CAT 2017 Topper Interview – Currently a management student at Management Development Institute, Gurgaon, Abhisekh Mukherjee made it to the CAT topper list on his second attempt. Being a professional, he had to judiciously plan his preparation schedule. Spending quality hours during the weekends was an absolute necessity and he tried solving as many as three mock tests every weekend. Having said that, none of his mock tests went unanalysed as he made it a point to critically scrutinise his tests and do the necessary rectifications.
Abhisekh had prepared his office schedule in an apt way. Lunch hour was devoted to solving Quant section and his travelling hours were used to focus on the Verbal section. Being quite aware of the gravity of the exam, he started preparing from April 2017, precisely seven months ahead of the test date. Two months prior to CAT, he re-revisited the concepts and formulae and one month before CAT 2017, he resorted to re-analyse the mocks which he took during the initial days of preparation.
CAT Sample Paper
Download Free Sample Paper for CAT
Download Now
Careers360, for the sake of CAT 2018 aspirants, brings forth the CAT 2017 topper interview to know how Abhisekh managed to secure 97.04 percentile in spite of his hectic work schedule.