CAT 2017 Topper Interview: Investing time on concepts is crucial, says Abhisekh Mukherjee of MDI Gurgaon
CAT 2017 Topper Interview – Currently a management student at Management Development Institute, Gurgaon, Abhisekh Mukherjee made it to the CAT topper list on his second attempt. Being a professional, he had to judiciously plan his preparation schedule. Spending quality hours during the weekends was an absolute necessity and he tried solving as many as three mock tests every weekend. Having said that, none of his mock tests went unanalysed as he made it a point to critically scrutinise his tests and do the necessary rectifications.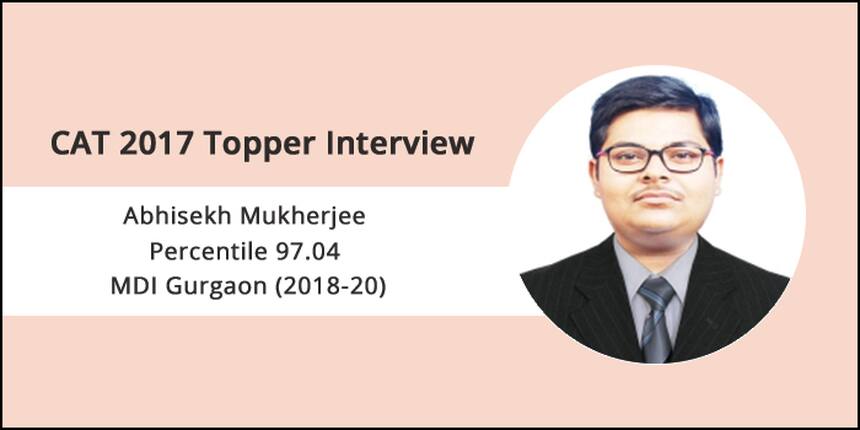 Abhisekh had prepared his office schedule in an apt way. Lunch hour was devoted to solving Quant section and his travelling hours were used to focus on the Verbal section. Being quite aware of the gravity of the exam, he started preparing from April 2017, precisely seven months ahead of the test date. Two months prior to CAT, he re-revisited the concepts and formulae and one month before CAT 2017, he resorted to re-analyse the mocks which he took during the initial days of preparation.
Careers360, for the sake of CAT 2018 aspirants, brings forth the CAT 2017 topper interview to know how Abhisekh managed to secure 97.04 percentile in spite of his hectic work schedule.
Watch Video on How to crack CAT 2018 with 99 Percentile
Read to know Abhisekh's CAT Exam Experience here:
Careers360: What were your CAT 2017 overall and sectional percentile? Apart from CAT, which other entrances you appeared for and what were your percentiles?
Abhisekh: My overall CAT percentile was 97.04 and my sectional scores were as the following-
Due to work commitments, I could not apply for other management entrance examinations.
Careers360: What was your preparation strategy? Please share section-wise (QA, VARC and DILR) strategy in detail. 
Abhisekh: Since this was my second attempt, I invested the initial three months in revising my English and Mathematics concepts before taking up the mocks. I took 50 odd mocks and analysed them individually during my entire preparation period. Since DILR was a tough nut so I resorted to past years' mock papers as well. However, for the other two sections (VARC & QA), I resorted to mocks and its analysis alone.
Careers360: How did you prepare – Self-study or Coaching? Please explain which one do you think is better?
Abhisekh: Combination of both is required for CAT. I joined the Elites Grid for guidance and took mocks from TIME and IMS. At Elites Grid, my main notion was to resolve the doubts I had and learnt some new concepts which I was not aware of during the previous year of CAT preparation.
Careers360: Please share in detail your month-wise preparation strategy for CAT. 
Abhisekh: With utmost determination, I started preparing for CAT from April 2017. Followed a stringent routine which comprised revision of concepts, mock tests, and solving previous years' question papers. Since I was working, I couldn't afford to spend much time apart from weekends. Two months before CAT, I started re-revising the concepts and formulae that I had written in my notebook followed by re-analysing the mocks which I exercised one month before the exam date. The last day before the D-Day was dedicated to the Elites Grid portal where my mentor helped with a quick glance at all the important topics and formulae.
Careers360: How did you balance your preparation with studies or job? Please share your timetable.
Abhisekh: I am no exception as there are many working professionals who balance their study as well as work efficiently. My focus was to crack the exam, so I utilised every moment! I used the lunchtime in my office for solving QA questions and completed Verbal tasks while commuting to and from work. Weekends were completely assigned to mocks and I tried to complete at least three mocks every weekend.
Careers360: What was the one thing that you did consistently during your preparation? Or what do you think one should do consistently during the preparation of CAT? According to you, what is the most important aspect of preparation?
Abhisekh: One aspect which was constant for me was revisiting the concepts. According to me, it is the most essential part of preparation and candidates should keep refreshing the concepts irrespective of whatever commitments he/she has which should be followed by mock tests. One should also be consistent in solving at least two DILR sets, four Reading Comprehensions, and 10 Quant poblems so that they do not run out of practice at any point of time!
Careers360: What are the best study materials for CAT or other exams? 
Abhisekh: I joined Elitesgrid which offers online coaching to aspirants. I was provided all the  resourceful materials which consisted of good questions pertaining to last five years. Precisely, didn't have to look for other alternatives. I always prefer online material as it gives the user the options to prepare and solve questions while he/she is on move.
Careers360: When did you start taking mock test and what was the frequency? How did you get it analysed and integrate it in your preparation?
Abhisekh: I diligently started taking mocks from the month of June, 2017. Initially, I used to take one mock per weekend which then ramped up to four mocks per week; one in the weekdays and three during the weekend. After completing the weekly mocks, I used to critically analyse them in the weekends and solved the incorrect questions once again without time limit to check whether I had the capability to solve the same! Confidence builds up when one realises that time is the only factor s/he needs to work on to get the desired scores as aspirant is able to solve the question without the stipulated time limit. Post analysing, I noted down the formulae and made sure to remember them the next time I take another mock exam.
Careers360: What was your exam day strategy in terms of question selection, time management, accuracy and sectional attempts/cutoffs?
Abhisekh: For VARC, I chose to solve the RC right away and gave little time to VA since RC was my stronger section among the two. For LRDI, I began with a cool head and made sure I solve them correctly. Finally, for QA, I opted for the two stage approach where during the first stage I glanced through the paper and solved whatever I could in first 20 minutes. During the next stage, my focus was on the lengthy and tough questions.
Careers360: Preparing for CAT is a long and tiring process. How do you suggest one should keep his/her calm and confidence?
Abhisekh: Well, the entire CAT journey will help you in transforming yourself into a matured individual. Whenever you run short of positivity, listen to motivational quotes as it assist in boosting your spirits. Anxiety should be kept at bay as one needs to learn to remain calm as this is what the exam demands from all prospective test takers!
Careers360: What is your message for CAT 2018 aspirants?
Abhisekh: Enjoy the journey to the fullest and don't worry about the outcome. If you work hard you will surely get what you desire. The CAT preparation phase is something that every aspirant will always remember.
My heartfelt wishes!
Also Read
Questions related to CAT
Showing 8935 out of 8935 Questions