CAT 2016 Topper Interview: Coaching is not necessary for disciplined aspirants, says 99.3 percentiler Vinay Pahal
Vinay Pahal started taking mock tests even before he actually started preparing for CAT 2016. He wanted to know where he stands without preparation. A regular and focused routine of reading and practising questions of different topics on weekdays and mock tests on weekends made him a topper in CAT 2016 with 99.3 Percentile. Vinay, a B.Tech graduate and a fresher by experience, has grabbed admission in one of the finest management schools in the country, MDI Gurgaon. Vinay believes that CAT is a preparation intensive examination which requires regularity rather than volume.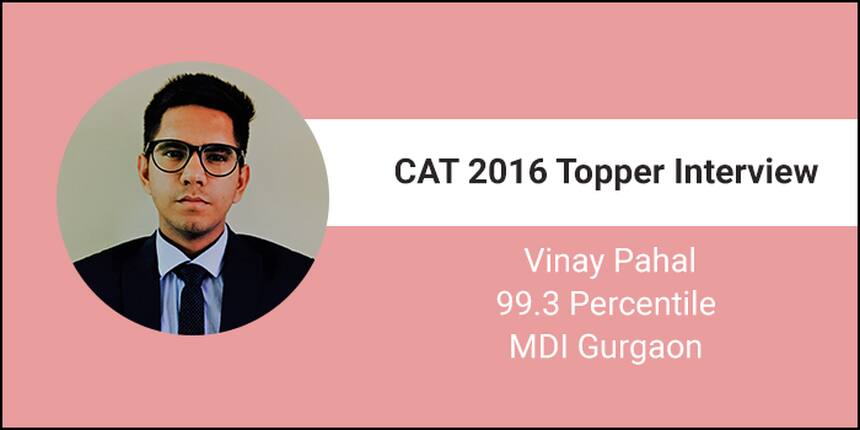 In this interview with Careers360, Vinay talks about the challenges he faced during preparation and how he managed to get through them. Know more about his views on CAT preparation in this interview.
Recent Posts:
Read the full interview below:
Careers360: Congratulations on your admission to MDI. What was your overall and sectional score in CAT 2016? 
Vinay: Thanks a lot. My overall score in CAT 2016 was 161.88 which attributed to 99.3 percentile. My sectional scores were 61.41 (94.66), 47.57 (99.06), and 52.90 (98.86) in Verbal Ability & Reading Comprehension (VA/RC), Data Interpretation & Logical Reasoning (DI/LR), and Quantitative Ability (QA) respectively.
Careers360: Which was the most challenging and the easiest section in the test?
Vinay: According to me, QA was the easiest section while DI-LR was the most challenging one. The QA section had a mix of very easy, easy to moderate, difficult and very difficult questions. The key was to solve the very easy and easy questions first. The section was about accuracy and speed. It also had a few lengthy questions which ought to be done later on.
DI-LR in CAT 2016 was tougher than CAT 2015. The question sets were very long with additional data points for individual sets in the set. The key in this section was to attempt the sets which had no additional data for individual sets and would not require assumptions. Candidates who held their cool in this section could tackle the QA section with confidence.
Careers360: What was your preparation strategy? How did you strike a balance between your academic/professional life and preparation for an entrance exam?
Vinay: The Common Admission Test (CAT) is a preparation intensive examination. It is a factor of regularity rather than volume. A worksheet for each section on weekdays and a mock test along with analysis on weekends is the key for a wholesome preparation. I used to practice around 15 questions of QA, with at least two sets of DI-LR each and read three to four articles from The Hindu. All of these took around two hours. I used to manage this by waking up early in the morning. The leftover part was done in the night after dinner. On the weekends, Saturdays were for taking mock tests while Sundays were for analysis. Both, mock test and analysis each used to take three hours or more. I used to analyse the mock test immediately on the next day for maximum benefit.
Careers360: Did you join any coaching institute for CAT preparation? Do you think coaching is necessary for aspirants to bag top rank?
Vinay: I was not a part of any coaching institute. Coaching is not necessary for disciplined aspirants. It becomes necessary for aspirants who have difficulties in trying to follow a schedule. More than coaching, it is the mock tests from various institutes which help in bagging the top rank.
Careers360: Please share your specific section-wise strategy for VARC, DI & LR and QA.
Vinay: For VARC - A student needs to read a lot. One may start from any topic but the idea is to read diverse topics. CAT has RCs ranging from philosophy to history to psychology to art. It is of utmost importance that a candidate isn't lost in the examination, trying hard to comprehend the meaning of a sentence or a word. Additionally, newspaper reading helps in the second stage of the process as well. To do well in VA, one has to learn to practice without options since all the VA questions haven't had options in both CAT 2015 and CAT 2016.
For DILR- A student needs to quickly finish off the basic topics of both the sections. Then, he/she must move on to moderate and difficult sets. CAT 2016 had no very easy sets in either DI or LR. A student has to focus on an iterative approach to problem-solving. During the examination, one has to be mindful of the time and cases any question set may take. Accordingly, one must try for shorter-easier-more definite questions first.
For QA- A student needs to cover the basic concepts of all topics initially. One must try to solve questions without writing. Several questions can be solved in the mind itself. If not the entire question, the logic or the methodology can be decoded without the use of a pen. One should know the approach before deciding to solve the answer. There is a high probability that one will waste time on attempting a question if he/she does not have the approach in mind. Secondly, even though the calculator is provided to make fast calculations but the use of the calculator is time-consuming.
Careers360: How did you tackle the challenging sections and topics?
Vinay: One cannot predict the topics from which questions will come in CAT. Ideally, a student must strive to be proficient in all sections. But, there will be sections and topics in which one is not comfortable. For these sections, efforts should be made to learn the concepts from scratch. A student should be able to solve basic (formula based) questions from all topics. If in case, a student can't get beyond basics, he mustn't lose sleep. The CAT is about doing the right things and leaving the unsure things. One must focus on one's strengths and try to improve one's weaknesses.
Careers360: Books and study materials that you referred to while preparing for CAT?
Vinay: I had referred to T.I.M.E.'s study material for my preparation in all three sections. For supplementing QA, I had practiced from Quantum CAT by Sarvesh K.Verma. For mock tests, I had subscribed to Career Launcher and TIME.
Careers360: What is the significance of mock test in your success? When did you start taking mock tests and what was the frequency?
Vinay: Mock tests are the most important part in my success. They tell candidates about their weaknesses and strengths. It is only after attempting several mocks that one develops the capability to concentrate for three hours. I started taking mocks before starting my preparation. It was to gauge my performance without any preparation. Regarding frequency, I used to take at least one mock test every week.
Careers360: How did you analyse your mock tests and how did you modify your strategy after that?
Vinay: I spent more time on mock tests' analysis than mock tests. One gets to know the type of questions, and topics in which one is weak or strong. Over a certain period of time, one clearly sees a pattern. For improvements, I used to refer to the video solutions provided by T.I.M.E. In the next test, the strategy was to do the topics I was not comfortable with in the end.
If I could not solve questions from some topics after repeated attempts, I used to make sure that I at least knew the formula so that I could solve formula-based questions if they come in CAT.
Careers360: What was your time management strategy for section-wise preparation vis a vis exam day?
Vinay: Time management for all the sections is about solving the easy questions first. The exam is to be done in iterations. Scan through each question of a section in its order. Solve a question if you think you can get it on the first try. Flag the question you think you can solve but will take some time. Leave the questions you can't comprehend. Practice mocks to become familiar with the strategy. Do not try anything new in the actual exam.
Careers360: How did you utilise the features like calculator and non-MCQs in CAT?
Vinay: According to me, one should use the calculator as a luxury. It should be only used for very difficult calculations. Other examinations like XAT, IIFT do not allow calculators. So, try not to use the calculator while practising.
For non-MCQs in CAT, you will have more chances of getting the accurate answer in QA than in VA. For VARC, try to solve RC first before moving to VA. For QA, the non-MCQs most probably will be simpler than MCQs. Do not leave any non-MCQ. You may get lucky.
Careers360: Any suggestion that you would like to share with aspirants?
Vinay: Be aware of the selection criteria of all colleges so that you are not surprised when the shortlists are out. Prepare well, at a steady pace. Mocks and reading will be your pillars of success. Be calm on the D-day.
Good luck to all CAT 2017 takers!
Also Read
Stay tuned to bschool.careers360.com for more information on CAT toppers
Get real-time alerts on exam & colleges at your fingertips with Careers360 App!
Click Here to Install or Give a missed call on 08080944727 to get app link.
Questions related to CAT
Showing 9073 out of 9073 Questions