CAT 2016 Topper Interview: CAT is all about self-study and aptitude, says 99.76 percentiler Vatsalya Kumar Srivastava
A Chemical Engineer and M.Tech (Physics) by qualification, Vatsalya Kumar is on his way to experience an untrodden path that began with topping the most popular exam- CAT. A current PGPM student at MDI, Vatsalya recalls his preparation strategy and how he came about to excel the management exam in mere few months time. According to Vatsalya, his strengths lay in DILR section and weakness in the VARC section. The 99.76 percentiler commenced his preparation in August and made sure to take about 2 mock tests on an average per day. He also took help of study materials provided by various coaching institutes that helped him gain speed and understand the exam pattern.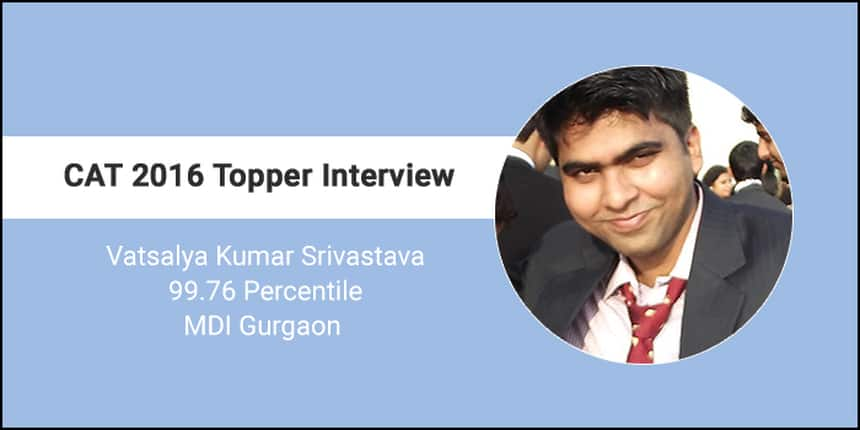 Apart from CAT, Vatsalya also excelled in a number of other entrance exams including IIFT, SNAP, CMAT and TISSNET.
In an interview with Careers360, Vatsalya Kumar Srivastava shares his preparation journey and how one should go about when preparing for the most sought after exam.
Recent Posts:
Read the full interview below:
Careers360: Congratulations on your admissions to MDI. What was your overall and sectional score in CAT 2016? Any other exam you had appeared for, please share the score for the same.
Vatsalya: Thank you. Below you can check my overall and sectional score:
CAT 2016: Overall 99.76 || VARC 98.68 || DILR 99.38 || QA 99.05
Other Exams: XAT 93.52 || IIFT 98.6 || NMAT 214 || SNAP 99.93 || CMAT 99.87 || TISS 85/100
Careers360: Talking of sections, which was the most challenging and easiest section in the test?
Vatsalya: DILR was my strength, though I felt it was the most challenging section of the three.
VARC which used to be my weak point surprisingly was the easiest and doable.
Careers360: Please share your preparation journey. How did you strike a balance between your academic life/professional and preparation for an entrance exam?
Vatsalya: I started off my preparation in August. Since this was my first attempt, I was not very confident of cracking CAT this way, though I joined quite a few test series for the preparation. My focus was on self-study rather than joining coaching classes. By September end, I was not serious about my preparation, but after that, I realised that I needed to start taking mocks. I attempted on an average two mocks per day in the last month, varying for different exams. I realised it is more important to get hang of the pattern rather than waiting for the D-Day.
Careers360: Were you a part of any coaching institute? Do you think coaching is necessary for aspirants to bag the top rank?
Vatsalya: I took study material from T.I.M.E. I had also joined test series of T.I.M.E., Career Launcher and Bulls Eye. Apart from that, I took mocks on Cracku, Oliveboard and IMS depending on which exam I am preparing for.
Personally, I feel CAT is all about self-study and aptitude. No coaching institute can instill aptitude in your brain through the study material and the mocks from these institutes were of great quality and helped prepare for the worst. It is important not to be over-confident. Also if you are not nervous, you are not well prepared, so nervousness is normal.
Careers360: Please share your specific section wise strategy for VARC, DI & LR and QA.
Vatsalya: VARC usually was the trickiest for me, especially RC probably because I followed a flawed strategy for solving RC questions and went for accuracy rather than quantity. (A tip for the aspirants: Choose between accuracy/quality and quantity beforehand and follow this throughout your preparation)
DILR was always my favourite section and I usually started with DI first and then LR. My theory behind this was that doing mental calculations is easier since normally in an exam situation, aspirants have a brain-freeze moment if they go for LR first. LR can sometimes be solved by intuition if the time is less. It is important to keep an eye on the details given in a DILR question.
QA was a hot-n-cold section for me always. QA is difficult to master since the range of questions is so varied that you can't keep track of time sometimes. I made it a point to attempt all non-TITA questions first since some QA questions can be solved backwards using options. QA strategy differs from person-to-person but it is important to concentrate on accuracy in QA rather than quantity.
Careers360: How did you tackle the challenging sections and topics?
Vatsalya: For RC, I did a lot of practice from online sources, I changed my strategy to first browsing at questions, then reading the comprehension and then answering the questions. Change in strategy did somehow help me ultimately.
In QA, Number system and P&C were two topics I usually used to avoid. It is important you work on your strong points in QA and if you are not comfortable with a topic it's better to leave it unless CAT throws up a sitter from one of these topics. Mental maths is helpful here but unlike DILR intuition rarely works in QA. 
Careers360: Mention section wise books and study materials you had referred.
Vatsalya: T.I.M.E. Material, previous year CAT papers on Cracku and HitBullseye, No specific books are needed unless you are really weak in one of the sections. Mock practice is more important than solving random questions.
Careers360: What is the significance of mock test in your success? When did you start taking mock test and what was the frequency?
Vatsalya: Taking and analysing mocks comprised almost 80 percent of my preparation. It may not be possible that you remember all the formulae during an exam so it's important to have enough practice. I attended all the Pan- India Open mocks conducted by top coaching institutes. I started giving mocks in August and increased the frequency to around 8-10 mocks (not only CAT) per week from October.
Also whenever solving questions at the back of the chapter, try answering them in a quiz format rather than looking for answers every time you solve one.
Careers360: How did you get the mock tests analysed and how did you modify your strategy after that?
Vatsalya: In the first few mocks, I gave up on analysing the mocks and thus suffered. But later on, I analysed each and every mock for at least 60 minutes. This helped me understand the pattern of my mistakes and my weak points. Also, it helped me crack RC in CAT.
Careers360: What was your time management strategy for section wise preparation vis a vis exam day?
Vatsalya: I rarely followed a time strategy. Though I preferred setting deadlines rather than time tables. Most of the time for preparation, I spent on solving QA separately, and for DILR and VARC, I used mocks mostly.
Careers360: How did you utilise the features like calculator and non-MCQs in CAT?
Vatsalya: Make it a point to attempt all non-MCQs in CAT. It increases your attempts in the actual exam, and since they are non-negative, you are not in two minds while solving.
Use of on-screen calculators must be practiced in advance. There might be a case in actual exam where you get a poor system or a faulty keyboard to work on. So even while giving mocks, do use the on-screen calculator rather than in-hand ones.
Careers360: Any suggestion that you would like to share with aspirants?
Vatsalya: If you are first-timer at CAT, do take all the exams. You don't have previous baggage and thus it is important to attempt all kind of exams so you have a wide range of choice.
If you are a repeater, it is important to understand that the problem is not in your preparation, it's in the exam strategy.
In the end, I would say that keeping aside all your preparation and self-study, you do need a bit of luck on the D-day.  Finally, I would like to wish good luck to every CAT 2017 aspirants.
Also Read
Stay tuned to bschool.careers360.com for more information on CAT toppers
Get real-time alerts on exam & colleges at your fingertips with Careers360 App!
Click Here to Install or Give a missed call on 08080944727 to get app link.
Questions related to CAT
Showing 9084 out of 9084 Questions