CAT 2016 Topper Interview: Increase the frequency of mock tests, says 99.08 percentiler Jessie Lemos
Jessie Lemos was just another CAT aspirant when she started preparing for the biggest exam a year back. Nevertheless, with a formulated preparation, regular practice and faculty's guidance, she topped CAT 2016 with 99.08 Percentile and grabbed admission in one of the finest management schools in the country- MDI Gurgaon. Jessie, a Electronics and Telecommunication engineer and a fresher by experience, says that taking a lot of mock tests was the single most important factor that aided her CAT preparation.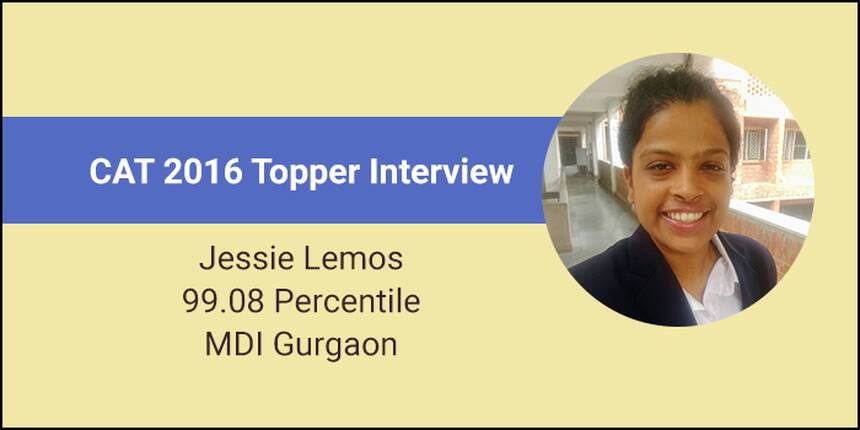 In an interview with Careers360, Jessie tells us how she managed to study engineering and prepare for CAT at the same time. Let's know more about her preparation experiences which made her excel the exam.
Recent Posts:
Read the full interview below:
Careers360: Congratulations on your admissions to MDI Gurgaon. What was your overall and sectional score in CAT 2016? Did you appear for any other exam besides CAT? What was the result?
Jessie: Thank you very much. My overall score was 99.08 percentile. My sectional scores were: VARC: 99.46, DILR: 97.97 and QA: 93.29. I didn't appear for any other exam.
Careers360: Talking of sections, which was the most challenging and easiest section in the test?
Jessie: CAT'16 will always be remembered for its difficult DILR section. Many people could not solve anything. However, for me, Quantitative Ability (QA) was toughest. The easiest section was VARC.
Careers360: Please share your preparation journey. How did you strike a balance between your academic life/professional and preparation for an entrance exam?
Jessie: I started my preparation around the month of October. So, I had more than a year to prepare. However, I did not seriously prepare until April 2016. I really pushed my boundaries during the post-CAT period.  I was an engineering student and it was not easy to manage both college and CAT. My project group mates and my classmates helped me greatly by sharing my workload whenever they could.
Careers360: Were you a part of any coaching institute? Do you think coaching is necessary for aspirants to bag the top rank?
Jessie: I was a full-time classroom student with TIME. While being in TIME aided my preparation to a great extent, I do not think that it is imperative for aspirants to join coaching classes. CAT is based on what we have learnt till class 12th and hence, we need not be taught all that again. But, coaching institutes do provide you with a direction to study and help you in disciplining your preparation.
Careers360: Please share your specific section wise strategy for VARC, DI & LR and QA.
Jessie: VARC: Ever since my childhood, I have had a strong reading habit and hence, I did not have to put much effort into this section. However, those who do not have this habit yet should start reading as much as they can, preferably something in non-fiction. Also, just reading will not help. One must also learn to comprehend what they read. For the verbal ability part, practise is the key.
DILR: I just kept practising a wide variety of sets so that no kind of question could surprise me in the main exam.
QA: This is the section that I had trouble with. I used to practise the questions from the TIME material and then take section wise tests. After every test, I used to ask my peers and teachers to help me with the question that I could not solve.
Careers360: How did you tackle the challenging sections and topics?
Jessie: In QA, I had a tough time with topics like Statistics, Probability and Time and Distance. In DILR, the games and tournaments based caselets were too difficult for me. For both these issues, I just kept on practising as many questions as I could. I also used to discuss these with the seniors for a better understanding.
Careers360: What is the significance of mock test in your success? When did you start taking mock test and what was the frequency?
Jessie: The single most important factor that aided my CAT preparation was taking a lot of mock tests. I started taking mock tests in January 2016. Initially, I used to take the mock tests after every 15 days. After that, I moved to a mock test every week. In the last two weeks of preparation, I took only three mock tests. I focussed more on formulating a proper strategy for the same.
Careers360: How did you get the mock tests analysed and how did you modify your strategy after that?
Jessie: TIME used to publish a video analysis of every question asked in the mock tests. I used to watch those and come up with a strategy specific to it.
Careers360: What was your time management strategy for section wise preparation vis a vis exam day?
Jessie: In VARC, I used to spend 20 minutes on VA and 40 minutes on RC.
In DILR, I spent the first 5 minutes in going through all the sets and deciding which ones to attempt. After that, I spent 20 minutes on each of the sections and I left the last 15 minutes to think about the questions that I could not solve in the first attempt.
In QA, I allotted a time based on the number of questions. I used to move on to the next one if I could not solve a question and then come back to it later.
Careers360: How did you utilise the features like calculator and non-MCQs in CAT?
Jessie: I used the calculator to solve data based questions in DILR. I attempted all the MCQs even if I did not know the answers as they had no negative marking.
Careers360: What were the topics of WAT and GD at B-schools you had appeared for? Also, mention the PI questions you were asked?
Jessie: Some of the topics that I can recollect are:
Medical colleges have nearly 50% female candidates. However, very few of them actually pursue the profession. What are the reasons and do you think the situation will change?

What do you think about the river interlinking project by the Government of India?

Should the government focus on more on primary education or on setting up more IITs and IIMs?

How to stop the population explosion?
Most of my PI questions revolved around academics. I was asked basic questions on electronics and telecommunications. Apart from that, I was asked about why I want to do an MBA and my opinions on the trending topics.
Careers360: Any suggestion that you would like to share with aspirants?
Jessie: My only suggestion would be to take all the mock tests very seriously. I diligently took every mock test and mapped my progress. In the end, the actual CAT felt like just another mock test and hence, I felt no pressure. All the best to all the CAT 2017 aspirants!
Also Read
Stay tuned to bschool.careers360.com for more information on CAT toppers
Get real-time alerts on exam & colleges at your fingertips with Careers360 App!
Click Here to Install or Give a missed call on 08080944727 to get app link.
Questions related to CAT
Showing 9084 out of 9084 Questions