CAT 2016 Topper Interview: Follow a proper routine when preparing for CAT, says 99.56 percentiler Bhushan Baviskar
He didn't care about the high salary package and a flourishing career as a Market Analyst when he left his job to prepare for CAT. Bhushan Baviskar, an Aerospace engineer from IIT Bombay, returned to his hometown and started preparing for the big exam with a dream of studying MBA at country's top management schools. His strategically planned preparation routine and smart engineering mind opened the doors of IIM Shillong for him. Bhushan will be pursuing Post-Graduate Programme in Management at the institute.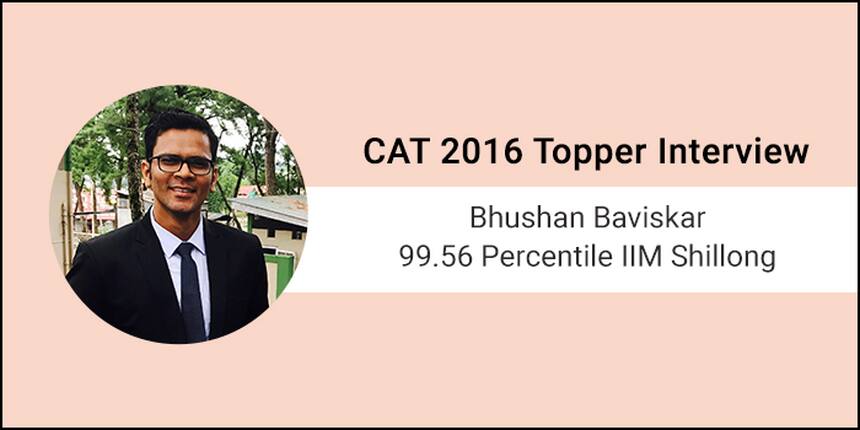 Bhushan also appeared in CAT 2015 and scored 97.41 Percentile. Yet, it was certainly not enough neither for him nor for the IIMs. He once again appeared for the exam and secured 99.56 Percentile in CAT 2016. In this interview with Careers360, he shares his entire CAT experience in detail.
Recent Posts:
Read the full interview here:
Careers360: Congratulations on your admission to IIM Shillong. What was your overall and sectional score in CAT 2016? Did you appear for any other entrance exam? If yes, please share the score.
Bhushan: Thank you so much. My overall score in CAT 2016 was 169.06 (99.56 Percentile). Here are my sectional scores and percentile:
| | | |
| --- | --- | --- |
| Section Name | Score | Percentile |
| VA/RC | 51.65 | 88.38 |
| DI/LR | 40.88 | 97.65 |
| QA | 76.53 | 99.98 |
| Total | 169.06 | 99.56 |
VA/RC – Verbal Ability/Reading Comprehension
DI/LR – Data Interpretation/Logical Reasoning
QA – Quantitative Analysis
I didn't appear for any other exam.
Careers360: Which was the most challenging and the easiest section in the test?
Bhushan: I felt that VA/RC was the easiest section in CA 2016. I attempted around 30 questions but it turned out the other way round. Options given in the questions were very close and many wrong answers kept my score low.
DI/LR was the toughest section for me. With unconventional questions and very long paper, I was able to attempt around 17 questions but good accuracy helped me to score well in this section.
Careers360: Please share your preparation journey. How did you strike a balance between your academic/professional life and preparation for an entrance exam?
Bhushan: I was working with Futures First Info. Services as Market Analyst till May 2016. I appeared for CAT 2015 and scored 97.41 Percentile. I used to work for around 12 hours almost every day in the job. As I wanted to give one serious attempt for CAT, I quit my job after 21 months of work experience. In May 2016, I shifted to Nashik (my hometown) from Hyderabad. As I had quit my job to prepare for the exam, one must be ready to defend the decision and answer the questions related to it during personal interview round. I also worked in our family-owned business during my CAT preparation and questions related to it are the toughest.
After going home in May, I had around six months to prepare for the CAT 2016. I joined TIME Institute. My motto for joining classes was purely based on the fact that the material they provide is of very good standard and AIMCAT test series is given by students across the country.
My basics in Quant and DI were pretty clear. In CAT 2015, my score in VA/RC section was around 96 percentile. But I never had full authority over this particular section. Because I knew, in any condition, I will be able to attempt around 28 questions. On a good day, the accuracy rate will be high and score will be good but when the time comes to choose between the final two options, and if I am on the wrong side, the score will get affected.
Careers360: Were you a part of any coaching institute? Do you think coaching is necessary for aspirants to bag the top rank in CAT?
Bhushan: Yes, I was a part of TIME institute, Nashik branch. I think it is not necessary to join the coaching classes or lectures to grab the top rank but coaching material and mock tests provided by institutes are really helpful. 
Careers360: Please share your specific section wise strategy for VARC, DI & LR and QA.
Bhushan: For VA/RC, I read online articles of a different genre. The word count in the articles should vary between 500-1200 words. Not less not more. And I mostly focused on the articles which did not have "complex" English. When I started this exercise, my reading speed was around 210-220 words per minute. After practising this exercise for around 5 months, my reading speed galloped to around 350 words per minute.
In CAT, 24 questions are from RC section. So, this section required maximum time for preparation. For VA, a new type of questions in para jumbling was introduced where we had to manually put the choices in the box. This type of questions are very hard to get right and that's why I did not focus too much on them. Now, remaining 6-7 questions are of different types. I prepared for each and every type in advance so that nothing surprises me on the exam day. 
The LR section needs a lot of practice. Practice each and every kind of question that is available online and study materials of different institutes. Practice is the key for LR section.
DI section tests how fast one infers the given charts, diagrams and logic behind them. Being quick with calculations is always an advantage. So, basic arithmetic should be focused and a lot of practice is needed.
Quant is my most favourite subject.  I try to understand the concept behind each and every topic. I hardly learn any formulae. I always dig down the concept and try to understand the formulae rather than remembering them.
In the end, I gave around 30 mock tests. Around 40 sectional tests for each section. Managing both work and studies will surely help to get a good score in CAT 2017.
Careers360: How did you tackle the challenging sections and topics?
Bhushan: In CAT 2015, I scored 81 percentile in DI/LR. So, it was the target area for me in the CAT 2016. The major advice I got from different people when asked about this section was practice. Practice different types of questions and many questions of a single type. Practice question from online articles, from study materials and give mock tests that surely helps.
Careers360: What is the significance of mock tests in your success? When did you start taking mocks and what was the frequency?
Bhushan: Mock tests played a very important role in preparing me for CAT 2016. I started giving mock tests in the month of June. Initially, the frequency was around 1 mock test per 2 weeks. Then, from the month of October, I started giving one mock test per week. Then, in the last month, I used to give mock tests whenever I got time. I finished around 30 mock tests before the main exam.
Careers360: How did you get the mock tests analyzed and how did you modify your strategy after that?
Bhushan: TIME had a good interface for the mock test analysation. It gave me a good idea about the time spent on each question. For English, time spent on reading RCs was a good indicator. Then, the long and difficult questions of DI/LR and what must be the ideal time for solving/skipping them. In quant, I was able to go through every question.
I modified my strategy by skipping questions that I knew were going to take a long time, rather than pondering over them.
Careers360: What was your time management strategy for section wise preparation vis a vis exam day?
Bhushan: For VA/RC, I targeted 45-50 minutes for RC part and remaining for VA.
In DI/LR, it was more about selecting the right questions and solving them correctly. It's never about solving all the questions in DI/LR. It's more about the accuracy.
In quant, I was able to look through the entire section. I attempted 30 questions. I couldn't solve the remaining four. So, my speed in solving questions of quant helped me overlook the factor of time.
Careers360: How did you utilize the features like calculator and non-MCQs in CAT?
Bhushan: I tried to bring down the use of the calculator as much as possible by arriving on final equations that were needed to solve. Do not use a calculator if calculations seem to be easy.
For non-MCQs in VA section, I skipped the questions of para jumbling. Other than, I attempted every question as they didn't have negative marking.
Careers360: Any suggestion that you would like to share with aspirants?
Bhushan: Make a proper routine you will follow during CAT preparation days. Mocks help a lot.
During the interview, try to be as honest as possible with the interviewers.
Also Read
Stay tuned to bschool.careers360.com for more information on CAT toppers
Get real-time alerts on exam & colleges at your fingertips with Careers360 App!
Click Here to Install or Give a missed call on 08080944727 to get app link.
Questions related to CAT
Showing 9092 out of 9092 Questions