Careers360 Live Chat: Q&A with Prof. Shailendra Nigam, Chairperson Admission, IMI, New Delhi
Prof. Shailendra Nigam, Chairperson Admission of IMI, New Delhi takes queries from prospective MBA students on different aspects of admissions and management course of IMI, New Delhi. Careers360 brings here all the Q&A from the live chat with the IMI, New Delhi faculty.
Excerpts from the Careers360 Live Chat.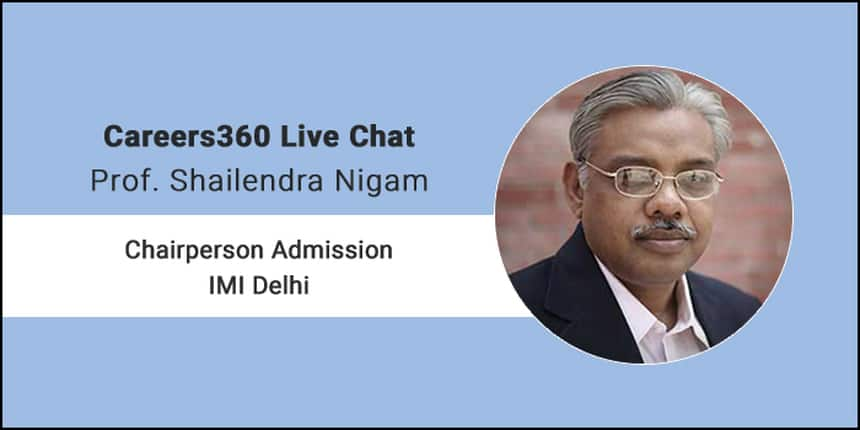 Aman: Is your PGDM programme affiliated with AMBA?
Prof. Shailendra Nigam: Yes its accredited by AMBA; moreover it has National Board of Accreditation. These are good enough for any premiere B-school in the country.
Saurav: Where is IMI located in Delhi? What is the fee structure for MBA full time? Do you provide hostel facility?
Prof. Shailendra Nigam: Our campus is located in South Delhi. The total amount of fee for MBA Full Time is- 15.4 Lakhs. Yes, we have hostel facilities and it is compulsory to stay in our hostel, even if the candidate is living in Delhi.
Arun: Could you help me with the ranking of IMI New Delhi? What is so special about IMI?
Prof. Shailendra Nigam: It varies according to different rating agencies. However, IMI New Delhi is ranked amongst the renowned institutes. IMI provides one of the best academic programs in terms of faculties, projects and corporate competitions. You will get very bright opportunities during the placement programme.
Ashik V A: I have done my Masters in Statistics. Would be great if you throw some light on the benefits of pursuing MBA with my educational background?
Prof. Shailendra Nigam: I must say, you have taken a good decision. Nowadays, Analytics is playing a pivotal role in management studies. There are many programmes which are specifically related to Analytics. So go ahead with your plan. 
Sandhya: My daughter is preparing for CAT exams. We are from South India, so would like to know whether she would be able to find students from our region?
Prof. Shailendra Nigam: We do have many students from South India. To be specific, 15 percent students come from South India and are faring well. 
Avinash: What is the CAT percentile criteria to get admission in IMI, New Delhi? Is there a sectional cut-off? Is there any reservation for scheduled caste/schedule tribe?
Prof. Shailendra Nigam: Last year, it was 90 percentile. The sectional cut-off was; 75 for Verbal Ability and Reading Comprehension(VARC), followed by Data Interpretation and Logical Reasoning(DI & LR) which was 70 and Quantitative Ability(QA)was 70. We do not have the policy of Reservation as we do not differentiate students based on their caste, creed and race.
Priti: I scored 73 percent in 10th boards, 74 percent in intermediate, 59.9 percent in BE Automobile Engineering. Now, how much should I score in CAT exam to join IIMS? If I get 95% percentile, does my chance get increased to get into IIM colleges?
Prof. Shailendra Nigam: Definitely. With your academic scores and 95 percentile in CAT; you can surely fetch a seat in one of the IIMs. As CAT is a shorlisting criterion, so one has to clear CAT exam first and plan for college later.
Vineet: If I have an academic backlog or lose a year during my graduation will that affect my MBA admissions especially during the interview?
Prof. Shailendra Nigam: Academic break or backlog will not affect your MBA admissions but your interview should go well. That is the most important parameter.
Rahul Bansal: Do you require prior work experience to join the executive programme? Is it a regular programme?
Prof. Shailendra Nigam: For IMI, minimum five years work experience is required to get admission to Executive MBA. Yes, it is a regular residential programme.
Arjun: Is internship necessary for a good profile?
Prof. Shailendra Nigam: It is mandatory for the program and it helps in the final placement.
Rachna: How are placements in your college? What is the lowest package one can expect from your college in PGDM?
Prof. Shailendra Nigam: According to last year's statistics, almost 100 per cent placements happened from IMI, New Delhi. In PGDM, the minimum package offered was Rs. 10 Lakh Per Annum.
IMI Delhi Updates and Articles
Questions related to IMI Delhi
Showing 105 out of 105 Questions