Experience, knowledge and practical learning play key role in leadership: Dr. Debashis Chatterjee, Director General, IMI New Delhi
Dr. Debashis Chatterjee, Director General of International Management Institute, New Delhi believes in maintaining the right balance between theoretical and practical approach in management lessons in order to equip students for the corporate realities. In this exclusive interview with Careers360, Dr. Chatterjee talks about the approaches and initiatives launched in the curriculum of IMI, New Delhi.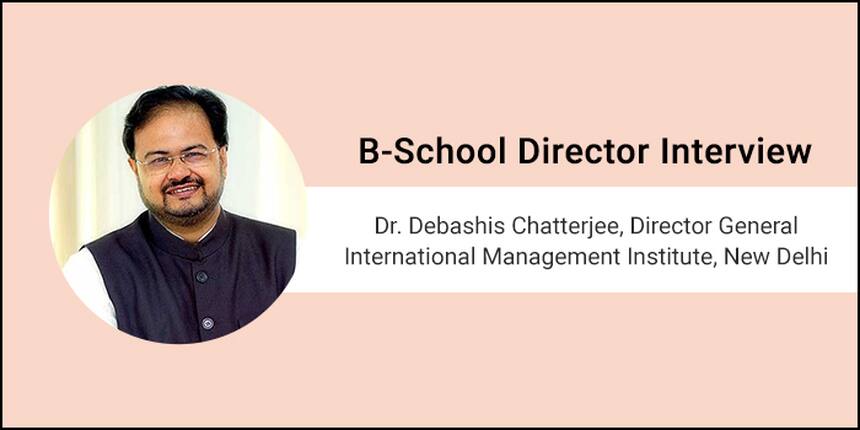 Dr. Chatterjee, former director of IIM Kozhikode also emphasises on the fact that the key challenge is to be continuouslyinnovative in current times. To cope with this challenge, he aims to introduce disruptive innovation at IMI, New Delhi
Read the excerpts of the interview below.

Careers360: What are the USPs of your institute? How does IMI stand out from the other similar ranked institutes
Dr. Debashis Chatterjee: After being a part of IMI, I feel very excited to be with the first Corporate Sponsored B-School of India. The institute wishes to leave behind a legacy of management wisdom that nurtures competent and compassionate professionals. We see ourselves as a small unique boutique school – the first of its kind in India which is about thought leadership and excellence. Our intellectual capital amplified by our social capital has built our reputation as India's foremost corporate sponsored business school. Our geographical expanse through our three campuses at Delhi, Bhubaneshwar and Kolkata; gives us competitive advantage. The fulcrum of the IMI brand is Delhi and we work as one brand.
We have global footprint in over 105 countries and at any point of time over 35 nationalities are represented through the ITEC programme and exchange students from five continents. Our alumni in various important locations of the world viz. Dubai, London, Singapore, New York, act as change agents in global organisations.
Careers360: What is the seat intake for PGDM programmes you plan for the admission year 2018? What is the fee structure for the coming admission season and how is it as compared to last year?
Dr. Debashis Chatterjee: At IMI, New Delhi we believe in maximising the learning by the students. In order to maintain the balance between the students and the professors, we have 240 students for the PGDM course, 60 students for the HR program and 60 students for BF&S program and more than 50 regular highly competent Faculty with Adjunct Faculty and Professors of Practice. The fee for the entire course, for all the self-sponsored programs i.e. PGDM, PGDHRM, BF&S is Rs. 15,41,000. For the company sponsored course i.e. the Ex-PGDM is Rs. 28,16,000.
Careers360: How do you ensure industry-academia sync at your institute?
Dr. Debashis Chatterjee: In today's world, it is just not the theoretical knowledge that counts but it's the practical knowledge that gives students the edge. IMI, New Delhi ensures the overall development of its students through various industry aligned activities that are built around the classroom education. Here, I would like to emphasise on the fact that our institute provides the students a fresh perspective to learn and grow. Thus, we provide the students with various guest lectures and business thought leadership programmes. We have also started an Initiative called 'HonouR', for the HR program. This helps the students in gaining substantial insight into the industry and understands it at a corporate scale.
To achieve our objectives, we have plans to contemporise research and academic activity to keep academic work relevant to today's needs. Our recent tie-ups with Power Grid Corporation of India and Airport Authority of India are examples of developing industry interface. We are also offering various offline and online management development programmes for Business Managers working in the leading corporate entities.
We are conducting a series of leadership clinics across the country. These forums help us get an idea of the problems faced by people in industry where we deliver a solutions framework instead of just delivering content.
Careers360: How do you plan to enrich the academic curriculum for the next academic year?
Dr. Debashis Chatterjee: While our endeavours provide not only a unique experience to the students through our unique offerings, the students are educated through an internationally benchmarked curriculum and integrative and experiential pedagogy to meet the needs of the industry as to provide continuity which is the essence of life, we are continuously updating our curriculum and this year we have started restructuring our curriculum to make it more integrative and experiential. We have also recruited CEOs and Industry leaders as 'Practice Professors' to make the dissemination pragmatic and relevant to industry needs. After an initial success we plan to take this forward in a big way
Careers360: How does the current pedagogy enable students to deal with the challenges of corporate world?
Dr. Debashis Chatterjee: IMI, New Delhi's pedagogy puts a lot of emphasis on case based learning, which helps students gain immense perspective on not just theoretical but also practical aspects of the business world. The on-campus activities, events and industry conclaves hosted and organised by students give them a wide exposure of various facets of management learning. Students get to exercise leadership, team management, resource planning and due execution with the help of such events. The college pedagogy is in line with the contemporary management needs and requirements, when it comes to equipping the students with industry relevant skills. The curriculum and co-curricular activities are designed and structured in a manner as to impart maximum real-world business scenarios and situations, which students can put into practice after their college tenure.
Careers360: What are the key challenges that management education face today and how are you working towards the solution?
Dr. Debashis Chatterjee: The key challenge is to be continuouslyinnovative in current times. It is extremely crucial for a Business School to be relevant to be in tune with the industry requirements on one hand and also be ahead of the industry by providing for disruption on the other. To put India's Global footprint in business education and to maintain thought leadership, we are aiming to be ahead of the industry trends by adapting disruptive innovation.
IMI Delhi has also launched a Centre for Disruptive MOOCs, in collaboration with non-business schools, to create courses such as design We are also focusing on wealth creation and Women in leadership So, we are following continuity disrupted by innovative ideas.
Careers360: What is your message for MBA aspirants who wish to enter your B-School the coming academic year?
Dr. Debashis Chatterjee: A B-School provides a platform to nurture and equip students to transform into future managers and global leaders who thrive in challenging situations. The two year academic journey sets the perspective for the students and will truly revolutionise their outlook towards problem solving, planning, decision making, conflict resolution and team building. It is indeed a 360° experience that prepares the students for an industry that is gradually shifting from corporate ladders to a jungle gym. Today, it is pertinent to be able to constantly adapt and innovate in order to sustain in an extremely dynamic environment. Experience, knowledge and practical learning play a key role in transforming aspirants into leaders who can work across functions and adapt to the requirements of an evolving industry. International linkages, participation in student bodies, corporate competitions, business simulations, case studies, business conclaves and guest sessions play a key role in enabling one to become corporate ready, as these provide a strong learning foundation that helps professionals tackle the various business challenges they face.
I welcome you to join us in this journey
Also Read
IMI Delhi Updates and Articles
Questions related to IMI Delhi
Showing 104 out of 104 Questions