MBA curriculum needs to stay aligned with industry trends, says Prof. Bindu Kulkarni, Admission Head, SPJIMR Mumbai
SPJIMR Mumbai is one of the most sought after B-schools in India. Prof. Bindu Kulkarni, Associate Professor, Associate Programme Head (PGDM) and Head – Admissions, PGDM talks about the admission process of SPJIMR Mumbai and the new initiatives introduced for the upcoming academic session. The B-School has introduced minor specialisations in the curriculum such as Analytics and courses on Digital Marketing, Design Thinking and Liberal Arts.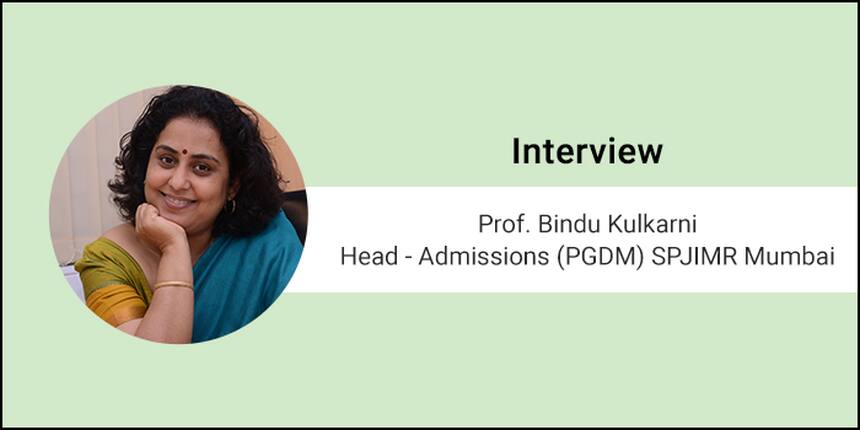 Prof. Kulkarni shares SPJIMR Mumbai's plans to increase the industry exposure for its students and the placement trends for the batch of 2017. She also emphasises that industry trends are changing and the MBA programme has to be regularly modified in order to keep it aligned with the rapidly evolving industry trends,
Read the excerpts of the interview below.
Careers360: What is the seat intake for PG level management programmes you plan for the admission year 2018? What is the fee structure for the coming admission season and how it is as compared to last year?
Prof. Kulkarni:  The intake of the PGDM programme is 240. An additional 36 seats have been sanctioned for PIO/OCI and Foreign Nationals.
The fee for the Class of 2017-19 for Indian students is Rs. 16 lakhs (This fee is indicative and is subject to revision).  This fee includes tuition fee, basic hostel/ accommodation and Global Fast Track. It does not include the cost of travel, boarding, lodging, visa, insurance and incidentals for Global Fast Track.
Careers360: What is the entrance exam cut-off for your institute? What are the other admission criteria? Are you introducing any change in admission process this year?
Prof. Kulkarni: SPJIMR accepts CAT, XAT or GMAT scores. There is a minimum qualifying score of 85 percentile (overall) and 75 percentile (sectional) along with an IR score of 6 applicable for GMAT.
We look at the overall profile of every applicant which includes consistency of academic record, relevance of work experience for the specialisation applied, versatility and achievements along with the scores.
The admission process will be carried on with same vigour and strength as always to ensure we have a diverse, intellectual and versatile pool of students in the coming batch.
Careers360: How is industry-academia sync at your institute? What are the areas where you think the industry could be more forthcoming towards enhancing the collaboration processes?
Prof. Kulkarni: SPJIMR exposes its students to state-of-the-art industry practice in a way that sets it apart. In addition to guest lectures, field visits, live projects and internships, the PGDM programme also offers the unique opportunities such as the SPJIMR Business Academic Conclave (SBAC) and Student Professional Development Cell.
In a nutshell, SBAC is a platform for businesses and academia to connect, share experiences and learn from each other against the backdrop of evolving market conditions. Prominent issues are generally presented as themes for SBAC each year.
The student professional development cell aims to help students effectively develop their professional capabilities, define their identities and present themselves in industry across different media. In this initiative, the students work industry professionals to sharpen their skills.
We also have International Company Visits during Global Fast Track where students visit leading companies and business organisations.
Industry is keen to connect with academia through student competitions which helps them to get inputs from young minds on issues which matter to them.
Careers360: With top recruiters taking caution in hiring this year, how are you preparing your students for the emerging challenges in the job market?
Prof. Kulkarni: We are not facing any situation where top recruiters taking caution in hiring. Our just concluded Autumns season had seen 24 percent increase in stipend, many new companies, and better PPO conversion than last year.
Careers360: How has been the placement trend last year (2017 batch) in terms of recruiting sectors?
Prof. Kulkarni: The batch of 2017 had 229 participating students and as many as 104 companies participated in the placement process and made 256 offers. The campus also saw participation from 51 new companies and also five international consulting offers broadening the base of recruiters in the year. The average salary was Rs. 20.9 lakh per annum (LPA) and the highest salary was Rs. 39.5 LPA. Lowest salary was Rs. 12 LPA. Consulting and FMCG were the highest recruiting sectors. In terms of function, Marketing role dominated this year's placement. Amazon made the highest number of offers whereas Cloudtail made the highest package. Other top recruiting companies were KPMG, PwC SDC, Deloitte USI S&O, GEP, ITC, Asian Paints, Deloitte USI TSA and P&G.
The number of pre-placement offers (PPOs) and pre-placement interviews (PPIs) as an outcome of autumn internship (backed by advanced knowledge of the chosen specialisation in our students) has consistently been more than 40 percent over the years.
Careers360: What are the unique academic initiatives you plan to take in next 1-2 years?
Prof. Kulkarni: We have introduced minor specialisations, so one could, for example, combine a marketing major with an analytics minor and achieve in-depth knowledge in two areas. This has been well received by students and recruiters alike.
Keeping in mind the increasing relevance of certain areas in last couple of years, we have also introduced a minor in Analytics and courses on Digital Marketing.
Design Thinking as a core course was introduced across all programmes. The DT movement at SPJIMR was initiated by a workshop by Srikant Datar of HBS. We built on his material, created context specificity, and significantly deepened the insighting component. This has been extremely well appreciated by corporate India, and we are getting a lot of positive reaction from recruiters.
We introduced a course on Management & Liberal arts in the current year as we believed that it will broaden the thinking process of our students and also help them deal with ambiguity in a better manner.
All our 2 year PGDM participants (class of 2019) have got their text books on Kindle. We are the first institute in the world who has officially adopted kindle in their programme.
We have further strengthened our much appreciated non-classroom initiatives and will continue to deepened engagement & reflection across initiatives.
Careers360: What are the key challenges that MBA/PGDM education face today?
Prof. Kulkarni: Industry trends are changing. MBA education needs to dwell on revamp required in content, delivery and relevance of the programme design to stay aligned with rapidly evolving industry trends.
Careers360: What is your message for MBA aspirants who wish to enter your B-School the coming academic year?
Prof. Kulkarni: If you want to be a value-based leader, SPJIMR is the institute you should aspire to be in.
We are the only leading school which is focused on the holistic development of the students through our different value-based leadership initiatives such as Abhyudaya where our students mentor underprivileged kids, DOCC where our students do rural projects in villages across India for a period of 5 weeks, ADMAP where they learn administration and ": getting work done" by influencing without power.
In terms of diversity, the mix of students is very balanced in terms of geography (both regions and metro/non-metro) and gender (our gender balance is among the best within leading schools and this happens naturally through a merit-based process). All this helps in overall development of the students.
Also Read
SPJIMR, Mumbai Updates and Articles
Questions related to SPJIMR, Mumbai
Showing 141 out of 141 Questions