XAT exam is considered to be one of the toughest nuts to crack. With the changing exam pattern and high difficulty level, you must have a master plan to crack the XAT 2014 exam which is hardly 4 months away from now. In today's Topper Interview, we present to you the success mantras of Anjul Rajoriya who scored 99.87 percentile in XAT 2013 and currently pursuing MBA in HRM from XLRI Jamshedpur.

Anjul is a B. Tech from IIT Kanpur. He has 3 years of work experience in Analytics and Software.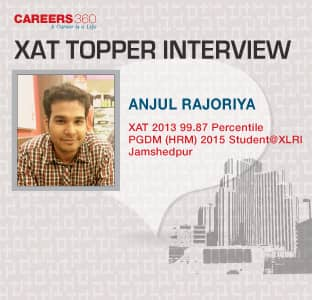 XAT Topper Interview-XLRI Student Anjul Rajoriya Shares Success Strategy
Excerpts from the interview:
Q: When and how did you decide to pursue MBA?
A: I decided to go for MBA for two broad reasons. Firstly, I believe MBA offers a lot of opportunities and options in terms of career. I wanted to explore these opportunities and find what I would like to do. In this ever changing job market, I believe it is good to have such flexibility especially if you have long term perspective in mind.Secondly, while working I realized that I have an inclination towards business as I am able to understand business situation, identify problems and solve them through common sense. However, a formal degree in business would certainly enhance my capabilities. So after working for 2 years I decided to go for an MBA.
Q: What is your plan after you complete your MBA?
A: After MBA, I intend to work in corporate houses to get the feel of how business is done in India.

Q: When did you start your XAT preparation and what was your preparation strategy?
A: I started my preparation in January 2012 by joining T.I.M.E. classes. My strategy was to complete the courseby April-May, so that I could thereafter focus on mock tests and improve on my test taking ability.

Q: What is your XAT 2013 percentile? Did you take any other MBA entrance exams?
A: I scored 99.87 percentile in XAT 2013. Apart from XAT, I also took CAT 2012.
Q: How was your GD/PI experience at various B-schools which had shortlisted you?
A: I attended about 5 group discussions. Most of them had about 12-15 people in a group. The topics given were very generic and our opinion and participation was evaluated. Most of them were of 15-20 minutes. Usually only 1 or 2 out of each GD group makes it to the final list. I had realized that in a GD, 3 attempts were enough to make your presence felt and that it was important to remain calm and look for an opportunity to enter the discussion and that is exactly what I did in all my GDs. Multiple attempts but weak points will not be of much help. 

Q: How many B-School calls did you convert? What made you choose XLRI Jamshedpur?
A: I got final coverts from SPJIMR Mumbai and XLRI Jamshedpur. XLRI is a very reputed B-School. It is the leader in HR domain in the country and when I got the offer for the same, I went ahead with XLRI.

Q: According to you, is it possible to be successful in XAT without taking coaching? What is your suggestion to such XAT 2014 aspirants?
A: I believe it is good to have training, though not essential. Nevertheless in a competitive world, it is best to leave no stone unturned and having a formal coaching. It also depends from one aspirant to another. For all aspirants, I would suggest if not classroom coaching then do join a test series at least as it is always important to see where you stand in the competition.

Q: How did you manage the XAT preparation within your regular work or study schedule?
A: I was working and that is why I started early in January. I used to go to morning 6 am to 8 am classes in weekdays and then used to revise and practice over weekends.  Once my basic concepts were done, I started focusing on test series. 
Q: What was your section wise and essay writing preparation strategy?
A: The initial strategy was to identify my strength and weakness. My strength was Quant section and weakness was Verbal. So the formula was simply to maximize my strength and work on my weakness. For Quant, there were certain chapters which were easy to crack like Time & Work, Series, Equations. Then there was Number system and geometry which needed a lot of practice to get a good grip of. I used to scan the questions in initial 2 minutes and then start attempting them so that I don't leave any easy one unattempted. In Verbal, I used to attempt grammar first as it took lesser time and then would try to add to my score by attempting only those RCs in which I was sure of the answers.  For Reading Comprehension, I used to read the paragraphs with intent to understand the context, the idea behind themand then used to start attempting the questions.
For essay writing I wrote the keywords that came to my mind after seeing the topic.I took 5 minutes to organize my thoughts and then started writing. My motto was to convey my idea with reasoning and supporting examples in few lines within 20 minutes scheduled time.

Q: What was your strategy for time management for the XAT pattern?
A: I divided the time according to my strengths. I started with Verbal Ability questions and then moved to Decision making. So for 30 questions I gave around 40 minutes. Then I attempted DI for 20 minutes and Quant for the next 30 minutes. Next was the Analytical Reasoning section which took about 20 minutes. I utilized the remaining time in going back to the section I was confident in and where I had left a few questions unanswered. I tried not to leave RC or DI sets for last 30 minutes.

Q: What is your message for the MBA aspirants who will take XAT 2014 and other exams of the season?
A: Start early and practice as much as you can. Discuss in groups so that you can share your problem solving approaches. For example I used to do a particular type of question in methodical way in 2 minutes while my friend used to solve the same orally in 30 seconds. Sharing your strategies with each other can only add to improving each other's overall performance.