XAT Topper Interview: Selection of questions is key to score in XAT, says, Akshit Soni, 99.9 percentiler
An experienced engineer, who aspired to pursue management, appeared in one of the top MBA entrance tests- XAT. He defines it as an attitude test and not just any other aptitude test. Akshit Soni, 99.9 percentiler in XAT 2016, in this interview with Careers360, shares how to tackle your weak areas during preparation, and how a positive attitude can make you do well in XAT 2017.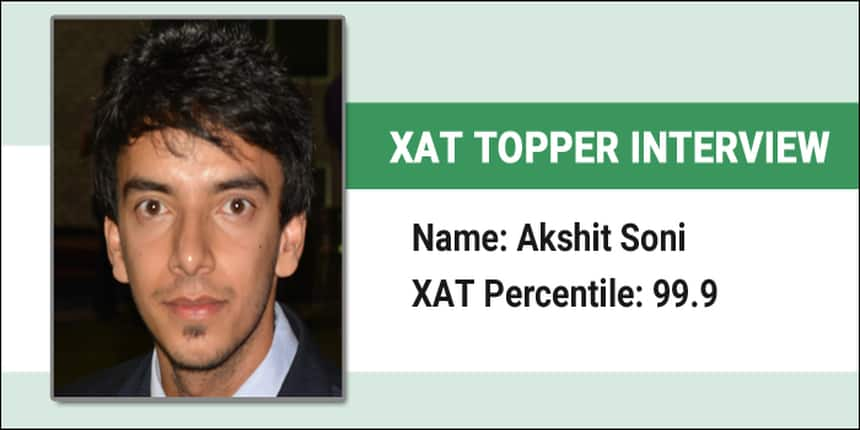 Akshit was weak in English and needed to put a few extra efforts towards this section. During the test, he attempted easy and shorter comprehensions first and later moved to the difficult ones. Akshit balanced time in every section and ensured that he did not rush to the end and made wrong choices just for the sake of attempting the questions.
Akshit suggests that the selection of the questions is the key to do well in XAT 2017. Read his full interview below.
Careers360: How was your experience of taking XAT?
Akshit Soni: XAT was a pen and paper exam, the process was smooth and there was no technical glitches or similar problems. Exam was divided into two papers, and it nearly took 3.5 hours to complete the exam overall once it started.
In terms of exam experience, it was quite different from any other exams I took. XAT is a very balanced paper and not skewed towards Quant and Reasoning sections. Also, the Decision Making section, which tests both reading ability and critical reasoning of the candidate, is only seen in the XAT paper. Also, unlike other selection processes, XAT had an essay writing section which helps in further selection rounds.
Careers360: What made you pursue MBA, and why XLRI over other B-schools?
Akshit Soni: MBA is a complete package to learn formal business practices and get the bundled wisdom in a short span of two years. Most importantly, it'll teach you time management in its true sense. You'll have a steep learning curve through the wisdom of some of the best faculty in the country. Also, you get to relive your college days.
What sets apart this B-School from the rest is the famous XL-Culture, which I believe can only be experienced once you are here.XLRI is a gem in the group of luminaries. It has proved its mettle in time.
Careers360: Since when did you start preparing for XAT?
Akshit Soni: In general, I started preparation for MBA early, but I started my preparation specifically for XAT from the month of December. Before jumping right away into preparation, in order to have familiarity with the questions, I took free online samples and last year exams to gauge where I stood and what were my weak areas. During this process, I realised my preparation for Verbal Ability, Quantitative Ability (QA) and Data Interpretation (DI) was nearly done, but the Decision Making section was still to be prepared.
Careers360: What is your take on XAT test pattern? Also, should the authorities switch back to the previous pattern or the changed pattern is good?
Akshit Soni: XAT exam pattern has undergone a number of changes from being a 120-minute aptitude paper to its current form since it was first introduced. Ideas such as not penalising students for un-attempted questions have been brought in to encourage students to take risks and not play safe. I believe that a lot of thought goes into changing the pattern in order to test students on the required capabilities. Such changes must be welcomed.
Careers360: Please share your sectional wise preparation strategy?
Akshit Soni: For Verbal, Logical Reasoning, DI and Quant, I majorly revised the basic concepts and relied more on practice via mock tests.
For Decision making, I believe that there is no single way to achieve success in this section. Typically, in the decision-making section you will get a scenario in which the protagonist is in a dilemma, and you are supposed to choose the best possible decision for him. Rather than attempting a lot of questions, I focused more on analysing what made each option in the question right or wrong and developed my thought process on those lines. For this, previous year questions are quite useful.
Careers360: How did you manage your time during the test?
Akshit Soni: As it was a pen and paper exam, I had freedom to choose which sections to attempt first and which later. Here I would say that everyone has their own strategy, which must be followed. I started with the Quant section in order to finish it off early and then gave appropriate time to other sections. Roughly, I gave about 50-55 minutes to Quant, nearly same time to Decision Making and about 45 minutes to Verbal Section.  I tried to spend balanced duration in every section based on the number of questions and my comfort with each section. I ensured that I did not rush to the end and make wrong choices just for the sake of attempting the questions.
Careers360: What were your strong and weak areas? How did you tackle your weak area of the test?
Akshit Soni: I am an engineer and like a majority of other engineers, my weak area was English. I started with the areas which took least time like Statement based questions, para jumbles and vocabulary questions. But I did not attempt the questions I was not confident about. Then I moved to Reading Comprehension area which was the biggest chunk in the English section. Here, I would say that skimming might not be useful as there was a number of specific detail based and inferential questions. I attempted the passages which were shorter in length and then moved to the longer ones. Here, the idea was to attempt a fair number of questions to balance out the attempts in each section, and try going back to my strength areas.
Careers360: Your message/tip for this year's XAT aspirants?
Akshit Soni: My message would be to keep your cool and your confidence. There is no such section which requires any extensive knowledge from the side of students. Selection of the questions is the key to do well in XAT. It is not just an aptitude test, it's more of your attitude test.
Stay tuned to www.bschool.careers360.com for more news and updates
Save
Questions related to XAT
Showing 872 out of 872 Questions