XAT 2021 Topper Rishab Bajpai Says, "No shortcuts, pull yourself up, and have faith in your preparation"
XAT 2021 Topper Interview - Rishab Bajpai XAT 2021 Topper and 99.8597 percentiler a Law graduate from Gujarat National Law University wanted to pursue MBA to compliment his legal knowledge with the right business acumen. XAT 2021 topper Rishab Bajpai, a district level football player was also the College Team Captain. XAT 2021 topper Rishab Bajpai wasn't happy with CAT 2020 result, but he did not lose hope and with a fresh mind he gave XAT 2021. Eventually his effort and belief in himself bore fruit. XAT 2021 topper Rishab Bajpai gave credit to his mentor Hunny Malhotra for his proper guidance and direction. In an interview with Careers360, XAT 2021 topper Rishab Bajpai talks about his exam tactics and section wise preparation strategy. He meditated daily to stay calm and focused. Read the full interview of XAT 2021 topper Rishab Bajpai to know the valuable tips.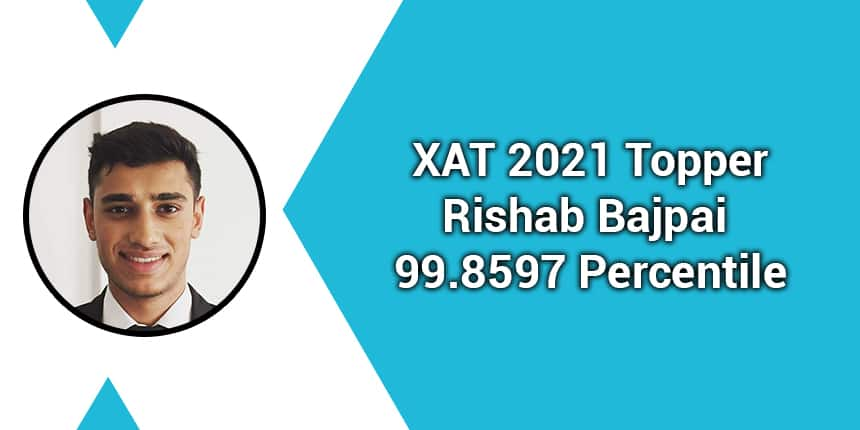 Careers360 - Congratulations. Tell us something about yourself?
Rishab Bajpai - Thank you. I completed my graduation in LLB from Gujarat National Law University. I love to spend my days reading books and watching football.
Careers360 - Why do you choose XLRI over other B Schools?
Rishab Bajpai - I haven't decided on the institute yet but I appeared for XAT because I XLRI is a great institute and one of the oldest private B-schools in India so I decided to give it a shot. HR programme in XLRI is the number one programme in India.
Careers360 - Share us your XAT overall score and sectional wise percentile?
Rishab Bajpai - My overall percentile is 99.8597. I secured 99.2141, 99.8671 and 82.0923 in Quant, Verbal and Decision Making respectively.
Careers360 - Apart from XAT, do you appear in any other B school entrance test? If yes, what was your score?
Rishab Bajpai - Yes I gave CAT 2020 and I secured 98.52 percentile.
Careers360 - When did you start your preparation for XAT? Share with us your preparation and exam strategy.
Rishab Bajpai -I started my preparation in March. Initially, I spent 2-3 hours preparing for the entrance test. I personally think we do not need more hours to study but we need to be consistent with what we are doing. CAT usually falls before XAT. In both CAT and XAT, the syllabus of English and Maths is more or less the same. The ideal time to cover the maths syllabus is about 2-3 months before the exam date. In the last 2-3 months one should start giving mocks and analyse weak points. There is a gap of almost a month between CAT and XAT exam. Usually one does not give much effort to XAT in comparison to CAT. And it is one problem that the aspirants should be careful about and not take it easy.
What happens with most of the aspirants is that if the CAT exam does not go well, then they start losing confidence and stop preparing for other B-Schools entrance tests. Since we have put in lots of effort over the years we need to trust ourselves. We have done our best and if not CAT we should be confident enough that we can perform well in other entrance tests. Even though I wasn't very happy with the way my paper went for CAT, I still did not lose hope as I knew I had prepared well. And with a fresh mind I appeared for XAT.
Careers360 - Share us the section-wise preparation strategy.
Rishab Bajpai - XAT has three sections - Verbal, Quant and DM. For the Verbal section reading habit plays a crucial role, there is no point in joining a coaching institution if one does not develop reading habit. One has to read daily to see the significance of our effort.
For DM, going through the DM questions provided by XRLI, analyzing the types of questions they ask and see the kinds of response they want from the test-takers is helpful. After analyzing it thoroughly chock out a strategy.
For Quant, I did not do anything extra for XAT as I had already prepared a lot for CAT Quant. The syllabus is almost the same except the fact that probability questions are more in XAT. By August September, I had covered the syllabus twice including the basics. After that I started taking mocks and sectional. 2 months before the exam I started devoting more time to my weak areas.
Careers360 - What were your strong and weak areas? How did you tackle your weak areas?
Rishab Bajpai - My weak area was DIRL and Quant since I do not have an engineering background. And Verbal was my strongest section. But with a bit of hard work and effort I could improve my Quant. The right guidance and direction helped to improve.
For DIRL, I started solving lots of random puzzles. I bought The Great Books of Puzzles and Teasers by George J Summers to improve my puzzle solving ability. Initially, whenever I got time, tried try to solve 2-3 puzzles daily to build the base. When the exam was nearer I started solving DIRL set given by different coaching institutions. Like I said earlier, consistency is a must. So we should be consistent in our preparation. For QA, we need one good coaching institution where we can get the right guidance. Solving as many problems helps me to improve my QA section.
Careers360 - How did you prepare for XAT - Self-study or Coaching? Is self-study significant enough to crack XAT?
Rishab Bajpai - I joined an online coaching class from EliteGrid by Professor Hunny Malhotra. Unless we are brilliant, self-study is not sufficient for both CAT and XAT. For an average student, we need the right direction. Once we have the right direction self-study is sufficient but in the beginning, we need proper guidance and resources. In some cases, self-study is possible but we need to be thorough with everything, we need to go through the exam pattern, figure out ourselves how we are going to cover the syllabus and check whether our strategy is working or not.
Careers360 - How did you manage your time during the preparation?
Rishab Bajpai - If we have a very intense working job then it's not going to be easy. We need to sacrifice lots of other things if we want to crack the exam. On weekdays we are drained out with our job and weekends are the days which we can put more effort into preparation.
Careers360 - When did you start taking the mock tests and what was the frequency? How did you utilize it for preparation? How many times did you take mock tests?
Rishab Bajpai - I started taking mocks around August. Initially, I took 1 mock a week and in the last 2 months to the exam I started taking 2 mocks a week. And in total I took 30-40 mocks.
The mock is only for 3 hours but after the mock, the most important part is analyzing it. The main reason for giving mock is to figure out what we are lacking at and understand what strategy we need to implement to improve our weaknesses. While analyzing we need to be thorough, for instance, we are looking into all the questions that went wrong, so, it is important to find out where it goes wrong. And that's how we can improvise the mistake. There is no point of giving mocks if we do not improve our weaknesses and mistakes. Each mock should be the indicator of where it goes wrong and take time to figure out why it goes wrong and how we can rectify it and what are the other strategies we can implement to rectify the mistakes.
Careers360 - How did you re-energize or recreate yourself during the preparation?
Rishab Bajpai - I used to play football in between when I had time, if not I went to the gym. Meditation also helps a lot to stay calm and recreate myself during the preparation. I meditate daily in the morning and help me to stay focused on things I want. Meditation is a must to calm ourselves.
Careers360 - Your message/tip for this year's XAT aspirants?
Rishab Bajpai - Believe in yourself, believe in your effort, push yourself, no shortcut. Believe that your hard work will not go waste.
Questions related to XAT
Showing 928 out of 928 Questions