XAT 2021 Topper Farzan Shaikh Say, "The Game isn't over until we give up"
XAT 2021 Topper Interview - Farzan Shaikh, XAT 2021 topper and 99.94 percentiler is currently working as Senior Analyst Consulting. XAT 2021 topper Farzan Shaikh has always been active since his college days and worked as a volunteer in different platforms. Though Farzan's CAT result wasn't that great as compared to his last year performance, he did not lose hope and with the fresh mind he started preparing for XAT 2021. XAT 2021 Topper Farzan Shaikh pulled himself up and focused for the next battle. Eventually Farzan Shaikh efforts bore fruit. In an interview with Careers360, XAT 2021 topper Farzan Shaikh talks about his exam tactics and sectional wise preparation strategy. The hectic schedule did not let Farzan Shaikh lose his nerve and sagely manage the time during the XAT preparation in respect to work. Read the full interview of XAT 2021 Topper Farzan Shaikh to know vital tips for preparation.
Stay up-to date with XAT News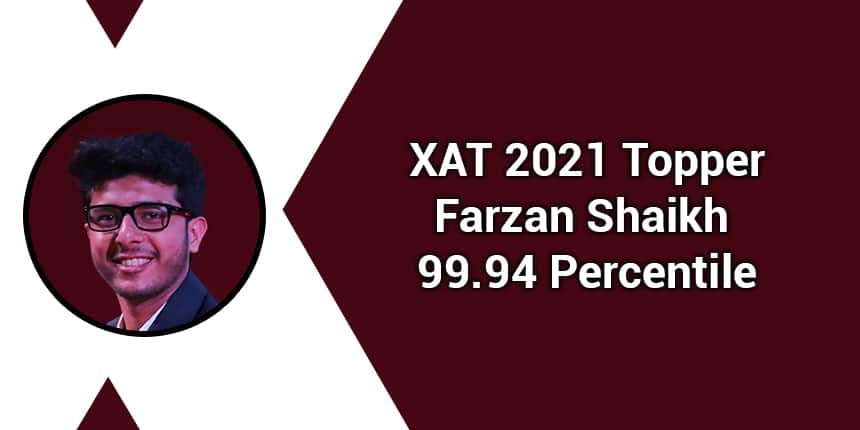 Careers360 - Congratulations Farzan Shaikh. Tell us something about yourself.
Farzan Shaikh - I was born in Jamshedpur but brought up in Mumbai. I did my high school from Kendriya Vidyalaya and completed my graduation in B.Tech Chemical engineering from Visvesvaraya National Institute of Technology. And I am currently working as Senior Analyst - Consulting at GEP Worldwide based in Mumbai. I love playing football and reading books.
Careers360 - Why do you choose XLRI over other B Schools?
Farzan Shaikh - There are two major reasons why I am choosing XLRI over other B-Schools. Since I am currently working in consulting right now and I want to continue my career in consulting, there are few campuses which can help me in fulfilling to do so, XLRI is also continuously ranked in the top 5 management institutes in India and it is also one of the oldest B Schools. Almost all the global consultancy firm visit for placement at XLRI. Secondly, there is an emotional attachment to XLRI as I told you I was born in Jamshedpur. So being a part of XLRI will be with a great experience.
Careers360 - Share us your XAT overall score and sectional wise percentile?
Farzan Shaikh - My overall percentile in XAT 2021 is 99.94 and I secured 99.99 in Verbal and logical ability, 98.6938 in Decision making, 96.5022 in Quantitative Ability.
Careers360 - Apart from XAT, do you appear in any other B school entrance test? If yes, what was your score?
Farzan Shaikh - Yes I have appeared for CAT and GMAT. In CAT I scored an overall 95.56 percentile.
Careers360 - When did you start your preparation for XAT? Share with us your preparation and exam strategy.
Farzan Shaikh- CAT and XAT exam patterns are almost similar, there are only a few are differences. Since CAT was in November and XAT was in January, I focused on CAT first and started focusing on the extra part of the exam pattern which is required for XAT in December. For XAT the preparation strategy was simple for me since I had covered almost all the syllabus during CAT preparation, so all I had to do was keep revising the formula and solve a few questions. I was enrolled with iQuanta for the CAT course and they also gave us the XAT course for free.
Since decision making is something which we don't have in CAT, it was an entirely new section for me. I elaborate on the concept that was taught and I used to solve a lot of questions.
Quick Links
How to prepare for GD-PI & WAT rounds of top B-schools
Top MBA Personal Interview Questions for Admission
Careers360 - Share us the section-wise preparation strategy.
Farzan Shaikh - Since I have an engineering background, the Quant section is comparatively easier for me. For Quant when I started preparation, I covered all the basic formulas to understand the problem and then I started solving a lot of questions which are available on the iQuanta platform. Secondly, I gave a lot of mock tests and later analyze the questions I was not able to solve.
For the Verbal section, I am an avid reader so this section comes easy to me. It is imperative to build a reading habit. To build the reading habit we can start reading whatever excites us and slowly move out of our comfort zone. Reading articles/books belonging to genres which are unfamiliar helps developing comprehension skills and also makes you aware of the surroundings. I believe that to become a business leader, one should live like one and the skills required by any MBA entrance exams are not any different from a good leader would possess.
For the DM section, I prepared by solving and analyzing past XAT papers which are easily available. Do not blindly solve these questions while practising, finding out the rationale behind the correct answer is of utmost importance.
Careers360 - When did you start taking the mock tests and what was the frequency? How did you utilize it for preparation? How many times did you take mock tests?
Farzan Shaikh - I started giving mocks in June and continued till November and I used to take 3 mocks. Since I am a working professional I couldn't do much on weekdays. So I used to spend my weekend giving the mocks and analyse them on weekdays. And I gave 40+ mocks throughout the preparation. I didn't specifically give mocks for XAT but gave it for CAT.
Careers360 - How did you manage your time during the preparation?
Farzan Shaikh - Sometimes I used to work 12 hours a day and it was quite hectic, and my working hours are 2 pm to 11 pm. Balancing the time between preparation and work is tricky. So I usually study after my office from 2 am and 5 am.
Quick Links
Major Topics For Group Discussion
Careers360 - How did you re-energise or recreate yourself during the preparation?
Farzan Shaikh - After giving my mocks on weekend, the result used to be out next week, I used to utilise those time before the result to recreate myself.
Careers360 - How did you prepare for XAT - Self-study or Coaching? Is self-study sufficient enough to crack XAT?

Farzan Shaikh - It varies from person to person. Some people have the ability to crack XAT through self-study. Even when I gave the CAT for the first time I did pretty well. But what I lacked was proper guidance from the mentor. And I received those guidelines this year from iQuanta and it actually streamlines my entire preparation and help me in focusing on the right things and instead of randomly going around and wasting time.
Careers360 - Any message/tip for this year's XAT aspirants?
Farzan Shaikh - Well my CAT wasn't that great and people usually lose hope, I personally feel that the game isn't over until we give up. It is very imperative to pull up and stay focused.
Questions related to XAT
Showing 944 out of 944 Questions