SNAP 2016 Topper Interview: Presence of mind is the key for doing well in the exam, says 99.67 percentiler Aayush Jain
SNAP 2016 Topper Interview- A computer engineer by qualification, Aayush Jain who has a work experience of 20 months topped SNAP 2016 with 99.67 percentile. The SNAP topper then went ahead and joined SCHMRD, Pune. He started preparing for management entrance exams much before their dates. Ayush believes that it's important to start preparing early to manage a work-life balance. He says coaching is not necessary to bag the top rank. Things that matter the most are practice and strategy.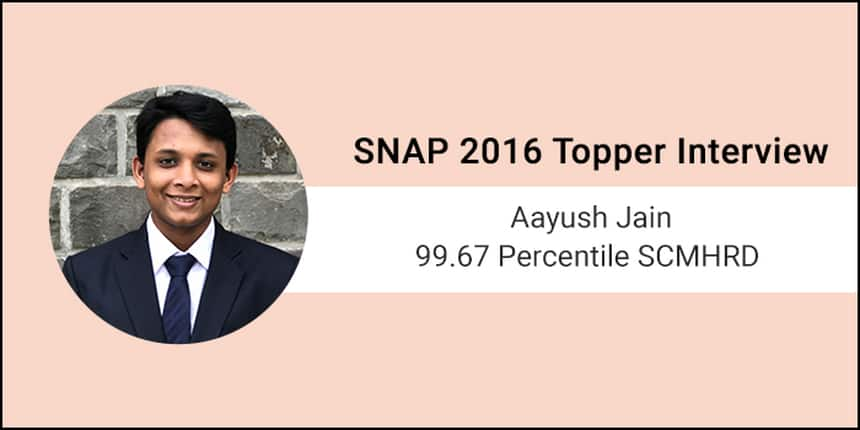 In this interview with Careers360, he tells us how important it is to give a dedicated time each day to prepare for entrance exams. Read on to know more about his preparation journey that will help management aspirants achieve their goals.
Read the full interview here:
Careers360: Congratulations on your admission to SCHMRD. What was your overall and sectional score in SNAP 2016? Did you appear for any other entrance exam? If yes, please share the score.
Aayush: Thank you. I scored 84.25 out of 150 in SNAP. The section wise split is as below-
Verbal- 33.25/40, Quant- 15.25/40, General Awareness- 13/30 and Logical reasoning- 22.75/40.
Apart from SNAP, I appeared for CAT and scored 97.45 percentile.
Careers360: Why did you decide to join SCHMRD?
Aayush: I decided to join SCMHRD because the way this college functions is unique. It is completely student-driven, right from the admission process. The level of responsibility placed on you as a student, while in college, gives you a real taste of experience one would face when they work professionally.
Careers360: Please share your preparation journey. How did you strike a balance between your academic/professional life and preparation for an entrance exam?
Aayush: I started preparation for the competitive exams in the month of June. It was important to start early as I had to manage studies with my professional work. I ensured I studied for at least 2 hours before going to work each day.
Careers360: What was your section wise strategy for Analytical and Logical Reasoning, General English, Quantitative, Data Interpretation and Data Sufficiency and General Awareness?
Aayush: Since SNAP does not have the sectional cutoff, my strategy was to focus on the sections which are my strengths - Quant and Analytical/Logical Reasoning.
However, Quant section in SNAP 2016 was on the tougher side as compared to previous years. Hence, it was important that during the exam, I did not waste too much time on it at the beginning and concentrated on other sections.
Careers360:: Mention section-wise books and study materials you referred during your preparation.
Aayush: For General Awareness, I read newspapers on a daily basis. For the remaining sections, I referred to books provided by the coaching institute.
Careers360: Were you a part of any coaching institute? Do you think coaching is necessary for aspirants to bag the top rank?
Aayush: I joined T.I.M.E. but I believe it's not necessary to bag a top rank. What matters is the hard work you put in because no amount of coaching will help unless you actually practice a lot.
Careers360: What is the significance of mock tests in your success? When did you start taking mocks and what was the frequency?
Aayush: Mock tests were very crucial for me. I started taking mock tests 3 months before the actual exam. I made it a point to give at least one mock test every week. Mock tests made me understand the sections in which I was lacking and also particular topics in which I was going wrong consistently.
Careers360: What was your section-wise time management strategy on the exam day?
Aayush: There was no section wise time strategy I followed. The only strategy I used to keep in mind was to concentrate on the sections which were my strengths first and then move on to other sections. But like I mentioned, the level of difficulty of the Quant section was on the higher side. Hence, during the test, I attempted Verbal first followed by Logical, General Awareness and Quant section towards the end since I realised it would eat up most of my time.
Careers360: SNAP will be conducted in the computer based mode for the first time. What are your thoughts on it?
Aayush:Personally, I think SNAP was better in the paper-based format as it allowed me to switch between sections as and when I wanted. Also, I think computer based test mode reduces speed compared to paper based test mode.
Careers360: Apart from the regular classes, projects and assignments, what other non-academic activities you were involved in? Share your experiences about them.
Aayush: Apart from the academic commitments, I've been involved in various competitions organised by either other B-schools or companies. It's been a great learning experience as with each competition, you learn something new which cannot happen through classroom learning. There are ample opportunities presented to every student in diverse areas which helped me in broadening my horizon and I was the campus winner for a couple of competitions.
Careers360: How has your journey been at SCHMRD so far?
Aayush: My experience till now has been great. There has never been a dull moment, there's always something or the other to do which keeps me on my toes. Be it projects, assignments or competitions, I'm thoroughly enjoying it.
Careers360: Any suggestion that you would like to share with aspirants?
Aayush: Yes, the key for doing well is the presence of mind during the exam and being adaptable. Apart from that, it's necessary to know the areas in which you're strong and have a basic understanding of all the concepts. I would advise SNAP 2017 aspirants to have a strategy in mind which works for them but, at the same time, be flexible as the exam could throw surprises.
Also Read
Questions related to SNAP
Showing 675 out of 675 Questions
Symbiosis National Aptitude Test (SNAP)