CAT 2016 Topper Interview: Knowing what questions to skip is the most important skill in CAT, says 99.65 percentiler Satish Parchani
A perfect balance between family business and CAT preparation is what Satish Parchani did while preparing for the Common Admission Test 2016. Although, he had a difficult time managing both simultaneously but in the end, it was his hard-work that allowed him to top the CAT 2016. Satish secured 99.65 percentile to grab an admission offer from IIM Shillong. He believes coaching gives a conducive environment to study which is required especially when you're preparing for one of the most established exams in the country.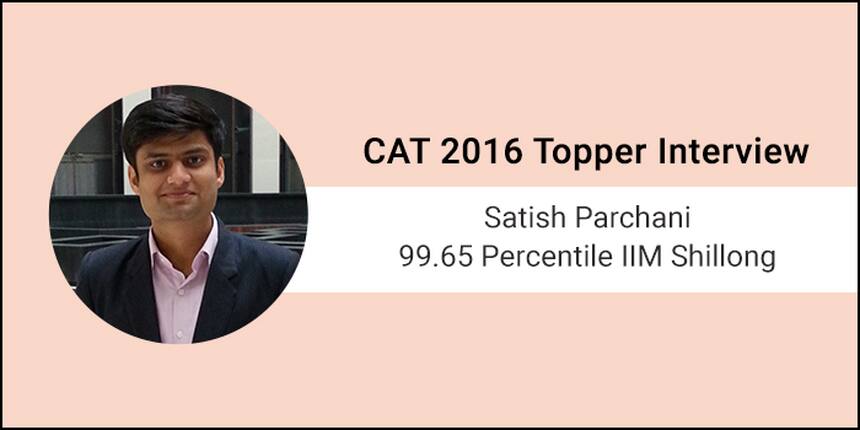 His success in CAT 2016 will certainly inspire the working professionals who aspire to take CAT 2017. In this interview with Careers360, he explains the challenges faced during preparation and how he managed to make it large on the d-day.
Recent Posts:
Careers360: Congratulations on your admissions to IIM Shillong. What was your overall and sectional score in CAT 2016? Did you appear for any other entrance exam? If yes, please share the score.
Satish: Thank you for your wishes. Here is my overall and sectional score in CAT 2016.
Overall: 99.65 Percentile, QA: 99.67 Percentile, VA&RC: 96.62 Percentile, DI&LR: 98.66 Percentile.
VA/RC – Verbal Ability/Reading Comprehension
DI/LR – Data Interpretation/Logical Reasoning
QA – Quantitative Analysis
Careers360: Which was the most challenging and the easiest section in the test?
Satish: Quant was the easiest section for me whereas DI & LR was the most challenging one in CAT 2016.
Careers360: Please share your preparation journey. How did you strike a balance between your academic/professional life and preparation for an entrance exam?
Satish: I started my preparation in August. For the first two months, I prepared randomly. After that, I started taking mock tests. At times, it was tough balancing the professional life with CAT preparation, but you got to keep finding motivation continuously.
Careers360: Were you a part of any coaching institute? Do you think coaching is necessary for aspirants to bag the top rank?
Satish: No, because it was difficult for me to manage time for classes with my business. Unless one is self-motivated, coaching is recommended. Coaching provides you a conducive environment to study. For a professional, specifically, the environment is very important to keep them focused on preparation.
Careers360: Please share your specific section wise strategy for VARC, DI & LR and QA.
Satish: For QA and DI & LR, I practiced as many problems I could find with varying difficulty levels. For VARC, I read random books and articles.
Careers360: How did you tackle the challenging sections and topics?
Satish: VARC was a challenging section for me. So, I read as much as I could. Beyond that, I didn't worry much because I didn't need to be the best in this particular section. I just needed to be reasonably good at it.
Careers360: Mention section wise books and study materials you referred during preparation.
Satish: I subscribed to IMS test series package. I practiced the questions in the test series package. Rest, I used to find question papers online and solve them.
Careers360: What is the significance of mock test in your success? When did you start taking mock test and what was the frequency?
Satish: Mock tests are the most important part of CAT preparation. I started taking mock tests in October, two months before CAT. I knew that I was late since most aspirants start taking mocks by July/August. I tried to make up for the lost time by attempting one mock every alternate day.
Careers360: How did you get the mock tests analysed and how did you modify your strategy after that?
Satish: While analysing mock tests, I, first, attempted all unattempted questions and then analysed my mistakes. In first few tests, I experimented with different strategies and then decided on a strategy and perfected it in the remaining tests.
Careers360: What was your time management strategy for section wise preparation vis a vis exam day?
Satish: For every section, I read through the questions and if I was clear about the approach while reading the question the first time, I solved it or else marked the question to be solved later. These questions were again taken up in ascending order of difficulty.
Careers360: How did you utilise the features like calculator and non-MCQs in CAT?
Satish: Calculator, I feel, does more harm than good, most of the time in CAT. If you practise beforehand, then calculations without the calculator are faster than the same with the calculator. In the exam, I used calculator only for very lengthy calculations.
Non-MCQs don't penalize you directly for wrong answers, but again there is a very low probability of any random answer turning out right, and that is the penalty in terms of time which is very crucial for an exam like CAT. So, I approached non-MCQs in the same way as MCQs.
Careers360: Any suggestion that you would like to share with aspirants?
Satish: Start taking mock tests early. Don't waste too much time on specific questions either during tests or during analysis. Attempt as many questions as you can with confidence and accuracy. Work on your weaknesses but remember you just need to be reasonably good at it. In the end, knowing what questions to skip is the most important skill in CAT. Introspect and know thyself because in an interview, if you can convey that you are clear about your goals, it makes a good impression.
Also Read
Stay tuned to bschool.careers360.com for more information on CAT toppers
Get real-time alerts on exam & colleges at your fingertips with Careers360 App!
Click Here to Install or Give a missed call on 08080944727 to get app link.
Questions related to CAT
Showing 9107 out of 9107 Questions