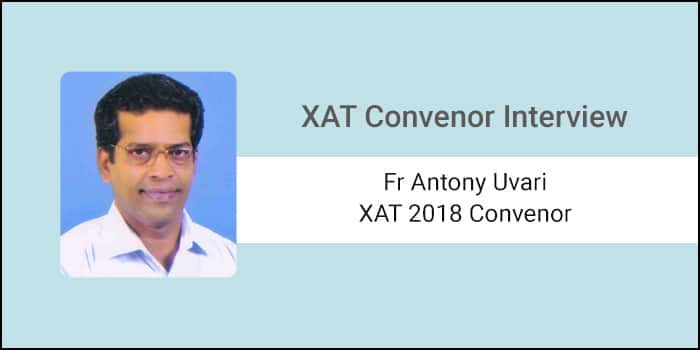 XAT or Xavier Aptitude Test has taken a major shift in terms of its testing mode where it has turned computer-based. Breaking the traditional norm of paper-pencil based mode that it followed for over 60 years, XLRI Jamshedpur has now introduced XAT in computer-based mode while still continuing the essay part in paper-pencil mode. The test, however, will be conducted in single seating only.
XAT Sample Paper
Download Free Sample Paper for XAT
Download Now
In this exclusive interview with Careers360, XAT 2018 Convenor Fr Antony Uvari talks the factors that led XAT to turn in CBT mode. He also clarifies that despite the change in the mode of the test, XAT exam pattern will remain same as XAT is tried and tested method of assessing candidates' ability.  Fr Uvari is a faculty member of Organizational Behaviour at XLRI Jamshedpur. 
Read the full interview of XAT 2018 Convenor Fr Antony Uvari below:
Careers360: What are the factors which led you to decide to conduct XAT in computer-based mode?
Fr Uvari: The CBT eco-system has grown in the country in last two to three years. It has reached the level where it is possible for us to conduct XAT in a single seating.
Careers360: Which testing agency will administer computer-based XAT 2018?
Fr Uvari: The test administration will be done by SIFY but the question paper will be designed by XLRI. The test will be designed by in-house team of XLRI.
Careers360: Will there be any change in XAT 2018 in terms of exam pattern or sectional time duration for XAT?
Fr Uvari: The exam pattern will remain similar to the previous XAT, with some changes. The sectionals and timings of the sections will remain similar to XAT-2017. The marking scheme will also remain same as last year, i.e. one mark for each correct answer and 0.25 negative marking for each wrong answer. Beyond 12 un-attempted questions, test takers will be penalised with 0.05 marks.
Careers360: Will candidates have to type the essay on the keyboard or a virtual keyboard will be provided for them?
Fr Uvari: Although XAT 2018 will be conducted in computer-based mode, candidates have to write the essay on paper. The final decision has not been taken on this.
Careers360: What is the last date to apply with late application fee?
Fr Uvari: Last date to submit XAT application form without late fee is November 30, 2017. Candidates can apply after the aforementioned date until December 15, 2017, with late fee of Rs. 2000.
Careers360: Apart from the change in the mode of the test, what are the other changes in exam pattern which candidates can expect?
Fr Uvari: Apart from changing the mode of test, we have not introduced any other major changes. XAT is tried and tested method of assessing candidates' ability.
Careers360: The application form for XAT 2018 is available from August 16. How has been the application trend so far?
Fr Uvari: It is too early to say. Though, initial numbers look better than last year.
Careers360: What was the XAT 2017 application number vis a vis actual number of test takers?
Fr Uvari: The total number of applications received for XAT 2017 was89,000, out of which 79,500 candidates had appeared for the test.
Also Read
XAT 2018: Paper based essay writing despite computer based test
XAT 2018: Application process begins on Aug 16; Online test on Jan 7

Stay tuned to bschool.careers360.com for more news and updates on XAT
Get real-time alerts on exam & colleges at your fingertips with Careers360 App!
Click Here to Install or Give a missed call on 08080944727 to get app link.