Top 10 In-Demand MBA Specializations
Top 10 In-Demand MBA Specializations - Master of Business Administration Or MBA, which is a 2-year post-graduation program, provides exposure to the candidates to expertise in various fields of Business Administration and to have a better understanding of the operation of various business activities.
Stay up-to date with CAT News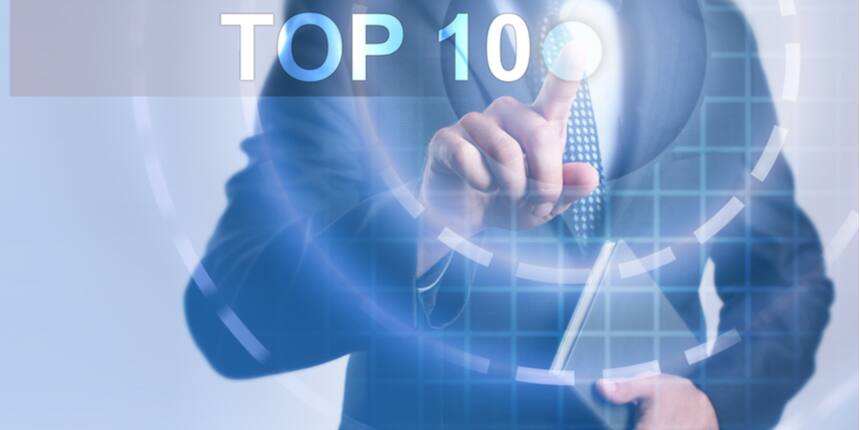 At the beginning of their first year, the MBA students get a brief idea about each of the subjects related to management and managerial activities. Later on, in the same year, they are introduced to the specialized areas from which they need to choose the field they want to expertise or specialize in. Being an MBA student, all the students have enough options to decide any subject as their Subject of Specialization. These subjects of specializations are as follows:
MBA in Finance is that branch of the management sector that is concerned with the management of books of accounts and finances of a company in order to achieve certain financial objectives. Through this program, students get a better understanding of financial planning, Cost of Capital, Assets Management, pricing policies, etc. Finance management is a suitable career for those management students who have good knowledge about financial management and have an excellent understanding of financial models and the stock market. Through this program, students learn to implement their theoretical knowledge in the financial market.
MBA in HRM is about learning such strategies and solutions which could help to improve the quality of a business and cater to the problems existing in the corporate world and in other business sectors. Under this program, knowledge is imparted through various case studies relating to Human Resource Management. In addition, this subject is also concerned with the Employees Welfare Schemes (EWS) to ensure the rights of labor forces at a workplace.
It is a well-known fact that technology has become an indispensable part of our life in today's time. Therefore, choosing an MBA in Information Technology will indeed be a great choice. With the passage of time, technology is getting upgraded day by day, so is the career scope in this field. During the tenure of 2 years under this program, students learn about the various Computer Applications, Software Engineering, Database Management systems, Data Mining, Security and Control Information systems (SCIS), Web Designing, Multimedia Designing, etc. Having a good knowledge of Information Technology and a good command of computer applications would lead one to carry out the various business operations smoothly. Candidates who desire to work as IT Professionals after the completion of their MBA should opt for this specialization.
MBA in Logistics Management helps an MBA Student to develop managerial and analytical skills in the field of Logistics and Supply chain. The main function of managers working under the logistics management is to ensure that, whether the products and proper services are being delivered to the customers who have asked for it. They are responsible for all the business operations relating to the supply and count of the products a company deals in.
MBA in Marketing is the oldest and the most preferred specialization as it provides the students with an opportunity to build their careers in various fields. Students who choose an MBA in Marketing as their Specialization can explore and gain experience in the fields of media, entertainment, advertisement, promotions, sales, etc. Moreover, students interested in digital marketing can also have a bright future for themselves as in the past few years, a major part of all the industries mentioned above, have been shifted to the digital and online world. With the growth and outreach of the internet, a major part of the overall focus of companies has been shifted to digital and online marketing in the past few years.
Like every other specialization, MBA in Business Management is also a 2 years program, under which an MBA student develops skills to manage all the day-to-day business-related activities. The program helps one to inculcate all those skills which are necessary for a person who desires to understand organizational behavior and can formulate such strategies which would help to eradicate all the real-life problems present in a business environment. The students who choose MBA in Business Management can also contribute to the expansion of a business.
The topics involved in the curriculum of MBA in Business Management are- Financial Management & Accounting, Business Negotiation, Talent Management etc.
With the change in time, to strengthen the socio-economic scenarios in Rural areas, the policies of government have also been changed and upgraded for the development of rural regions and it has ultimately resulted in the inclination of interest of the management students to work in the rural sections. Management principles play a vital role in rural management and these principles involve various elements like - planning, organizing, and controlling of cooperatives and related organizations in the field of agriculture. Under this program, the aspirants are required to visit rural areas and interact with the villagers to have an experience of working in a rural or less-developed setup.
MBA in Healthcare Management is not only confined to the hospitals anymore but it is also concerned With the Healthcare sector to encourage those who are interested in serving the pharmaceuticals sector, government agencies, insurance organizations, hospitals. An MBA student who has specialized in Healthcare Management is also eligible to consult the firms working in the healthcare sector and is responsible to deal with the substantial management problems faced by hospitals and other organizations relating to the healthcare field.
MBA in Event Management is a golden opportunity of specialization to those who want to inculcate the skills to organize and manage events that take place on a large scale such as seminars, symposiums, conferences, fairs, exhibitions, festivals, functions, etc. All the events that take place on the national level be it a sports event like an IPL match or an Olympic or a literature Festival, these all events are also organized with the help of event managers. Hence, it is needless to say that an MBA in Event Management has a good career scope ahead. Event management includes identifying the targeted audience, developing the theme of the event, communicating and promoting the concept, coordinating with the technical parameters, projecting the cost, successfully conducting the event, etc.
Through the program of MBA in Operation Management, a student learns how to contribute to the end customer by enhancing the quality, cost, and productivity of the end products and services. A student specialized in operation management in his MBA program knows how to effectively manage the various processes to make the production and distribution of products successful.
MBA in Business Analytics is a program under which a student learns to formulate various business strategies on the basis of available data. This program teaches students how to process and use large amounts of data in order to generate results and provide real-world solutions to business problems.
Questions related to CAT
Showing 9992 out of 9992 Questions