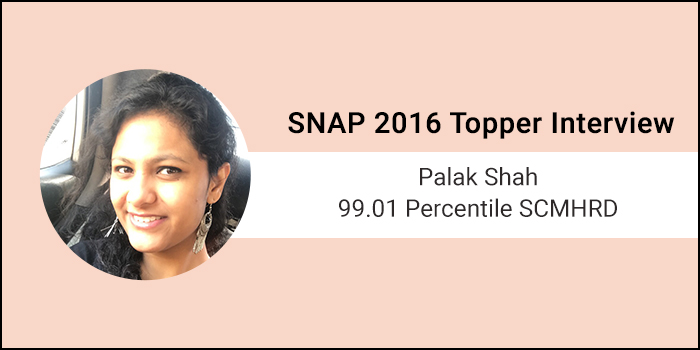 Palak Shah's preparation journey was a roller-coster ride. A trained Electronics & Communications engineer with about 12 months of experience, Palak had a tough time preparing for the management entrance exams due to the hectic work schedule. Nevertheless, she made sure she dedicates proper time to preparare for SNAP and that no section was left untouched. In the end,  Palak not only managed to top SNAP but scored well in other major B-school entrance exams as well. She topped the exam with 99.01 percentile and grabbed an admission offer from SCHMRD, Pune. Palak practiced mock tests regulary to ensure success in various exams. She believes coaching adds value to the preparation and helps maintain a healty preparation strategy.
SNAP Sample Paper
Download Free Sample Paper for SNAP
Download Now
In this interview with Careers360, she explains the highs and lows she faced during her preparation and what helped her achieve the top rank in SNAP 2016.
Read the full interview here:
Careers360: Congratulations on your admission to SCHMRD. Tell us about your score in SNAP 2016? Any other management exam you appeard for? Please share their scores as well.
Palak: Thank you. Here is my SNAP Score - General English 32.75, Quant/DI 23.25 Current affiars 7.75, Analytical and LR 14.5. My overall Score was 78.25. My scores in other entrance exams:
CAT - 97.80 percentile
NMAT - 99 percentile
IIFT - 95.6 percentile
XAT - 91.96 percentile
MAH CET - 99.36 percentile
Careers360: Why did you choose SCMHRD over other B-schools?
Palak: I was selected for final admissions by new IIMs at Udaipur, Rohtak, Trichy, Kashipur etc. but I decided to join SCMHRD because of its special focus on academics, its legacy and its rich and highly experienced group of faculty.
Careers360: Please share your preparation journey. How did you strike a balance between your academic/professional life and preparation for an entrance exam?
Palak: The preparation journey was roller-coaster ride. It involved a lot of Eureka and heartburn moments. I focused majorly on mock tests to build on strengths while dealing with weak areas to the last extent possible. The preparation was a challenge given the hectic nature of work at my organization. However, to manage the same, I used to ensure that I still touched upon all the sections in the day and I never shied away from giving mock tests on a regular basis despite a work in progress preparation.
Careers360: What was your section wise strategy for Analytical and Logical Reasoning, General English, Quantitative, Data Interpretation and Data Sufficiency and General Awareness?
Palak: For DI and AR/LR, I just used to practice complex datasets from the mock sectional tests. For General English, I focused on reading from a range of sources such as Novels, newspapers, journals depending upon my convenience and I worked diligently on my critical reasoning skills. Being an engineer, quantitative section was never a problem as such, but speed of solving questions certainly was. To tackle the same, I tried adopting different strategies while taking the mock tests and focused more on selecting the right questions.
Careers360: Mention section-wise books and study materials you referred during your preparation.
Palak: I relied on the study material provided by Endeavor at different stages of my preparation. Besides, I referred to Quantum CAT by Sarvesh Verma for some of the Quantitative topics, referred to Arun Sharma's book on AR and DI for picking up complex data based problems and referred to GMAT's module on building Critical Reasoning. But mainly, I would suggest reading non-fiction novels to develop speed as well as understanding comprehensions.
Careers360: Tell us about the coaching institute you were associated with. Do you think coaching is necessary to bag the top rank?
Palak: Yes, I was associated with Endeavor Careers Pvt Ltd for my preparation for various B-School entrance exams. Though it is not mandatory to join a institute to be sure of success, great coaching institutes do add a lot of value to preparation and give a general momentum during the entire course of preparation. For someone who can't be self-motivated at all the times and takes lot of time to learn the basics of aptitude tests or doesn't know the right/best approach to problem solving, coaching institutes fill the gaps. They also augment preparation at subsequent rounds like case/group discussions and interviews and help gauge the real competition and aid in personality assessment and improvement. I owe a big gratitude to Endeavor Careers for my successful performance in various competitive exams this year.
Careers360: What is the significance of mock tests in your success? When did you start taking mocks and what was the frequency?
Palak: As mentioned earlier, mock tests played one of the most significant roles in my success. They helped me identify my strengths and weaknesses based on which I could formulate the best strategy. Also, it is one thing to know things, and another thing to prove that you know them. I started taking mock tests, both sectional and full length tests, right from the third month (in a preparation window of 12 months) and gradually increased its frequency from once a week to once everyday.
Careers360:What was your section-wise time management strategy on the exam day?
Palak: For all the sections, my entire focus was on to utilise the time effectively in selecting the right questions for me based on my assessment of my strengths and weaknesses. I navigated quickly across all the questions and attempted sitters in round one, while identifying round 2 (doable) questions and coming back to them to solve them within 10 minutes of the stipulated time. The remaining time was either devoted to some new questions or to ensure accuracy.
Careers360: As you know that SNAP will be conducted in the computer based mode for the first time. What are your thoughts on it?
Palak:  I prefer paper-pen mode and I have consistently scored better in that format. Having said this, I'd say that it's a welcome move. Digital mode is more transparent, easy for assessment and is aligned with today's trends. However, the rules of the game won't change much.
Careers360: How has your journey been at SCHMRD so far?
Palak: It's been a fantastic learning experience so far, both academically and otherwise. The campus is beautiful, the faculty is highly cooperative and experienced, the peer group is exhilarating and the overall schedule has been hectic. It's important to know how to perform under pressure and in such a competitive world, a B-school like SCMHRD puts you in the right grooves. People are great here and we have had our share of fun too.
Careers360: Any suggestion that you would like to share with aspirants?
Palak: Yes. Doing a reality check regularly based on a thorough analysis of mock tests is a must. One must start early with full length mock tests. A lot of people wait for completing the syllabus which is wrong. Also, one must apply for all B-schools/exams as it only helps in enhancing your results. Finally, one must acknowledge that its the journey that matters more and at the end of the day, you ought to believe in yourself and be prepared for everything. Life can throw as many surprises at you at various phases of your preparation and results. All you need to do is to embrace both equally and move on. All the best to every SNAP 2017 aspirant who is reading this.
Also Read
Questions related to SNAP