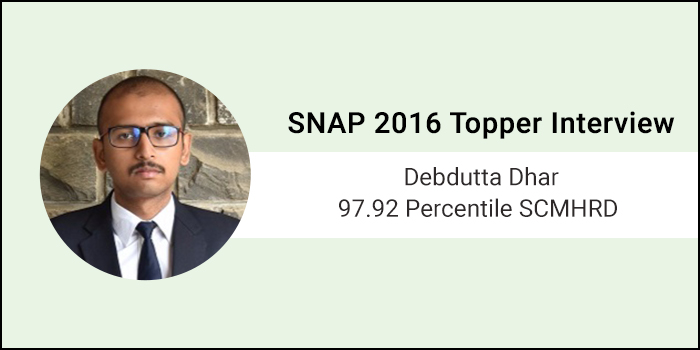 A well-planned and properly executed preparation is required to top a national level management entrance exam like SNAP and that's what Debdutta Dhar did. Studying the various topics covered in the entrance exam on weekdays after office work and taking mock tests on weekends, Debdutta utilised every bit of time he had to prepare for the exam. He scored 97.92 Percentile in SNAP 2016 and scored well in both CAT and NMAT. Although he was offered admission by different management schools such as XIMB, SIBM Bangalore and NMIMS Mumbai among others, he decided to join SCHMRD, Pune. Debdutta believes practicing mock tests regularly helped him secure a credible score in the SNAP.
SNAP Sample Paper
Download Free Sample Paper for SNAP
Download Now
In this interview with Careers360, he reveals that what management aspirants should do during preparation and the secret to go through Group Discussions and Personal Interview rounds. Read on to know more.
Read the full interview here:
Careers360: Congratulations on your admission to SCHMRD. Tell us about your score in SNAP 2016? Any other management exam you appeared for? Please share their scores as well.
Debdutta: Thank you. I got a percentile score of 97.925 in SNAP, 95.07 in CAT and 98 in NMAT.
Careers360: Did you get an admission offer from any other B-school? Why did you choose SCMHRD over other B-schools?
Debdutta: Apart from SCMHRD, I got final admission offers from NMIMS Mumbai, IMT Ghaziabad, IMI New Delhi, XIMB, SIBM Bangalore. I chose SCMHRD because of its proven excellence in imparting management education and also the caliber of the corporate presence the campus witnesses.
Careers360: Please share your preparation journey. How did you strike a balance between your academic/professional life and preparation for an entrance exam?
Debdutta: I was in my trainee stint at work when I started preparing for SNAP in August. I read up on the various concepts over the first month and then started solving questions. Since most of my time on weekdays was spent in the office, I used to study during the commute to and from work. Weekends were generally spent giving Mock Tests and analyzing them.
Careers360: What was your section-wise strategy for Analytical and Logical Reasoning, General English, Quantitative, Data Interpretation and Data Sufficiency and General Awareness?
Debdutta: A & LR - I practiced a wide variety of questions since SNAP is known for its innovative questions in this section.
GE - Mainly focused on questions like Kangaroo words, various idioms etc. which are unique to SNAP.
QA, DI & DS - Practiced from past year papers. Focused mainly on developing accuracy and speed.
GA - Read newspapers daily and used the 'Current Affairs & Daily General Knowledge Quiz' app.
Careers360: Mention section-wise books and study materials you referred during your preparation.
Debdutta: I solved the past year SNAP papers from Arihant Publishers. Besides this, I solved Level - 1 & 2 questions from Quantitative Aptitude for CAT by Arun Sharma.
Careers360: Did you take coaching classes? Do you think coaching is necessary to bag the top rank?
Debdutta: I wasn't part of any coaching institute. I think the decision to seek coaching or not depends on one's individual approach. A focused, systematic approach with proper and timely evaluation will certainly see one through even if professional coaching is not sought.
Careers360: What is the significance of mock tests in your success? When did you start taking mocks and what was the frequency?
Debdutta: Mock Tests played the most significant role in helping me secure a credible score in SNAP. I started taking Mock Tests in October and gave around 2 every week.
Careers360: What was your section-wise time management strategy on the exam day?
Debdutta: There was no strategy as such but here is how I divided my time into different sections: GA - 5 minutes
GE - 35 minutes
A&LR - 40 minutes
QA, DI&DS - 40 minutes
Careers360: As you know that SNAP will be conducted in the computer-based mode for the first time. What are your thoughts on it?
Debdutta:  I think it won't have a significant impact. In fact, properly executed, it will make the test-taking experience more seamless. My only advice to aspirants would be to practice a good number of mock tests online.
Careers360: How has your journey been at SCHMRD so far?
Debdutta: Life at SCMHRD is ever-challenging and ever-evolving. Every day brings a new challenge and another opportunity to learn. It's been a great ride till now.
Careers360: Any suggestion that you would like to share with aspirants?
Debdutta: A major advice that I would like to share with SNAP 2017 aspirants- take plenty of mock tests. You should be aware of what's happening around you and most importantly, be yourself during the GD-PI-WAT. Follow these steps and you'll sail through.
Also Read
Questions related to SNAP