Important Skills in MBA Grads
Important Skills in MBA Grads: What are the skills that recruiters on campus look for in the best business schools? How do recruiters like students and get an edge over their competitors? How important is work experience for companies, and is your undergraduate institute brand important for campus recruitment?
Stay up-to date with CAT News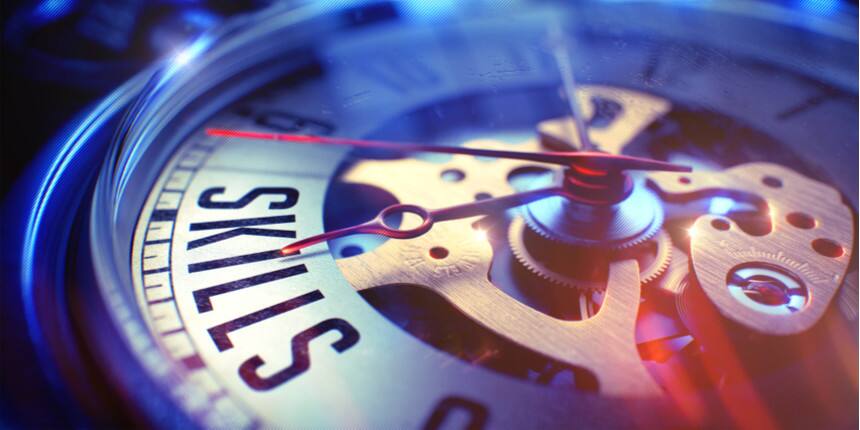 To find out, we asked industry and selectors on the best B-school campus to reveal to us the skills they are looking for in MBA students. We asked them to tell us what skills MBA students currently do not have and to list the shortcomings in Indian MBA employment processes that need to be addressed by management companies. Here is what they said.
Also Check: Tips To Ace Personal Interview
Skills Employers Look For in Graduates
The GMAC Corporate Recruitment Analysts lists the skills/ attributes employers are looking for in MBA candidates. Survey respondents were asked to get the most important place out of 12 attributes. A candidate's ability to fit into an organizational culture is now standardized as a highly desirable attribute.
The survey also addresses the question of exactly what these top In-Demand skills top B-School recruiters are looking for.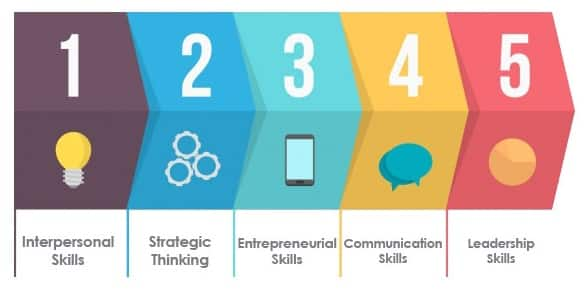 What Are the 5 Skills For Success
1. Interpersonal Skills
Everyone in a leadership role needs each other's skills, in which working with and motivating others can really make the difference between success and failure - be it with clients, colleagues, or the people you manage. Don't forget, the lack of such skills will seriously impede your ability to engage in all those important networks - no one is going to share the best new opportunity with you if you can't engage with them.
2. Strategic Thinking
Strategic thinking is a cornerstone of the MBA - one of the main objectives of the degree is to help you always move from a functional role to a 'big picture. Can you see the future of a company, how is it going to get there, and is it a factor in the agility to deal with competitors and market forces? If so, you will need more of the best MBA employers.
3. Entrepreneurial Skills
Entrepreneurial skills are the ability to find a gap in the market, enough judgment and creativity, and technical understanding to know if it is worth filling, otherwise doing so would be invaluable to a dynamic organization with developmental designs. Remember that not every example of an entrepreneur needs to change the world.
4. Communication Skills
It is essential to communicate above, below, and across any management level. Communication skills are a part of which employers often find to be somewhat low on candidates. Fortunately, this is a review that will help you develop an MBA and play a significant role in MBA learning with all the compatible challenges of working in different groups.
5. Leadership Skills
A good manager will have the leadership skills to carry out functional roles by his or her superiors - not an easy task by any means. However, a good leader will inspire them and those around them, make them valuable, and give the whole effort a sense of direction. Significantly, the surveyed top MBA employers were most satisfied with having MBAs.
Also Read:
Top Technical Skills Employers Look For
Every MBA student needs to develop their skills and design their career path with some basic, but highly relevant technical skills. Some of them are: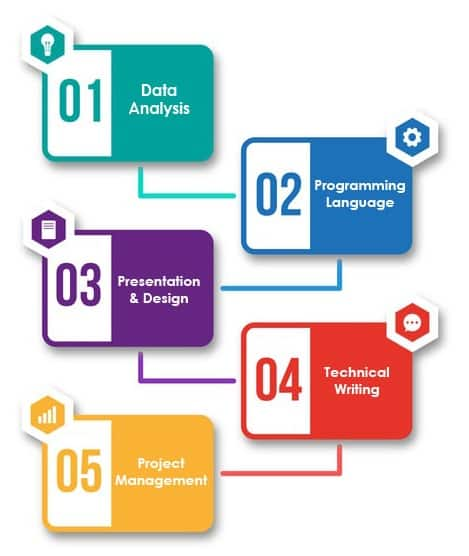 1. Data Analysis
The ruling mantra of the business world is currently "Data is the new oil". Some industries are growing and data is the reason for their rapid growth. One of the best technical skills for management students is to command proficiency in analytical tools like Tableau, SPSS, etc.
The most basic and commonly used tool for data management is MS Excel. Due to its widespread popularity, MBA students need to be familiar with Excel in technical skills.
2. Programming Languages
While this is not necessary for MBA candidates to incorporate JDs, it is an added benefit. As a manager, you will work on various projects that may be the software interface or application that you can provide. Or you can be used in a cross-functional group.
Therefore, basic knowledge of languages like Python, SQL, and PHP, and knowledge of related databases are the most useful technical skills for MBA students.
3. Presentation and Design
Good knowledge of presentation tools is one of the most important technical skills for knowledge management students. Presentations are important in the corporate setting because they are the official link between a customer and a business.
MBA students get good exposure to presentations ranging from their class assignments to business case study competitions. They should use this expression by learning more about the art of making PPTs on various tools such as PowerPoint, Prezi, Canva, Haiku Deck, etc.
4. Technical Writing
Managers are given the responsibility of setting goals and objectives in a project. They are needed to facilitate cross-functional or cross-sectional team collaboration in a project and to communicate one team's expectations, presentations, limitations, etc. to another.
They also inform the supervisors of the technical, budget, and other needs of the teams. Therefore, they need to know the technical specifications of each domain, i.e. marketing, accounts, information technology, etc.
Therefore, technical writing skills should be essential for a manager because it is a stepping stone for effective communication within an organization. This is why it is featured in the list of top tech skills for MBA students.
5. Project Management
Managers inform employees of information received from top management. They create meeting minutes with top management, create training and staff items, and generate reports on product specifications and terms of service. Managers also generate reports on internal and external processes, partner management, competitor analysis, and project documentation.
Although project management is a specific branch of management, managers are specially trained in statistical analysis tools, scrum methodology tools, quality control techniques and algorithms, risk analysis report development, and communication and planning software.
Nevertheless, it is highly relevant for all managers to have knowledge of these features, and this is one of the best tech skills for MBA students to learn.
Know more: Part-Time MBA Programs
Invaluable Skills MBA Degree Helps You Improve
If you want to manage your own team or own your own business, some of the skills you learn in B-school will be key to your success because they will shape your work ethic and your professional strength. So, before you sign up for an MBA, read all the important professional skills that a business degree can help you with;
Strategic thinking and analysis

Communication skills

Networking right

Toughing out high-pressure situations

Professional pragmatism

Time management

Decision-making

Leadership
Important Soft Skills in MBA Grads
In addition to providing a solid foundation in business strategies and technology, online MBA programs offer many opportunities to develop your fine skills. Often, knowing how to present new ideas and collaborate with others can prove just as important as your technical ability for success in the workplace. During your advanced education, you will find ways to develop these essential skills. So if you're trying to guarantee job security in a post-COVID world, here are Important skills in MBA Grads you can look to strengthen.
Also Read:
Skills required for MBA Students
Before going to get into the topic, one should know the Importance of soft skills for MBA students and how to improve MBA skills. Here the top 10 important soft skills developed by MBA students.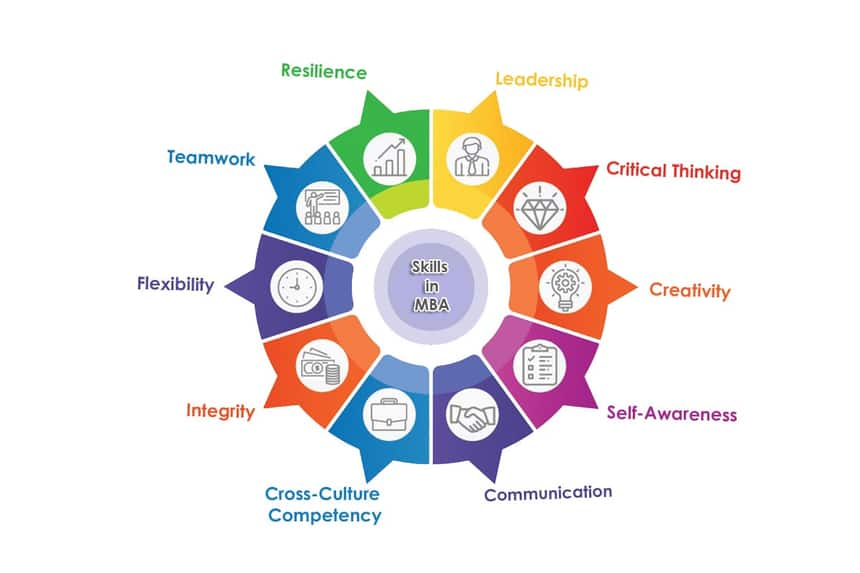 Top 10 Skills Employers Look For 2022: Employability skills for MBA students
1. Leadership
Earning your MBA is about jumping ahead in the resources you bring to the job and preparing yourself to act as a leader. Encouraging trust in others and motivating them to do their best work requires a firm understanding of the personal needs of employees and the overall culture of your company. You learn to strengthen your areas of expertise, work with others on complex projects, and to get honest feedback.
2. Communication
To improve your life, you can get your ideas clear and confident. Your education prepares you to take the next step in your life by teaching you different ways to present information and ideas. Whether you are attending a conference, submitting a formal proposal, listing an analysis sample, or writing a note, you need to understand how to format your message to its audience.
3. Critical Thinking
A good leader does not always take information and claims at face value. MBA students learn to ask relevant, analytical questions that lead to better results. By trying to understand the bigger picture, they discover how different aspects of a business relate to each other and gain insights that can bring about significant improvements in the company's processes.
4. Creativity
Coming up with innovative ideas for new ventures or new perspectives on practices established within an organization is often a challenging opportunity. MBA classes provide graduates with knowledge and strategies for brainstorming, researching, and vetting wonderful ideas. Students learn to identify areas of need or opportunity and take the first steps toward innovation.
5. Teamwork
Sometimes, the best strategy for a leader is to ask for suggestions from others or hand over the responsibility to an expert. Part of an MBA education involves collaborating with colleagues to exchange ideas and make holistic plans. This cognitive experience can be very different when you have to integrate people into a group by setting clear priorities and monitoring everyone.
6. Cross-Culture Competency
Production collaboration seeks to raise awareness of how people's diverse cultural backgrounds affect their vision and expectations. Respecting and serving these differences is key to opening up opportunities in the global economy. Knowledge of foreign languages and orientation to transcend national boundaries will be major advantages in business.
7. Integrity
When superiors look for a person who is ready to advance to the position of chief executive, they are interested in someone who commands respect. Honesty, responsibility, and reliability in your work prove that you are ready to progress in your next role. These are the qualities you can develop while working on an MBA, how ethical behavior can strengthen your reputation and go hand in hand with professional achievements.
8. Flexibility
In the ever-changing business world, almost nothing goes exactly as planned. Being prepared for new situations is one of the most effective gentle skills you can take from your studies. If you can make the necessary changes while delivering high-quality results, it means you are ready to face the challenges that come with being fast.
9. Self-Awareness
It can only grow if a person wants to step back from time to time and engage in honest self-assessment. While in school, you have plenty of opportunities to consider how you strengthen your skills and where to put more effort. A realistic view of your own accomplishments will help you as you continue to progress.
10. Resilience
In education and business, you will face challenges. Not every project you work on will be a huge success and not every project you offer to the best decision-makers will be accepted. When you are ready to move forward in your life, focus on stepping back from these setbacks and turning them into valuable learning experiences.
To improve your technical and soft skills for today's market, you need advanced education around the latest thinking in business strategy.
Resource Links for Online MBA
Important Hard Skills in MBA Grads
We asked respondents to choose from a variety of options to find the top-5 hard skills that recruiters look for on campus when hiring from business schools, and a top MBA graduate should be a good fit for their respective companies. Here is what they said;
People Management

Quantitative skills

Data Science and Analytics

Specialized Marketing

Supply Chain Management
Are you a good fit?
Organizational fit is an assessment of how well a candidate's work style and values fit into the company's work culture. But some companies have their corporate values or culture written on their corporate "Vade Mecum", so how does a candidate find out about values?
Quite simply, from talking to current and former employees, from interviews with company recruiters, through on-campus events that a company uses to promote its values, and from the professional services team at the college.
Skills Employers Look For on Resume
Active listening skills
Communication skills
Computer skills
Customer service skills
Interpersonal skills
Leadership skills
Management skills
Problem-solving skills
Time management skills
Transferable skills
Also Check:
Frequently Asked Question (FAQs) - Important Skills in MBA Grads
Question: What skills should an MBA aspirant have?
Answer:
The important skills that an MBA aspirant must have are:
People Management

Communication

Team work

Leadership

Creativity

Time Management
Question: What skills should I put on my MBA resume?
Answer:
The important skills that an MBA aspirant must have are:
People Management

Communication

Team work

Leadership

Creativity

Time Management
Question: What are the skills required for MBA fresher?
Answer:
The skills required in MBA freshers are:
People Management

Quantitative skills

Data Science and Analytics

Specialized Marketing

Supply Chain Management
Questions related to CAT
Showing 10888 out of 10888 Questions