How to prepare for XAT 2021
How to prepare for XAT 2021 - "Do not stop until you are proud" the same goes with the preparation for any competitive exam. If someone is searching for when and how to prepare for XAT 2021, the answer is now and plan a full proof exam preparation strategy accordingly. The foremost thing is to check the syllabus of XAT 2021. Now check all the topics related to all the sections of the XAT question paper. As per experts and past year XAT toppers, the XAT preparation requires a planned approach and time management. The key to ace the XAT 2021 is not only studying from the recommended books but also understanding the paper pattern and choosing the questions sensibly. While preparing for XAT 2021, do not rely only on study material, candidates should solve past year XAT question papers and take at least 2 mock tests per day and analyze them. After analyzing mocks if you found your preparation is not up to the marks then change the preparation strategy accordingly. In this article of Careers360, candidates will get all the tips on how to prepare for XAT 2021.
Latest - XAT 2021 registration commenced from September 12. XAT 2021 to be held on January 3.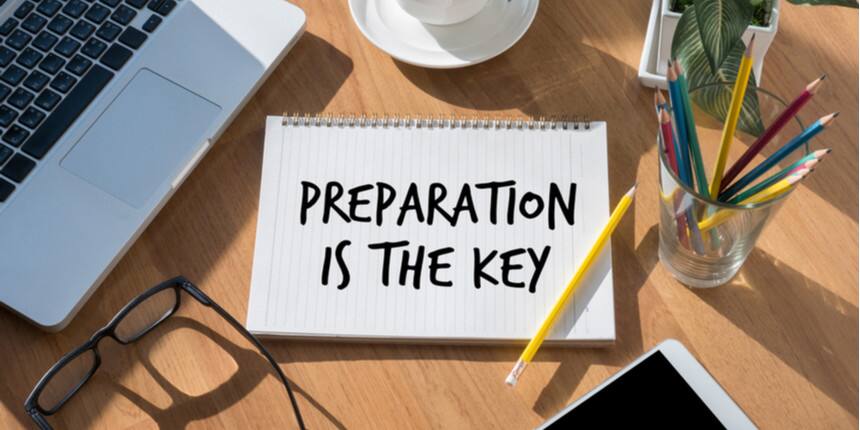 How to prepare for XAT 2021 - Prepare a time table
If a candidate is planning that he or she can complete the whole syllabus of a competitive exam then they must be aware of the fact that it will take a considerable amount of time. So, in order to understand and complete all the concepts pertaining to the syllabus of XAT exam, one should prepare and stick to a good time table which should be effective enough for the XAT preparation. Due to the vastness of XAT syllabus one should study at least 7-8 hours a day so that they can complete XAT syllabus on time.
Read Also - XAT section wise preparation strategy from experts and toppers
Know the XAT 2021 syllabus first
Prior to starting the preparation of any competitive exam, it is necessary to go through the whole syllabus of the exam which helps candidates to develop a good understanding of the exam. As per XAT syllabus, it includes sections like Verbal and Logical Reasoning (VARC), Quantitative Aptitude and Data Interpretation (QA & DI) and Decision Making and General Knowledge (DM & GK). Candidates should jot down with the important topics from each section of XAT, which covers at least 65 to 70 percent of the XAT question paper.
Understand the XAT exam pattern clearly
It has been observed that XAT authorities change their paper pattern every year. This year also, there have been certain changes made. The exam will be conducted into two parts. Part-1 would consist of sections like - Verbal Ability and Logical Reasoning (26 Questions), Decision Making (22 Questions) and Quantitative Ability and Data Interpretation (27 Questions). This time, there is no sectional time limit given to attempt part-1 of the paper. Whereas, part-2 of the paper which comprises General Knowledge section (25 Questions), has a time limit of 1 minutes. The overall time duration given to attend the paper is 180 minutes (3 hours) where time would be split as 165 minutes for paper-1 + 15 minutes for paper-2) and there would be 100 questions in total. One mark will be awarded for each correct answer, 0.25 marks will be deducted for each wrong answer and 0.5 marks will be deducted for more than 8 unanswered questions. After understanding the paper pattern, start preparing accordingly.
XAT 2021 Section wise preparation
After understanding the syllabus and the exam pattern, one should go through and jot down all the important topics of each section. Some important topics and books for the preparation of each section given below:
XAT 2021 Preparation - Quantitative Ability and Data Interpretation
This section is generally considered to be the most difficult section of the paper as it requires a lot of practice throughout the preparation. Some of the important topics which could make your command good in this section are -
Tables

Geometry

Arithmetic

Graphs

Statistics

Trigonometry

Time-Speed-Distance

Profit and Loss

Clocks
Suggested Books for QA & DI Section for XAT 2021
| | |
| --- | --- |
| Book Name | Author Name |
| Quantitative Aptitude for Competitive Examination | R S Aggarwal |
| How to prepare for data Interpretation | Arun Sharma |
Since, the difficulty level for quantitative Aptitude section in CAT and XAT is almost the same, so the one who prepares for CAT can ace the QA and DI section of XAT as well.
XAT 2021 Preparation - Verbal Ability and Logical Reasoning
To ace this section, aspirants should inculcate a habit of reading because in exam, this section comes up with lots of reading materials. Some of the important topics to cover this section are -
| | |
| --- | --- |
| Para Jumbles | Grammar |
| Para Completion | Vocabulary and Reading Comprehension |
Suggested Books for Verbal Ability and Logical Reasoning
| | |
| --- | --- |
| Book Name | Author Name |
| For Vocabulary - Word Power Made Easy | Norman Lewis |
| For Logical Reasoning - A modern Approach to Verbal and Non - Verbal Reasoning | R S Aggarwal |
| Analytical Reasoning | M K Pandey |
For the Reading Comprehension section, aspirants must read newspapers on a daily basis to develop a habit of reading and quick understanding. Moreover, they can go for a book named - Verbal Ability and Reading Comprehension (By - Bharat Pataudi).
XAT 2021 Preparation - Decision Making
Among all the sections, the decision making is the most unique section of XAT. Like any other sections, here candidates do not have any precedent to follow because in this section your aptitude for problem solving is tested. The section is wholly application based. Since, it is a practice intensive section of the paper, the aspirants are required to practice a lot of questions that are based on financial issues, general management scenario, company management issue etc., and such questions could be practiced through previous years question papers.
How to prepare for XAT 2021 - General Knowledge
General Knowledge is a vast pool and does not have any end point. Generally, in exams like XAT the more emphasis is on current affairs. So it is advised that candidates should prepare for it from daily newspapers and weekly magazines or monthly issued magazines. For business news sources like - The Hindu, The Financial Times and Business Today are quite beneficial. For static GK, candidates should have a good command on Politics, History, Sports, Business, Economics and International Relations.
Practice as many mock tests as possible
After completion of even any one topic from each section, candidates should take mock tests based on those topics. It would not only help you to learn about your weak points but also allow you to know whether your concepts are clear or not. But, only taking mock tests is not sufficient, their analysis is equally important for improvement. Mock tests are the elixir for the preparations therefore one cannot afford to avoid mock tests.
How to prepare for XAT 2021 - Practice from previous years question papers
Besides mock tests and other practice tests, aspirants should practice from XAT previous years question papers as well. The previous year question papers help one to deal with easy, moderate and difficult types of questions based on the same concept.
Quick Links -
How to prepare for XAT in 6 months
Questions related to XAT
Showing 872 out of 872 Questions