Why XLRI For MBA Admission | Tips Shared By Asmeet Kaur, XAT Topper 2022
XLRI Interview Experience shared by XAT Topper: "Success usually comes to those who are too busy to be looking for it." This saying of Henry David Thoreau has become true for Asmeet Kaur who has become the XAT topper and made it to XLRI to achieve her dream of becoming an HR professional. Asmeet's organized and strategic preparation led her to excel in the XAT entrance test.
Latest Updates for XAT
01 Dec 2022:

XAT 2023 registration extended till December 11, 2022. Click here to know more.

25 Aug 2022:

Check eligibility for XAT 2023 registration and list of top MBA colleges accepting XAT score.

08 Aug 2022:

XLRI Jamshedpur will release XAT 2022 application form in online mode on August 10.
Stay up-to date with XAT News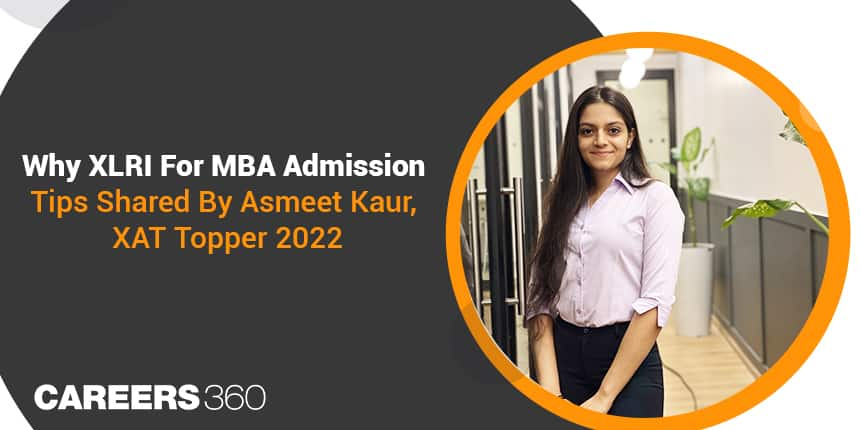 She not only managed time for preparation but successfully managed to attempt a plethora of mock tests to be involved in active preparation. In an interview with
Careers360, Asmeet has elaborately shared various aspects of her XAT preparation journey. The XAT tips and tricks shared by her can be of utmost use for the upcoming aspirants.
Careers360- Why XLRI over other B-schools?
Asmeet- Ever since I realized my interest in HR, XLRI has been my dream. I first thought of pursuing HR during the 3rd year of my graduation, during the placement season. While my specialization was Finance, I applied for a role that was a mix of HRM and Sales at Native an Executive Search Firm. The 2 years of work experience solidified my intent to pursue HRM. XLRI has made a name for itself for being the institute providing the best HRM degree in India, and along with that the value-based approach to Education adopted by XLRI adds to its allure. Extremely grateful for my dream to have become a reality.
Careers360- Tell us something about yourself
Asmeet- Born and brought up in Mumbai, a BBA graduate from NMIMS. Worked a couple of years at Native, an Executive Search Firm specializing in Mid to Senior Level recruitment. Apart from work, I like to express myself by either painting or singing Kirtan (religious hymns). I am a fitness-oriented person and believe in the fact that a healthy body, and a healthy mind'.
Careers360- What inspired and motivated you to pursue MBA in HRM?
Asmeet- During the final year of my graduation, I realized my interest in pursuing a career in HR. Having no prior education in HR, apart from 2 subjects during graduation an MBA in HR was the most logical next step. Having already worked in the industry I wanted to combine the practical aspects of HRM with the theory. Hence I decided to pursue an MBA in HRM.
Careers360- What was your XAT 2022 overall and Sectional percentile? Apart from XAT, which other entrances did you appear for, and what were your percentiles
Asmeet- Appeared for XAT & CAT
XAT 2022 – OA- 91.29

VA – 98.19, DM- 85, QA-67.1

CAT 21- OA- 98.18

VA- 99.27, LRDI – 97.45, QA- 82
Careers360- When did you start the XAT preparation? Please share in detail the month-wise preparation strategy you followed.
Asmeet - Started my XAT preparation in the first week of May last year.

May - Familiarized with the portion and paper patterns started with Arithmetic in quants ( topics like Percentages, Ratios, Averages) RC practice, and basic LRDI sets
June - Continuing with Arithmetic (P&L, Interest) started with the basics of the number system continued with RC practice, reading an essay daily from Aeon and LRDI Practice
July - Continuing with Arithmetic (TSD, Time and Work, Mixtures, MMM) continued with RC practice, reading an essay daily from Aeon and LRDI practice started taking sectional tests
August - Started with Geometry Started the Decision-making section of XAT by solving previous papers Continued with RC practice, reading an essay daily from Aeon and LRDI Practice Continued with Sectionals while taking a couple of mocks
September - Continuing Geometry Continuing decision-making practice started solving previous years' XATquestion papers started with Verbal practice and continued RC with daily reading (OOO & PJs) continuing LRDI sets
October - Starting topics like PnC, Probability revising previous quants topics continuing with verbal and RC practice Revising LRDI concepts with new sets
November - Revision focus started with XAT specific verbal focus adding basic grammar questions to the mix DM questions from various sources full-length XAT mocks Mix quants practice.
December - Gave 6 XAT mock test, Revised topics I performed weakly in revising XAT-specific topics in verbal and quants like DI Trying not to start with any new concepts Jan 2- D DAY!!
Quick Links
Careers360- How did you manage your time during the test?
Asmeet- I gave about 10 XAT mocks with different 175 min time allocation strategies. What worked best for me was initially giving 30 mins to each section. Starting with the VARC section I would try to complete the verbal bit and one RC and then move to the DM section. I would try to complete the entirety of the DM section in 30 mins. Then moving onto Quants, spending about 30-45 mins on quants. I would then spend the rest of the time on the questions not attempted. I usually followed the 1-2-3 round approach for quants.
Careers360- Do you think Coaching or Mentoring is important to crack XAT or any other MBA entrance tests?
Asmeet- In my personal opinion, Coaching gives a sense of direction and a timeline to follow for efficient preparation. While starting preparation last year this time, I had just quit my corporate job and after 2 years in the industry, I was out of touch with the portion for these entrance exams. Coaching helped streamline my preparation and also provided me with a routine checklist of topics to cover. I don't think coachings are a must, they are more of a personal preference.
Careers360- What were your strong and weak areas? How did you prepare and what special effort did you put into improving your weak areas?
Asmeet- Within a couple of weeks of starting the prep, I realized quants was my weak point and that I was going to need significant practice to do well in the same. Along with following the class's material, I also started practicing from Sarvesh Verma's Quantum CAT. I would daily dedicate at least 2 hours to quants practice from the book. I started with Arithmetic as it formed a major chunk of QA questions in all the exams. Then took up Geometry and Algebra. I changed my strategy a bit for XAT as the QA section in XAT also consists of Data Interpretation questions. So I incorporated the same in my prep. VARC has been my strength since the beginning and made sure to capitalize on the same. I tried solving as many VARC questions as possible in the exams.
Quick Links
Major Topics For Group Discussion
Careers360- Your message/tip for this year's XAT aspirants?
Asmeet- As much as preparation before the D-Day is important, your mindset on the D-Day is equally as important. I've had two varied experiences where during CAT, I gave a stress-free exam and did decently well, while I let the stress get the better of me during XAT. I would suggest spending a few minutes every day on your mental and physical health as these practices go a long way. I daily had a dedicated fitness hour where I followed High-intensity training. This really helped in regulating my preparation stress. I also believe that consistency is the key to cracking entrance exams. You don't need to put in those 15-16 hours daily to crack these exams. If you consistently put in 6-7 hours daily that'll more than do the job.
All the best!
Questions related to XAT
Showing 990 out of 990 Questions