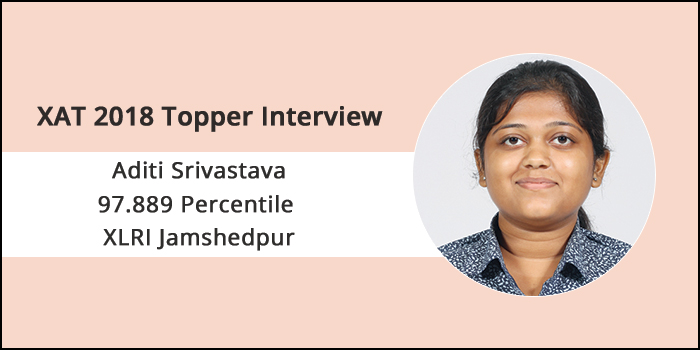 XAT 2018 Topper Interview - Aditi Srivastava, XAT 2018 topper, is a perfect example of someone who achieves her dream by believing in herself. With not much time left for preparation, Aditi Srivastava dedicated herself completely to preparing for XAT while she balanced it impressively with her regular course studies. Seeking motivation and support constantly throughout her journey from her parents, Aditi gives all the credit of her success to them as she outperformed with 97.889 in XAT 2018.
MBA/PGDM Admissions Open 2019
IFIM Business School
XAT Pathfinder
Know your call chances for Admissions
Use Now
Speaking of her preparation strategy for XAT, Aditi started off with self study and joined coaching later. With the help of coaching, Aditi explains, she gave her preparation the final touch that it was lacking. As part of her study, routine, she stuck to studying during the day and solved mock papers during the night. Using the XAT preparation strategy which she devised for herself, Aditi identified her strong and weak areas and solidified the former. Other than that she constantly gave mocks, without fail and did not spend even a single day without studying.
To fill XAT 2019 Application form - Click here Or Apply from the window given below:
Self belief and persistence is what set her apart from the rest of the crowd, despite lack of time. As the clock kept ticking, and the exam drew nearer, Aditi made a promise to herself to deliver to the maximum of her capabilities. Read the XAT 2018 topper interview of Aditi Srivastava as she gives us an insight into her success journey of securing admission in PGDM in HRM at none other than XLRI Jamshedpur.
Excerpts from the interview:
Careers360: What was your XAT 2018 overall and sectional percentile? Apart from XAT, which other entrances you appeared for and what were your percentiles?
Aditi: My overall XAT 2018 percentile was 97.889 with section-wise percentiles being 89.129 for Quantitative Ability, 74.022 for Decision Making and 99.530 for Verbal and Logical Ability.
Other than XAT, I appeared only for CAT and my percentiles were 96.04 overall, 97.12 in Quantitative Aptitude, 74.75 in Data Interpretation and Logical Reasoning, and 96.51 in Verbal Ability.
Careers360: What was your preparation strategy? Please share section-wise strategy in detail.
Aditi: I began self study for CAT and XAT in July 2017 and joined coaching in September 2017. With not much time left, I dedicated myself completely to the preparations and devoted most of my time to studying and solving question papers. I studied during the day and solved papers during the night. I studied the course material of my coaching and kept solving mock tests side by side.
My section-wise strategy was as follows:
QA: I timed myself for all the questions that I solved from the practice books and took section-wise mocks that were available on the student portal on the coaching centre's website.
VA: I am an avid book reader and my love for reading novels helped me with the English section for the CAT and XAT exams. I solved a lot of Reading Comprehension questions from any book that I could find. I took sectional mocks as well.
DILR: This honestly was the section that I struggled with the most. I solved all the questions from various books related to Bank PO Preparation and MBA preparation along with giving sectional mocks. I determined my strong and weak areas and kept building on the former. 
Careers360: How did you prepare – Self-study or Coaching? Please explain which one do you think is better and why.
Aditi: I started with self study and joined coaching in September 2017 to give my preparation the final touch that it was lacking. Self studies helped me in building concepts and learning new things on my own and coaching further perfected my problem-solving skills and the guidance that I got from my teachers motivated me to do my best.
As for the latter part of the question, there is no definite answer, it depends entirely on the student whether he thinks he can crack the exams on his own or not, but the importance of mock tests is one thing that is undeniable. I don't think I would have been able to crack CAT and XAT in such a short span of time had mocks not been there. In my case, I preferred coaching when I thought the time was right and I would suggest aspirants to do the same.
Careers360: When did you start preparing for XAT? Please share in detail your month-wise preparation strategy you followed.
Aditi: I started preparing for XAT properly from September 2017 onwards.
In September, I practised DILR problems and QA problems from the course material and finished all my books in September.
In October, I started taking mock tests and took almost three to four mock tests per day and devoted rest of my time brushing concepts and completing the topics I left in September.
In November, I brushed up all my concepts again and continued doing mocks. Three four days before my CAT exam I stopped studying anything new and continued with sectional mocks.
Careers360: How did you balance your preparation with studies? Please share your time table.
Aditi: I was in my last year of college and my semester exams were scheduled for late December, so I had to manage and finish all my syllabus within one month that is late November to December. It was a bit hard but with the help of my classmates and teachers, I managed to pull it off by studying around six to seven hours a day.
Careers360: What was the one thing that you did consistently during your preparation? Also, what is the most important aspect of preparation according to you?
Aditi: I think that one of the things I consistently did was remain in close contact with my family and also giving mocks on a daily basis. Parents are your best guide- is the statement that came to life during my XAT preparations. They kept me motivated and did not let me lose belief in myself despite my average performance in mocks.
Other than that I constantly gave mocks without fail and did not spend even a single day without studying.
According to me the most important aspect of preparation is believing in yourself that you can achieve it. XAT and CAT are very big exams and at times it might seem very tough keeping up with your regular course studies and preparation together. But you should never lose hope and always promise yourself to deliver the maximum you can. Also, never stop studying and learning because it is an unending and a continuous process.
Careers360: Which books and study materials did you refer to?
Aditi: I mainly studied from my coaching study material and that for was more than enough for me. I also read Business today magazine to keep myself updated with current affairs.
Careers360: When did you start taking mock test and what was the frequency? How did you utilise it for preparation?
Aditi: I started mocks in the month of December of October and took three to four mocks per day. I analysed all my answers and later found solution to problems that I could not attempt in mocks.
Careers360: How one with non-English background should prepare him/herself for the exam as the mode of the exam is only English?
Aditi: Personally, reading novels helped me a lot, so I feel that if any person is looking for a way to start learning English, novels with simple English and books like Comprehensive English Grammar and Wren and Martin would be a great help.
Careers360: What was your exam day strategy in terms of attempting the test?
Aditi: More than which questions to attempt, according to me it's better to understand what not to attempt so that I can save myself from negative marking as much as possible.
I first attempted the section I was best at, i.e. English then I went to my second best, Quantitaive Aptitude and then I attempted Decision Making. I attempted questions that I was sure of and left those which took more than five minutes to do.
Careers360: Preparing for XAT is a long and tiring process. How do you suggest one should keep his/her calm and confidence?
Aditi: Constant practice and learning is what will keep you going in the preparation process.
One can resort to practices like meditation for extra help. Moreover when you keep increasing score in mocks through constant practice, it boosts your confidence and motivates you.
Careers360: What is your message for XAT 2019 aspirants?
Aditi: Keep practising, don't lose hope, you can crack this only if you think that you can. It's a tough road ahead but it's not impossible. Just keep calm and embrace life.