Which One is Better - MBA in Finance or MBA in Marketing?
MBA (Masters of Business Administration) is a globally-recognized, sought-after degree that centers around developing skills and knowledge in business and management. The different career prospects that MBA has along with the various MBA specialization options to choose from can lead to endless indecisiveness and confusion among students. It is important to make an informed decision when you're at a tough crossroads of choosing your specialization in MBA.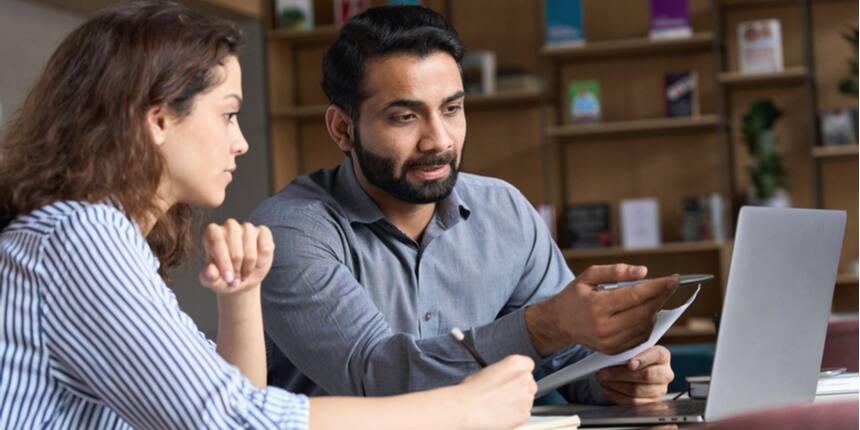 Top institutes offering MBA
MBA in Finance and Marketing are the two most popular specializations. "MBA in Finance or MBA in Marketing?" is the most common question which floods the mind of an MBA aspirant. Even though both the specializations revolve around the fundamentals of business, they are still significantly different from each other on various levels: their different curriculum, different skills requirements for them, the different career opportunities they offer, etc. Puzzled students can make a wise choice to solve their dilemma – MBA Marketing VS MBA Finance: what to choose,
with an in-depth understanding of both the courses at the individual level.

by drawing a comparison between the two specializations.
With proper knowledge about exactly what both the courses offer, what your personal interests are and which career path you want to walk on, it will be easy to choose between MBA in Finance VS MBA in Marketing.
MBA in Finance and MBA in Marketing Eligibility Criteria
Both MBA in Finance and MBA in Marketing can be pursued if the candidate has a graduate degree.

There are no specific restrictions on or requirement of any particular educational background.

However, a common myth that comes across aspirants is that only those students who have a Commerce or Economics background are eligible for MBA. Students should keep in mind that this isn't true and anyone with a graduate degree in any stream (Science, Commerce or Arts) is eligible to pursue an MBA degree.
MBA Marketing VS MBA Finance: An Individual Understanding of Both the Courses
As the name suggests, MBA in Finance predominantly focuses on the financial aspects of business and management. The various finance courses included in this specialization will systematically train students in the field of financing, auditing, budgeting, accounting, managing financial resources, analyzing data, handling investments, evaluating risks and making financial decisions for businesses. If you are good with numbers and have a statistical mind, you should definitely consider pursuing this specialization. It would be beneficial if you have a strong background in Mathematics and Accounting if you choose Finance, however, it is not a prerequisite. You would be taught various financial concepts. The curriculum would include the following:
Budgeting
Derivatives Management
Financial Accounting
Financial Risk Management
Corporate Finance
Hedge Funds
Business Accounting
Portfolio Management
International Finance Markets
Insurance Management
MBA in Marketing is a very popular and beneficial degree. In the age of globalization and technology, with digital marketing becoming the core of every business, every organization has opportunities and prospects in marketing. MBA in Marketing program is designed to teach students various concepts such as marketing strategies, branding, promotions and promotional strategies, consumer behavior, attracting potential customers, advertising, public relations, communication, market research, increasing sales and market-oriented strategy planning. Creative students who can think of out-of-the-box ideas would excel in marketing and are advised to choose this specialization. The curriculum would include the following:
Digital Marketing
Customer Relationship Management
Marketing Analytics
Market Strategy
Retail Management
Pricing Policies
Market Research
Consumer Behavior
Marketing Research
Brand Management
Important Factors to Keep in Mind When Choosing Between MBA in Finance and MBA in Marketing
When you are on the threshold of choosing between Finance and Marketing specializations, you should always keep the following points in mind and base your decision in accordance with them:
1. Your interest
2. Your aptitude
3. Your personal skills
4. Job prospects
5. Scope and industry
6. Your salary expectations
Browse More MBA Information:
Interest, Aptitude and Personal Skills
Interest and aptitude go hand-in-hand. Interest is what your preference is and aptitude is what you're suited to and capable of doing. Students should choose between MBA in Finance and MBA in Marketing based on what they like and which specialization they're more suited to succeed in. If you have an interest in playing with numbers and analyzing figures, you should opt for Finance. If you have an aptitude for convincing people, communicating, networking and thinking creatively, then Marketing would be the better option for you. Your personal skills also play a role in carving out the right path for you. For example, if you're skilled in number-crunching and problem-solving, then Finance would be the better option for you.
Job Prospects and Scope of MBA in Finance VS MBA in Marketing
1. MBA in Finance
If you opt for MBA in Finance, you will have the following job prospects:
Chief Financial Officer
Financial Analyst
Financial Controller
Budget Analyst
Financial Manager
Investment Banker
Estate Planner
Stock Broker
Auditor
Credit manager
Consultant
Accountant
Tax Planner
The scope of an MBA in Finance is vast. Along with the banking industry, you can work in the finance wing of the corporate sector, financial consultancies, mutual funds, stock market and insurance sector.
2. MBA in Marketing
If you opt for MBA in Marketing, you will have the following job prospects:
Marketing Manager
Brand Manager
Sales Manager
Sales Associate
Corporate Sales Head
Digital Marketing Head
Advertising Executive
Market Research Analyst
Digital Marketing Specialist
Business Development Director
Customer Relationship Executive
Product Manager
Senior Marketing Analyst
Buyer
Social Media Manager
SEO Manager
Sales Associate
Media Planner
There is wide scope in media, retail, E-commerce, hospitality, advertising, branding, business analysis and any domain that requires marketing.
MBA Colleges By States
Salary After MBA - Key Highlights
MBA is a prestigious degree and you will earn a good amount of money no matter what you specialize in, keeping in mind different factors such as your performance, the organization you work for, the location where you work in India, and the field you are working in. The salaries offered after MBA in Finance and MBA in Marketing are similar, but Marketing has an edge over Finance by a slight margin.
Top colleges with high salary packages

IIM Ahmedabad, IIM Bangalore, IIM Calcutta, etc.

Avg. salary for MBA in Finance

Rs. 6,78,000 per annum

Top recruiters for MBA in Finance

EY, HDFC Banks, Accenture, TCS, ICICI Banks

Avg. salary for MBA in Marketing

Rs. 7,52,000 per annum

MBA salary after 5 yrs. of experience

Around Rs. 8,00,000 per annum

MBA salary after 10 yrs. of experience

Around Rs. 15,00,000 per annum

MBA salary after 20 yrs. of experience

Around Rs. 30,00,000 per annum

Highest paying MBA salaries based on location in India

Top salaries- Gurgaon, Haryana

Second- Silicon Valley, Bangalore
With proper information, students can evaluate the pros and cons of both the specializations to choose which one is better for them – MBA in Finance or MBA in Marketing.
Popular Management Colleges in India