MAH CET MBA Topper Aditya Sridhar Says, "Tweaked his strategy after analysing his performance in mocks"
MAH CET MBA Topper Interview Aditya Sridhar 99.99 Percentile - It is a delight for one when their hard work pays and they are able to achieve their goal. MAH CET MBA 2020 topper Aditya , who scored 99.99 percentile , after completing his B.Tech joined a consulting firm. It is during the course of his job that he realised that he would like to pursue an MBA owing to the fact that it will expose him to other facets of the management and will give the much needed boost to his career path. Since then, his journey started and he also performed well in CAT in 2019 and 2018. Sharing his preparation strategy for MAH CET MBA, Aditya stated that he got good support from the faculty of IMS as their teaching methods were quite innovative. At the same time he highlighted the importance of the mock tests and how he changed his strategy after analysing his performance in them. Read the full interview of Aditya to know how he prepared for the exam, what he did to beat stress and other important preparation tips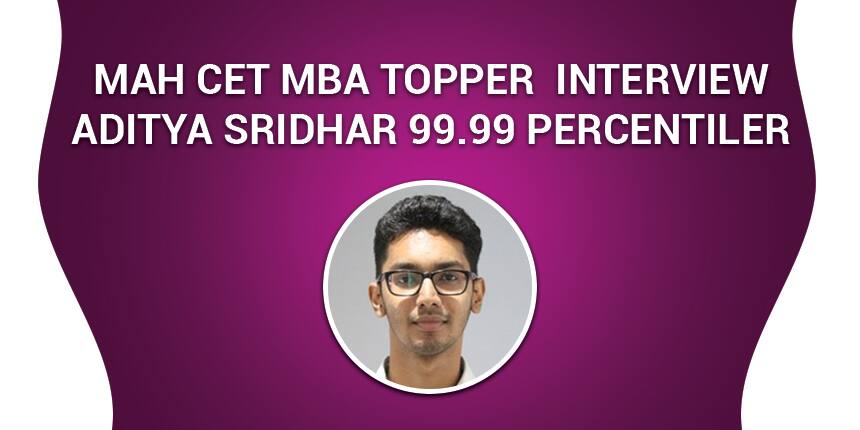 Careers360: Congrats for scoring 99.99 percentile in MAH CET 2020. How does it feel? Were you expecting this result?
Aditya Sridhar: It feels great when your hard work pays off. I am pleased with my result. I felt I had done well but 99.99 percentile with rank 5 was unexpected.
Careers360: Tell us more about yourself.
Aditya Sridhar: I am from Mumbai, I graduated from Sardar Patel Institute of Technology with B.E in Electronics and Telecommunications in 2019. Post that, I worked for one year as a Business Operations Associate in ZS Associates.
Careers360: Why did you decide to pursue management education?
Aditya Sridhar: I decided to pursue management education during engineering. I realized my inclination towards business and management through participation in business plan and case study competitions. Post engineering, I took up a non technical job at ZS Associates, a global consulting firm, which was a great experience! Therefore I want to pursue MBA for 2 reasons.
Firstly, introduce me to other facets of management, which I may decide to explore as a career path. Secondly, if I decide to continue with consulting, it will equip me with the necessary skills to fast-track my career.
Careers360: Apart from MAH CET, which other MBA entrances did you appear for? Did you follow any specific or exclusive preparation strategy for MAH CET vis a vis other exams?
Aditya Sridhar: I have appeared for CAT 2018 and 2019 scoring 98.63 and 98.84 percentile respectively. CAT preparation covers the verbal and the quant sections of the CET. But I had to prepare for CET exclusive question types, which I did from mocks.
Careers360: Are you appearing/appeared in the GD/WAT-PI rounds of any other top B-schools? If yes, how are you preparing for the same and how has been your experience so far?
Aditya Sridhar: I had calls from IIM Shillong and other new IIMs. However I did not attend the further process due to personal reasons.
Careers360:Did you join any coaching for the entrance exam? If yes. Then was it helpful for the MAH CET entrance test?
Aditya Sridhar: Yes, I had joined classroom sessions at IMS. They were definitely helpful for clearing basics. Also faculty was extremely supportive and motivating. However, once I started working, I couldn't attend classroom lectures and focused on self preparation and prepared through mocks.
Careers360: How did you prepare for the exam? What were the books that you consulted for each section and would recommend for future aspirants?
Aditya Sridhar: My basics were clear from my preparation for CAT. I did not use any books for CET. My preparation only consisted of giving mocks and then analysing them thoroughly. The things I would look for were marks/min of each section and time taken by me for each question vs average time taken. I would then tweak my strategy or practice questions based on the information from this analysis.
Careers360: How was your exam-taking experience? Did you face any technical glitch?
Aditya Sridhar: The test day was smooth. All formalities were carried out without any troubles. I did not face any technical glitches and I was able to execute my strategy well. Although the paper was tougher than last year, I kept my calm and ensured I did my best.
Careers360: What was your exam strategy for MAH CET? .
Aditya Sridhar: My test taking strategy was LR (35 mins without solving any puzzle or input output), Visual Reasoning (20 mins), Verbal (30-35 mins), Quant (40 mins), LR (2-3 puzzles and input output in the remaining 20 minutes)
Careers360: Which is your dream B-School where you are targeting admission in?
Aditya Sridhar: I was targeting JBIMS, and I'm happy that I have secured admission there.
Careers360: What is your career plan after completing MBA?
Aditya Sridhar: I have work experience in consulting and I enjoyed my time there, hence consulting is a possible career path. That being said, I want to enter with an open and unbiased mind and try to get a glimpse of different career paths through projects/internships and then decide.
Careers360: How do you unwind yourself after hectic study routines?
Aditya Sridhar: I enjoy playing and following football, so either playing or watching a game of football would be my go-to stress buster.
Questions related to MAH MBA CET
Showing 11 out of 11 Questions