Krishna Deshmukh topped CMAT September 2013 exam.   With 326 marks out of a total of 400 marks in the AICTE-conducted all India Management entrance exam, Krishna is the highest scorer in CMAT merit list of 64534 candidates who took the test.

"Shortlist the B-Schools before they Shortlist you. Predict your college with CMAT Pathfinder"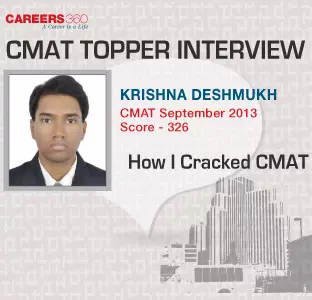 CMAT September 2013 Topper Krishna Deshmukh Shares Success Secrets
Careers360.com spoke to Krishna on how he achieved this success, why he chose CMAT for entry to an MBA programme, and which B-schools he wish to apply with his CMAT score for MBA admission in academic year 2014-15.
A Computer Science Engineer of 2009-13 class from BITS Pilani Goa campus, Krishna declined a job offer during the campus placement to pursue his Marketing dream. He says that he is targeting top B-schools like IIM A, IIM B, IIM C, JBIMS, FMS-Delhi, IIFT.


In this interview, Krishna also speaks on his preparation strategy, dream B-schools and career aspirations. Despite being the best performer in Sept CAMT, Krishna says that he will also sit for other exams like CAT, XAT and even Feb CMAT to get admission opportunities from top B-schools in India.
Excerpts from interview:
Careers360: Many congratulations for your success in CMAT!
Krishna Deshmukh: Thank you.

Careers360: What motivated you to take CMAT?
Krishna Deshmukh: I have always wanted to build a career in marketing. For the marketing sector, JBIMS Mumbai is one of the best options hence it is my dream B-School that I aspire to join. Since JBIMS is conducting its admission through CMAT, I decided to take the exam.

Careers360: You had taken CMAT in September 2012 also. But this season you are the best performer for CMAT September 2013. You have topped by getting a score of 326. What made the difference?
Krishna Deshmukh: Yes, I had taken CMAT in September 2012 and scored 306. My scores were almost identical in both my attempts of CMAT in Quantitative Techniques & Data Interpretation, Logical Reasoning and Language Comprehension. The differentiating factor was the General Awareness section. I scored much higher in the GA section this time….





Careers360: But, Experts say that the exam was tough, specially the GA. How do you feel about the exam pattern?
Krishna Deshmukh: Yes, it is true that CMAT was tougher compared to the last season. I found English and General Awareness questions a little tougher. The Quantitative Techniques & Data Interpretation and Logical Reasoning sections, however, were easy for me as I was also preparing for CAT alongside CMAT.

Careers360: So, you would be taking CAT 2013 as well. Any other MBA entrance exams you are planning to take?
Krishna Deshmukh: Yes I will also take CAT 2013, XAT 2014 and Maharashtra CET exam. CAT and XAT were in my agenda earlier. Since the Directorate of Technical Education (DTE) has announced to conduct of MAH CET again, I am planning to take that as well as JBIMS primarily conducted the admission through MAH CET.

Careers360: And Feb CMAT 2014?
Krishna Deshmukh: Yes…Obviously. I will definitely take Feb CMAT 2014 to better my own performance.Since the B-school admission takes place on basis of the best of the two CMAT scores- September and February, I would like to take the exam once again. My aim is to score around 340 marks in the February CMAT.

Careers360: Are you following a separate preparation strategy for each of these MBA entrance exams?
Krishna Deshmukh: I had started my preparation from the final year of my engineering programme. I mainly focused for CAT 2013 exam and then I decided to take CMAT also. The exam patterns of these exams are more or less the same. The CMAT questions are much easier than that of CAT. Hence preparing for the Quant, DI and Reasoning section for CAT served the purpose for CMAT preparation as well. For the GK section, I read newspapers, magazines and participated in online forums on current affairs. The questions in CMAT were also on the topics which I had prepared closely. I think it is my consistency in the preparation that has helped me to score highest in CMAT.

Careers360: You mentioned that you have taken CMAT for JBIMS only. Which are the B-schools you are aspiring through CAT and XAT?
Krishna Deshmukh: As I had mentioned, through CMAT I am only aiming at JBIMS and same with MAH CET. Had JBIMS not on the list of participating institutes for CMAT, I wouldn't have attempted it at all. For CAT, I am targeting the top IIMs and FMS-Delhi, and with XAT my target institutes are XLRI Jamshedpur, SPJIMR Mumbai, IMT Ghaziabad and the likes.

Careers360: Won't you prefer the new IIMs?
Krishna Deshmukh: No. I am not too sure about the new IIMs. It is true that new IIMs also offer good placement opportunities evident in their placement reports, but just for the sake of the brand name, I won't pay a high amount of fee for the new IIMs.

Careers360: What is your dream job? Where do you want to see yourself 5 years down the line?
Krishna Deshmukh: I want to be a Marketing Manager. In future, I would like to see myself in one of the top companies like HCL or P&G or Cadbury in marketing roles.

Careers360: What is your message for the CMAT aspirants?
Krishna Deshmukh: The CMAT questions are basically very easy but it is the silly mistakes that cost the marks. My advice for the CMAT takers would be to avoid silly mistakes. Go through the questions first and after solving the questions, revise thoroughly.

Also Read:
CMAT merit list - quality goes down
CMAT September 2013 Result Declared- Check here
Stay tuned to bschool.careers360.com for more news and toppers' interview on CAT, XAT, CMAT and other MBA exams.